See Siena from a different perspective on this 2-hour guided bike tour of one of Italy's most attractive towns. Pedal through Piazza del Campo, Siena's public living room for locals, and ride up to city's black-and-white-striped cathedral. Go at a leisurely place as your guide regales you with historical anecdotes about the town and the must-see sites that you visit. Participants are limited t just 15 on this small-group bike tour, ensuring lots of personalized attention from the guide.
Highlights
2-hour Siena bike tour with a friendly local guide
Cycle through Piazza del Campo, a UNESCO World Heritage-listed square
Pose for photos in front of Siena Cathedral and admire its Gothic façade
Soak up the ambiance of Siena's Old Town as you explore its narrow streets with your guide
Pass fascinating Siena monuments like Porta San Marco and Porta Camollia
Small-group tour with a maximum of 15 people ensures a more personalized experience
What You Can Expect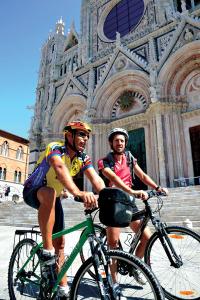 After meeting your guide in the center of Siena and listening to a safety briefing, strap on your helmut, hop on to your bike and pedal your way through this stunning Tuscan city. Follow your guide as you cycle through the city, learning about the history of Siena and of each place you visit. Pedal through Piazza del Campo, the city's main square where the annual Palio horse race takes place every July and August. You might recognize Piazza del Campo from the James Bond film
Quantum of Solace
.
Ride up to Piazza del Duomo, the square in front of Siena's majestic cathedral, and hop off your bike to pose for photos. Then pedal on, cruising through the streets of the city. Stop for a minute at Porta San Marco, the terracotta arch, and then on to Porta Camollia, a gateway from the Middle Ages that was once the entryway to the city for pilgrims. Meanwhile, learn about the history of Siena and the 17 distinct contrade, or neighborhoods.
After about two hours of bicycling around Siena, ride back to the center of town to finish the tour.
May 2014
Great tour! Excellent way to see the city and we would definitely recommend!
April 2014
We booked a cycle tour of Sienna for our first day here. What a wonderful place this is, and seeing it from the saddle was perfect. Our guide, Francisco (sp...?), was excellent - welcoming and knowledgeable. We'd recommend this tour to anyone who's interested in seeing and learning about this fascinating place.
April 2016
We enjoyed the tour. We weren't staying in Siena we drove in. We didn't realize how crowded the streets of Siena are until we started the tour. On some narrow streets, it was tricky riding bikes alongside cars. The city is fairly hilly, so it was a great workout you'd better be in pretty good condition to do this tour.
September 2013
There was no address at which to meet. We arrived 15 minutes before 9am with vague instructions to meet near Porta Camollia, even after 2 phone calls. Jacapo arrived on his bike at 9, THEN took 15 min. to outfit us with bikes. Perhaps I had the wrong idea, but I thought we were to get a guided tour. He had very little to offer about the city. We did cover a lot of ground and see sights, a few of which he identified. We asked a lot of questions, but he was limited in his ability to answer or understand us. Told us we should hire a tour guide. At 11am, when we were to be back at our beginning point, we were on the opposite side of Siena with his plans to ride more and see more churches. We needed to be back, so missed that. Jacabo was personable, but limited. The price was VERY overpriced for what we received. We were disappointed.
Advertisement
Advertisement