See the hills of Tuscany in true Italian style with this action-packed day trip on a Vespa scooter from Siena. Set off on your scooter through the Tuscan countryside, your guide leading the way, as you and about 20 other scooter-riding participants make your way to a Chianti winery for lunch. Tour the vineyards and cellars, sample some wine and indulge in an antipasto lunch before heading back to Siena.
Highlights
Full-day Siena Vespa tour to the Chianti hills of Tuscany
Choose to ride your scooter or hop on behind your tour escort
Ride along quiet Tuscan roads and pass through pretty medieval villages
Tour a Chianti winery and sample Tuscan wines during a tasting session
Enjoy an antipasto lunch at the winery and relax at leisure before returning to Siena
Travel in a convoy under the watchful guidance of your guide and tour escorts
Recent Photos of This Tour
Siena Vespa Tour Including Lunch at a Chianti Winery
What You Can Expect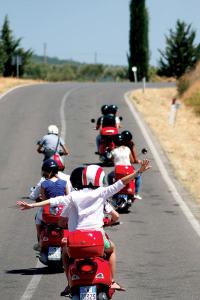 After meeting up with your guide and tour escorts at you hotel in the center of Siena, strap on your helmut and get ready to travel, Italian style. Hop on your Vespa scooter, get a brief safety lecture, and follow your guide as you ride out of Siena. Alternatively, hop on a scooter with a tour escort if you prefer not to drive a scooter yourself.
As you ride through the Tuscan countryside, take in the amazing views of the low-rolling hills, some clad with vineyards and olive groves, other topped by a rustic terra cotta-roofed villa. Pass by the village of Monteriggioni, a hill town dominated by the medieval walls that encircle it. Then ride into lush Chianti, cruising down tranquil country roads and passing ancient villages. If you've opted to share the scooter with a traveling companion, there will be ample breaks so you can switch drivers or stretch your legs.
About halfway through the tour, hop off the Vespa at a wintery in Chianti to indulge in a traditional Tuscan lunch of prosciutto, salami, locally made cheese, thick country bread and olives. Sip some of local wine, including the famed Chianti Classico, Gallo Nero and even Super Tuscan. Take some time here to relax and enjoy the bucolic surroundings of the Chianti countryside.
When the time comes, hop back on your Vespa for the ride back to Siena where the tour concludes.
June 2016
This was a highlight for our Italy trip! I have never driven a Vespa, but Dimitri and Francesco made it super easy to learn! We went to lovely sights, had a fabulous wine tasting and just enjoyed the day and the sunshine, zipping along back country roads. Do not miss this!
Elizabeth P USA
November 2015
Joe and Chichi (?) had so much character, humor and wit they really made this day wonderful. I mean we were riding on Vespas through Chianti and it was incredible. The views, the wine tasting, the people we met and the weather was perfect. Everyone should experience this day!

November 2015
I took the tour around the second week of November, which is the tourism off season in Italy. It was great timing as I was the only person on the tour! My tour guide was Ciro, who is very knowledgeable and has many stories about the Chianti region. One thing to note is that while third party liability insurance is covered, any damaged caused by you to the scooter is not covered in the Viator price, so if you damage the scooter by accident, you are responsible for the cost of repairing the vespa. Because of this they will ask you to leave a copy of your credit card and driver's license with them. Another thing to note is that you will be driving slowly on the equivalent of a small state road in the U.S. It's definitely not a highway, but it's not a sleepy country road either, so you'll need to be comfortable with cars passing you by frequently as you ride. The road winds through hills and bends around blind corners where you can't see oncoming vehicles, so it's best to stay behind the guide. I ride a bicycle through traffic in New York City all the time, so was prepared to handle passing cars but didn't expect the road to be quite that large or busy.
Stops along the way include a small castle town and large fort. Both are ancient, beautiful and quaint. There is plenty of shopping and I got to pick up locally made chestnut honey, olive oil soap, and a jar of really good truffle butter. This was my first trip to Italy and Tuscany and thanks to Ciro and his crew I couldn't have asked for a better experience!
November 2015
Because it was raining that morning, we were not able to do the Vespas. However, they made other arrangements and we were able to drive either a Fiat 500 or Mini Cooper and we had a great time. They did a good job of making other arrangements with the weather situation.
November 2015
We really enjoyed this fabulous day in Chianti with our very helpful tour Franceso. The scenery and sight-seeing were gorgeous and the wine tasting and lunch were also terrific. Our best day in Tuscany - would recommend you don't miss it!!!
October 2015
We had a fantastic day on the vespa tour on Sunday. Great fun and beautiful countryside. The tour guides - Fabio and Dario - were relaxed but also very knowledgeable and helpful. The lunch at the winery was great. The tour was the highlight of our 5 days in Tuscany!

September 2015
Very enjoyable tour with beatifull scenery. Riding the Vespa's with such a view and hopefully beautiful weather! is really a once in a lifetime-experience!
August 2015
The best value and experience - fun guides, adequate instruction, perfect itinerary and visits!
June 2015
Absolutely would do this again. What a blast. We are in our early 50's. And had a great time. Martina did a great job and also was a knowledgable tour guide. I would recommend this to everyone who really wants to see Tuscany wine country.
June 2015
Definitely book this tour! We had great guides and a great group of people on this tour. Well worth the money.
Advertisement
Advertisement