Indulge in one of Italy's most beautiful cities. This 2-hour sightseeing tour, led by an expert guide, gives you an insider's view of this UNESCO World Heritage-listed town. Linger for a while in Piazza del Campo, the superlative square that is home to the Palio, a wild horse race that takes place every July and August. Stroll the streets with your guide learning about the history of the place. Visit the Duomo, Siena's stunning cathedral, and stroll right in thanks to your skip-the-line ticket.
Highlights
2-hour Siena sightseeing tour including the Siena Duomo
Visit Siena's UNESCO World Heritage-listed Old Town
Discover top Siena attractions, such as the Basilica of San Domenico and Piazza del Campo, with your expert guide
Enjoy skip-the-line entrance to the Siena Duomo and admire its Gothic architecture
See impressive works of art by Donatello, Bernini and Michelangelo

What You Can Expect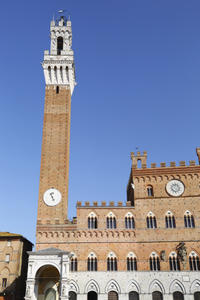 Meet up with your local guide at the Basilica of San Domenico, the gorgeous Gothic church made of red brick. Set off with your guide walking the narrow cobblestoned lanes, learning about the various
contrade
, or neighborhoods, all of which have a distinct personality and character. Stop at Palazzo Tolomei, the oldest private palace in town.
Then head over to Piazza del Campo, the seashell-shaped space that has been the public living room of locals for centuries. Admire the Fonte Gaia, Fountain of the World, built in 1419; look up at at the tall campanile, attached to the 14th-century Palazzo Pubblico.
After some time, move on from the square and head to the Siena Duomo, one of the most awe-inspiring cathedrals in Europe. Take in the black-and-white-striped facade and then breeze right in to the interior thanks to your skip-the-line ticket. Inside, let your guide lead you around, revealing priceless works of art by Donatello, Bernini and Michelangelo. Take in the Gothic interior of the cathedral, along with Renaissance-era busts of pope and emperors.
When the tour is over, you'll feel connected to Siena like never before.
May 2016
We booked this tour because everyone told us we had to see Siena while we were so close in San Casciano. I figured we would skip down there, get an overview of the city, and move on. But it turned out to be one of our very favorite cities in Italy! I know that had a lot to do with our guide, Claudia, who we were lucky enough to have all to ourselves. She grew up in Siena, so she was able to give us an intimate perspective on the culture of the city, particularly the culture surrounding the contrade/districts. It was so fun and so funny to hear the stories of playful rivalry. In my opinion, the Siena cathedral is much lovelier and more interesting than the one in Florence, and Claudia gave us all the good details regarding history and art. We really felt an intimate connection with the city of Siena, thanks to this very personal and intimate tour. I'm so glad we didn't skip Siena! I hope to go back and stay for awhile.
May 2016
Our tour guide was a bubbly young woman with a passion for Italian culture and history.
I wish I could recall her name- unfortunately many people met in between writing this review!
If there was another star rating, I would give this young woman 6! Only a small group which made the tour even better. The young woman brought her local history to life. An excellent experience.
May 2016
Our guide was outstanding. This tour is definitely worth the money. VIATOR needs to provide information with regard to parking. Parking in the hill towns exists, but it is very difficult to determine which lot is best for your tour.
May 2016
Outstanding! We lucked out and only had the two of us and one other member on our tour. We loved everything about Siena, even its steep hills and will plan our next trip to Italy to coincide with the famous Palio de Siena, the horserace between the various contradas. Siena was the banking capital of Italy and has close ties to Rome as a result. And the she-wolves are everywhere!
April 2016
Sylvia was a great tour guide, very informative and with a sense of humour. Good knowledge and also happy to answer any questions. Gave us great insights into Siena's people and history.
March 2016
It was a great overview of the city.
February 2016
The best guide and the best information! Thanks so much
December 2015
The tour guide was very informative and her English was great. While Siena is small and we did go around it by ourselves, it was worth paying for the walking tour so that we could see things we would have bypassed or ignored and get the history as well. I recommend it.
November 2015
The guide and the service that provided the guide were excellent. Out guide loved her city and she made it come alive. It is clear she was not just going through the motions.
October 2015
The lady did an excellent job, even though it was chilly and showered the whole day. It is a great ancient town to see and would recommend this to everyone visiting the Tuscany area.
Tell her thanks again.
Advertisement
Advertisement