50 Reviews
Location:

Siena, Italy

Duration:

2 hours

(approx.)
Immerse yourself in Italy's history on this 2-hour sightseeing tour. Explore Siena's UNESCO World Heritage-listed Old Town; discover Siena's central square, Piazza del Campo; and visit the stunning Siena Duomo (Siena Cathedral) with your fast-track, skip-the-line entrance ticket. As you walk through this incredibly beautiful Tuscan city with your expert guide, you'll feel as though you've journeyed back in time.
Highlights
2-hour Siena sightseeing tour including the Siena Duomo
Visit Siena's UNESCO World Heritage-listed Old Town
Discover top Siena attractions, such as the Basilica of San Domenico and Piazza del Campo, with your expert guide
Enjoy skip-the-line entrance to the Siena Duomo and admire its Gothic architecture
See impressive works of art by Donatello, Bernini and Michelangelo

What You Can Expect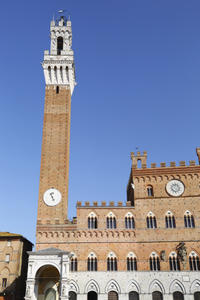 To begin your walking tour of Siena, meet your friendly guide at the magnificent Basilica of San Domenico and admire its Gothic architecture constructed entirely in brick.
 Explore Siena's UNESCO World Heritage-listed Old Town by foot and listen as your guide points out Palazzo Tolomei, which is said to be the oldest private palace in Siena.
Next, walk to Siena's famous Piazza del Campo, a gorgeous square that represents day-to-day life of this medieval city and is widely considered one of the most beautiful squares in Europe. See the imposing stone tower of Palazzo Chigi Saracini, a palace erected in the mid-12th century by the powerful Marescotti family. Currently, this building is the seat of the prestigious Accademia Musicale, founded in 1923.

Continue your tour to one of the most spectacular cathedrals in Italy, the Siena Duomo (Siena Cathedral), named locally as Il Duomo. After skipping the entrance line with your skip-the-line ticket, your guide will escort you into this breathtaking cathedral to see impressive masterpieces by Donatello, Bernini and Michelangelo. Admire the exquisite Gothic architecture; walk through nave arcades with Renaissance busts of popes and emperors; and marvel at the unique black-and-white-striped bell tower.


After your tour, you'll leave feeling truly enchanted.
October 2015
Amazing!
Our tour guide was knowledgeable, fun and quick witted - while we had a fairly large group, she took time to answer everyone's questions and fill in with fun facts along the way. There were so many things we learned that we never would have if we didn't go on the tour.
Siena is a lovely destination - this tour gave us more reason to appreciate the wonderful little village.
September 2015
We saw the sites of Siena and got the details and history as we would not have been able to comprehend on our own. Very concise and thorough tour. Thanks Viator!
September 2015
Claudia ,our energetic guide who is a local, wasn't only welcoming and charming but she was also equipped with the deep knowledge and was passionately talking about the history of Siena and rivalry with Florence. It truly was a delight to have her as a guide.. I highly recommend the walking tour.
September 2015
This was an excellent and informative tour. The group was relatively small, 8, so there was plenty of opportunities to ask questions. Our guide, Claudia Martinelli, was pleasant, engaging, and very informative. We would highly recommend Claudia.
September 2015
Briliant tour. We had a limited time here and the tour made me feel that I had experienced Siena. Claudia, our guide, was extremely knowledgeable and answered many many questions off script. She did not just regurgitate historical fact but really brought the place to life with stories and anecdotes about life in Siena. I was buzzing after it was done and will undoubtedly remember a lot of what Claudia told us and I think this is in no small part due to her interesting and knowledgeable delivery.
September 2015
This tour was amazing, we all learnt so much. Claudia was a fabulous guide, and because we were a small group, we had a lot more interaction. Siena is a beautiful city, and as far as I'm concerned is the best. I thoroughly recommend this tour
August 2015
I'm not normally one to book a tour, but my limited time in Siena, i wanted to get to know as much as possible. The tour was fantastic, casually walking through the streets absorbing the incredible city that Siena has to offer. I would recommend this to everyone visiting, one of the best tours.
August 2015
Excellent Tour. Provided as advertised. Nice casual stroll through the main streets and backstreets of Siena. Meeting place easy to find. Great explanation into the history of Siena. We had a rainy day, but that did not stop our group! Excellent tour guide. One of our favorite tours during our trip.
June 2015
On of the best tours we had in Italy. Guide was prompt, knowledgeable,and interesting. She was also extremely efficient with our time - telling us what to see after the tour. There were suppose to be two other participates, but they never showed up. My daughter and I therefore got a private tour. We loved Siena because of this tour.
June 2015
Well spoken guide. Just the right level to get an overview of Siena. Great to finish tour actually in the Dumo so we could spend more time in it.
Stephen Ledger
Advertisement
Advertisement