14 Reviews
Location:

Siena, Italy

Duration:

8 hours

(approx.)
Get medieval on this guided tour from Sienna to San Gimignano and Volterra. Head to the marvelously diminutive hilltop town of Monteriggioni and then stop for a while in UNESCO world Heritage-listed San Gimignano with its plethora of medieval towers and commanding views over the Tuscan countryside. Finally, spend some time in an alabaster workshop in Volterra before indulging in a rustic lunch at a Tuscan farm. This small-group tour is limited to just eight people, ensuring plenty of personalized attention from the guide.
Highlights
Full-day guided trip to San Gimignano and Volterra from Siena

Visit the medieval Fortress of Monteriggioni

Walk down the Via Francigena, an ancient pilgrimage road in San Gimignano

Explore the UNESCO World Heritage-listed town of San Gimignano at leisure

Visit an authentic workshop to see Volterra alabaster being made

Small-group tour (maximum of eight people) provides an intimate and personalized experience

What You Can Expect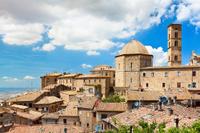 Head out of Siena in the morning traveling toward the medieval town of San Gimignano. Along the way, stop in the tiny town of Monteriggioni, a charming village on a hill that is defined by the centuries-old walls that encircle it. Stroll around the town, taking in the views and walking along the walls, learning from your guide about the history of the place.
From there, hop back in the automobile for San Gimignano, enjoying the rustic Tuscan countryside along the way: the villa-topped hills, the vineyard-clad rolling mounds of earth and the olive groves. Once in San Gimignano, walk down the Via Francigena, a pilgrimage route from the Middle Ages that stretches from Canterbury in England all the way to Rome. The path goes right through San Gimignano. Learn from your guide about pilgrims in the Middle Ages and even today that would trek through France and Switzerland, even the Alps, to eventually get to Rome.
Take some free time to do exploring on your own. Walk the narrow cobblestoned alleyways. Stare out at the vast Tuscan landscape before your eyes. Ascend one of the 14 matchstick-like stone towers, which were once inhabited by families in the Middle Ages. Linger for a while in Piazza del Duomo and perhaps pop into the church, the Collegiata. The exterior facade may look dull but the black-and-white striped Gothic interior is a showstopper.
After some exploration, take a load off for lunch at a family-run farm just outside of town. Feast on locally made delights such as cheese and prosciutto. And don't miss anything made with the locally produced saffron in it.
Later that afternoon, take a scenic drive south to the town of Volterra. The town, known for its alabaster -- the translucent stone used for centuries to create vases, lamps and other works of art -- is an aesthetically pleasing place to spend a little while. Watch craftsmen ply their trade and spend some time strolling the streets.
After about an hour, hop back on the bus and head back to Siena.
November 2015
A great eight hour adventure in Tuscany. We were very luck to have the tour all to ourselves. Had enough time explore both hill towns and a wonderful lunch at a private farm house overlooking Tuscany. Like being in a movie. I would recommend to anyone.
July 2015
Elena was a fantastic guide. Warm and friendly personality and great knowledge about the sites!
Lalee64 Australia
June 2015
Our guide, Marella, was outstanding! Her knowledge was incredible and her enthusiasm for what she was sharing with us was infectious. The lunch included was a highlight, the host couple were amazing and the food beautiful. The alabaster workshop was also a highlight and the artisan very talented, it is a shame that the skill is not being handed down. The 3 towns visited, Monteriggioni, San Gimignano and Volterra were each interesting in there own right. What a great day!
June 2015
This was a wonderful tour. Our group of 4 were educated and entertained by a charming guide. The locations were incredible and the meal at the farm house was one of the highlights of our entire trip to Italy. Would highly recommend this tour and will definitely use Viator again for sightseeing!
June 2014
As usual this Viator managed tour was excellent.Guide spoke excellent English.My opinion of Viator remains high after many experiences.
May 2014
What a wonderful day. Every minute of our tour was special. There were only four of us and two guides. What a day. Everything outlined in the advertisement was actually what you got and more. I could not recommend it more as it was a perfect day in Tuscany. Bob. Gerringong, Australia
December 2013
San Gimignano was lovely, Volterra alabaster tour was interesting and the lunch was superb. Our guide was also fantastic. So it was a great day all round.
December 2013
This trip far exceeded my expectations. It was my favorite day of my time in Italy. Our tour guide was informative and engaging and we spent the right amount of time in each of the Tuscan Hill towns we visited. The lunch at the organic farm was wonderful. I would highly recommend this trip to anyone traveling to this area.
August 2013
We had a wonderful day with our guide Sylvia .It turned out to just be our family of three on the tour through the Tuscan countryside, and I am very thankful Viator didn't cancel the tour because they couldn't fill the group...just for that alone I would book with them again!
The comfort of the van on a very hot August day was so welcome. The drive through Tuscany was beautiful and the photos stops to San Gimignano and Volterra great. The best was the lunch at a Tuscan farmhouse hosted by the owner Carmela and her husband....it was the very best meal yet in Italy and all made by hand with products from their farm including the olive oil and saffron. Our granddaughter still raves about the pecorino cheese and pear strudel Carmela made.
I cannot say enough nice things about this trip, only that it was the high lite of our trip through Italy.
Thanks Viator Italy, and Sylvia for this amazing day.
August 2013
Another Viator/Tuscan Escapes winner! Samayo was not your ordinary tour guide. A man of few words but with thoughtful insights. It was a pleasure to "journey" with him on this day. The towns of San Gimignano and Volterra were an excellent juxtaposition, the first a touristic gem, the second an undiscovered refuge. The highlights were the visit to the Alabaster workshop - the dying exercise of craftsmanship is still very much alive at alab'Arte. We recomment you purchase the piece produced before your eyes. A true memento of art and beauty. And the second highlight was to the local Bio-farm where a delicious lunch was lovingly prepared by the husband and wife. Another true exercise of passion and devotion. A culinary AND learning experience. DO NOT MISS THIS TOUR!!
Advertisement
Advertisement