10 Reviews
Location:

Siena, Italy

Duration:

2 hours

(approx.)
See Siena's main sights by night on a comfortable tour by mini-coach with audio commentary, followed by a lovely Italian dinner in Piazza del Campo. The perfect night out in Siena!
Numbers are limited to eight people on this small-group tour, ensuring a more personalized experience.
Highlights
Siena night tour with dinner
Cruise through Siena by mini-coach to see the city lit up at night
See sights like Via della Sapienza, Sant'Agostino, Piazza del Mercato, Porta Romana and much more
Listen to informative audio commentary to learn about Siena's history, folklore and traditions
Enjoy a 3-course Italian dinner at a restaurant in Piazza del Campo
Small-group tour limited to eight people ensures a more personalized experience
What You Can Expect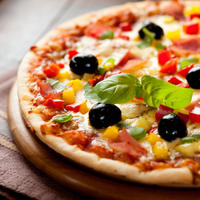 Meet your driver in front of the church in Piazza San Domenico, where you'll hop in a mini-coach and relax on a 60-minute sightseeing tour of Siena.

Admire Siena at night as you travel past lively squares, beautiful buildings and churches and historical monuments while listening to audio commentary about the city's history, folklore and traditions. You'll also be given a map of Siena to help you identify the sights you see.
Some of the Siena attractions you'll see include Via della Sapienza, Via di Città, San Marco, Sant'Agostino, Via del Casato, Piazza del Mercato, Via de' Servi, Porta Romana,Via di Pantaneto, Battistero and Piazza del Duomo. Special disposable earphones provide audio commentary in multiple languages, including English, Italian, French, German and Spanish, and your driver can also answer questions you have, like information on museums and their open hours. You'll also learn about all the main events held in Siena and how to get to them.
After your sightseeing tour, it's time to eat! Head to a local restaurant in Piazza del Campo to enjoy a wonderful Italian dinner. Sit down at your reserved table under the Torre del Mangia and enjoy a 3-course meal including a salad, your choice of pizza or pasta, and ice cream -- the perfect way to wrap up your night in Siena.
September 2014
Our guide did a fantastic job and went above and beyond to make sure we enjoyed ourselves. Siena was by far our favorite city we visited and this tour was well worth it!
October 2014
This was a private tour as we were the only ones on it. Our guide was very knowledgeable and made the tour very interesting. We were given wine to drink without asking us if that is what we wanted and we don't drink wine so our meal was without a liquid. We also thought that it was strange how you are dropped off for your meal and then expected to find your car on your own. When we had never been to that area before. It was worth what we paid but would have liked it better if we could have picked our meal.
August 2014
Felt very special as my husband and I were the only ones on the trip! Our guide was fantastic and took us all over Siena, even down very narrow side streets. The meal in the Piazza del Campo afterwards was very good. Would definitely book a tour with Viator again. Well worth the money.
August 2014
We enjoyed our tour. Was not really much other than a drive around the city. The driver spoke good English and answered all our questions. He was very friendly and stopped at a wonderful place to take a picture. The trip ended in the square and that is where the dinner was which was a very nice ending to the night. Keep in mind this is not a very expensive tour. So in our opinion you definitely get your moneys worth.
January 2015
Tour was ok. A bit hard to make things out in the dark. Meal at the end of the tour was outstanding.
October 2014
This is a tour definetely worth doing on your first night arriving in Siena. It gives you a good insight into the beautfil city and gives you a sense of direction for the following days travel and sightseeing. We went to several attractions that you may possibly miss or not have heard of, if you only walked in the city or remained in the city centre. After our tour, we ate dinner in the Piazza del Campo with an incredible view of the Torre del Mangia. The food was a little average and the service wasn't too good, so the restaurant was disappointing. Only thing which would have made the tour better is it we were given the opportunity to stop at some of the main attractions and be allowed to take photos outside of the van.
MLR D Sri Lanka
August 2014
There were just the two of us - my mother and myself - on this tour.
The drive was extensive and showed us all the sights.
However it app

October 2015
The worst tour I've ever had! Daniel, the guide was disengaged with the 4 people on the tour, kept losing the place of droning taped commentary and was fiddling with his phone! No offers to stop anywhere for photos and I finished with no clues about Siena! Meal was very average. Very disappointed!

May 2015
A total waste of time
Recorded soundtrack which kept stopping and was totally boring to listen to
With only four persons on tour the driver could have given the commentary
No stops to view the sights
At night too many sights unseen
Average meal to finish with no directions to our accomodation

October 2014
The tour was lead by our driver Daniel? Very disinterested handed out audio guides, listen to channel 8 for English was about the only communication and the occasional hand waved in the direction of the building in the audio. It was doubtful if any passengers in the back got any direction. often the commentary was out of sync with the location.
Most of the attractions are not lit unlike Florence so the Duomo by headlights and street lights is not impressive.
Given it was a night tour, references to the beautiful Tuscan view across the valley were absurd.
We were driven to the Campo , shown our tables and " the tour is finished, goodbye"
The 3 course dinner in the Campo was antipasto, a forgettable pizza and ice cream
Brian M
Advertisement
Advertisement