Enjoy a 3-day getaway from Singapore to nearby Bintan Island, part of Indonesia, on this independent tour. With white sand, aquamarine water and a laidback atmosphere, Bintan Island provides a blissful respite from bustling Singapore. Two nights of accommodation are included at your choice of 4-star hotel; make your selection when booking. Breakfast is provided, and the rest of the time you are free to do, drink and eat whatever you please, whether taking walks, visiting cultural sites or simply relaxing on the beach.
Highlights
Take a relaxing 3-day retreat from Singapore to Bintan Island in Indonesia
Admire the sights on a ferry ride to Bintan Island (round-trip ticket included)
Enjoy free time to relax on the beach, swim, explore the island, and go surfing or bodyboarding
Spend two rejuvenating nights at a 4-star resort, complete with luxurious amenities such as spa treatments
Round-trip transport from your Singapore hotel included
Perfect for groups, couples, families and individuals
What You Can Expect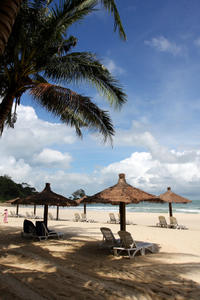 Your island escape starts with transport to the Singapore ferry terminal for the 45-minute boat ride across the Singapore Strait to Bintan Island, an idyllic isle in the Indonesian archipelago. This independent tour gives you the flexibility to do and see whatever you wish on the island. Water activities like bodyboarding are available, as are spa treatments like massages; all activities are at your own expense.

Breakfast is included at your hotel; spend other meals on your own, trying different Indonesian foods. When booking, select from several 4-star hotels available and the type of room you prefer.
Itinerary
Day 1: Singapore – Bintan Island
After pickup from your hotel in Singapore, you'll be taken to the ferry terminal for a 45-minute ferry ride (round-trip ticket included) to Bintan Island in Indonesia.
When you arrive in this beautiful tropical paradise, you'll be taken to your hotel – a luxury 4-star resort. The rest of the day is yours to spend as you like.
Overnight: 4-star resort on Bintan Island
Day 2: Bintan Island (B)
Breakfast will be served at your hotel in the morning, after which you have the entire day to spend at your leisure and expense. Laze on the miles of white beaches, swim in the crystal-clear ocean waters, take nature walks, and explore the island to shop, taste local Indonesian food, and see the many historical and cultural attractions.
You can also take advantage of your resort's fun activities, such as bodyboarding and surfing, and luxurious amenities, including massages and other spa treatments (own expense). This island getaway will leave you feeling relaxed and rejuvenated.
Overnight: 4-star resort on Bintan Island
Day 3: Bintan Island (B)
Have breakfast at your hotel and spend the morning soaking up the last bit of paradise. In the afternoon, you'll be taken to the ferry terminal for your return ferry ride to Singapore, after which you'll be taken back to your hotel or the airport for your onward journey.
June 2016
We went for a Sea View Chalet at Mayang Sari. It was one of the highlights of the holiday. Bintan truly is paradise. Crystal clear water, soft sand. We went paddle boarding twice at the beach club, tried a massage although this was at the resort centre and not the spa so worth checking beforehand. We also went elephant riding which is a tick in the box for me. None of the elephants were chained up and they were only available for riding at specified times in the morning and evening. I would thoroughly recommend this trip to a friend.
December 2014
This was amazing, the resort was so good. All of the people working there would do anything to make the stay worth it, they remembered your name and in the RICE restaurant they remembered what food you liked and how you liked it cooked. it felt personal rather than you where a number.
The food was brilliant, the trips where really well priced (I done the elephant trip, jet skiing and the massages by the beach). Absolutely brilliant, I will be going back for a full holiday next year.
Joanne P Australia
June 2014
Great place to stay. Good accomodation, beautiful surroundings, polite staff. Good for the golfers and anyone wanting to just chill out
April 2014
Great place!! Super relaxing!!!! Friendly staff!!

lyn Australia
April 2014
Fantastic location beautiful clean beach if you want total relaxing away from crowds this was perfect. We paid extra to upgrade to "deluxe sea view" and compared to were we had come from in Singapore room was certainly not deluxe - mould in fridge and in bathroom. Could not see the ocean for the trees so dont bother to upgrade as you will be by the beach or pool anyway which both are stunning. We ate at "Rice"right on the beachfront and it was sensational....., good prices, great staff and amazing views. It was very very humid so make sure you have plenty of cool clothing that can be hand rinsed - no laundry facility for guests to use. The hotel arranged transport for us to have an Elephant ride which was an experience to remember we loved it. We also used Hotel Jet skis and staff were very obliging. We were picked up on time from our hotel in Singapore and the Ferry ride over to Bintan was all very well organised and our pick up was there waiting for us on our return back to Singapore. Doesnt really feel like 3 days as you need to take into account travel time ect., but we loved every minute just wished we could have stayed longer. Maybe Viator could think of a 5 night tour ??? the local company was great.

January 2014
Quite nice and relaxing trip. Transportation by ferry was very convenient. Our bungaloo stood right in front the sandy beach. Our hotel had a nice restaurant with very tasty Indian food. Staff was very polite.
March 2015
I liked the resort and the beach was nice. The ferry tickets I was given left in the afternoon day 1 and noon on the 3rd day. So I felt I only had one and two patricianly days there. The ferry was nice but long lines as everyone arrives together.
August 2014
the resort was nice and located in a great area. The hotel needs much maintenance and the food prices were very high.
December 2013
Viator transport service was excelent but the hotel standard of Mayang Sari resort on Bintan Island was absolutely disappointing. This was not a 4 star hotel as anounced but 2 star at the most. The cottages were worn out. The personell was very friendly but good service is not part of their education. So the price we paid for this trip was much too high.
Advertisement
Advertisement