16 Reviews
Location:

Singapore, Singapore

Duration:

7 days, 6 nights
Experience the highlights of Malaysia on this 7-day tour from Singapore that includes accommodation at 4-star hotels. You'll visit UNESCO-listed Malacca City, the Batu Caves, a tea plantation in the Cameron Highlands, the island of Penang and the country's capital, Kuala Lumpur, home to the Petronas Twin Towers, two of the tallest skyscrapers in the world. Throughout the week, learn about the country's culture and history from an informative guide, and enjoy authentic Malaysian cuisine. The tour ends in Penang.

Please note: Train ride will be replaced by coach during major festivals of Hari Raya and Chinese Lunar New Year:
July 9, 2015
July 16, 2015
July 23, 2015
February 4, 2016
February 11, 2016
February 18, 2016

Highlights
7-day tour from Singapore to Malacca, Kuala Lumpur, Cameron Highlands and Penang
Discover Malacca's history, culture and heritage on a walking tour of Malacca City
Tour Kuala Lumpur, Malaysia's capital, to see the National Palace, the National Museum, the Petronas Twin Towers and more
Explore Batu Caves, a fascinating Hindu shrine and cave complex
Learn about Malaysian tea production and get a unique look at an aboriginal tribe in Cameron Highlands

Take a coach and walking tour of Penang's highlights, including Fort Cornwallis, Old City Hall, Kuan Yin Temple, Little India and the Khoo Kongsi clan house

Six nights of accommodation in 4-star hotels included
Recent Photos of This Tour
7-Day Tour from Singapore: Malacca, Kuala Lumpur, Cameron Highlands and Penang
What You Can Expect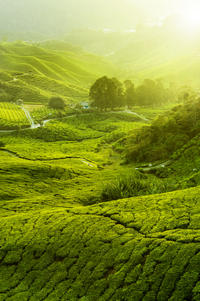 Your 7-day Malaysia adventure from Singapore introduces you to attractions around the country, from its capital city and historic sites to a tea plantation and the island of Penang. After exiting Singapore by train, your tour takes you to destinations including Malacca City, a UNESCO World Heritage site; Kuala Lumpur, where you'll see attractions like the Petronas Twin Towers, the National Palace, the National Mosque and the Royal Selangor Club; the Batu Caves, a limestone hill home to a series of caves and cave shrines; the Cameron Highlands, the country's center of tea production and home to an indigenous village; and historical landmarks from the days of British settlement.

Enjoy included accommodation at 4-star hotels for one night in Malacca, two nights in Kuala Lumpur, one night in the highlands and two nights in Penang. Breakfast and lunch are included, and you'll have free time each evening to dine out. Throughout your tour, your informative guide will provide insightful commentary about the sights you see.
Itinerary
Day 1: Singapore – Malacca (L)
You'll be taken to the train station for a relaxing train ride (ticket included) across the causeway and into the state of Johor, passing through the rural countryside along the way.

Disembark in the city of Kluang and continue the rest of your journey by coach to the state of Malacca. You'll arrive in time for lunch, followed by a historical walking tour of Malacca City, whose city center is a UNESCO World Heritage Site.

Learn about Malacca's history, culture, heritage and Dutch influences as you visit sites such as St Paul's Hill, Porta De Santiago, Cheng Hoon Teng Temple and Jonkers Street, also known as Antique Street. Your knowledgeable guide will provide interesting information about the sites you visit.

Overnight: 4-Star Hotel Equatorial or similar in Malacca

Day 2: Malacca – Kuala Lumpur (B,L)
After breakfast, you'll drive 2 hours north to Kuala Lumpur, the capital of Malaysia. Your city tour will cover sites such as the National Palace, the National Museum, the National Monument (sculpted by the creator of the Iwo Jima monument in Washington, DC), the National Mosque, the Sultan Abdul Samad Building and the Royal Selangor Club. You'll also pass the Petronas Twin Towers, the two second-tallest buildings in the world!

You'll be served an authentic Malaysian lunch at midday, and then enjoy free time for the rest of the afternoon and evening.

Overnight: 4-Star Hotel Istana or similar in Kuala Lumpur

Day 3: Kuala Lumpur (B,L)
Start your morning with breakfast and then embark on a guided morning tour to Batu Caves, a limestone hill featuring a series of caves and cave shrines. The 272 steps up the hill are fronted by a majestic statue of Murugan, a Hindu deity. Standing at 138 feet (42 meters) in height, this is the tallest statue of the Hindu deity in Malaysia!

Climb up the steps with your guide and reach the Temple Cave (also known as the Cathedral Cave), featuring extremely high ceilings and ornate Hindu shrines. Explore the cave complex and learn about the history of Hinduism in Malaysia; you can also see how Malaysian handicrafts such as batiks (dyed cloth) and pewter wares are made, giving you a glimpse into local culture.

Afterward, you'll be taken back to Kuala Lumpur for lunch. The afternoon is yours to relax, shop or continue exploring Kuala Lumpur on your own.

Overnight: Same hotel in Kuala Lumpur

Day 4: Kuala Lumpur – Cameron Highlands (B,L)
After breakfast at your hotel, head north through Perak to the neighboring state of Pahang to visit Cameron Highlands, the center of tea production in Malaysia.

Here, you'll visit BOH Tea Plantation, which produces approximately 70 percent of all tea in Malaysia. Reaching an altitude of more than 4,921 feet (1,500 meters) above sea level, this plantation's abundant vegetable gardens and flowers thrive in the cool climate. On your tour of the plantation, learn about the process of producing tea, from picking the leaves to creating the final product in the factory.

Afterward, venture farther into the forests of Cameron Highlands until you reach the settlement of an aboriginal tribe called Orang Asli. Your guide will teach you about the lifestyle of these indigenous people and show you their traditional huts built with bamboo, wood and palm leaves, as well as their tools, medicine, food and musical instruments. You will also be given a demonstration of how they hunt with blowpipes – you can even try doing it yourself!

Lunch will be served at a local restaurant either before or after your visit to Orang Asli, depending on time constraints and at the discretion of the guide. The rest of the evening is yours to spend at your leisure.

Overnight: 4-Star Heritage Hotel Cameron Highlands or similar

Day 5: Cameron Highlands – Penang (B,L)
After breakfast, your day begins with a pleasant drive down through the highlands and north to Ipoh. Capital of Perak, this city flourished at the turn of the 19th century due to the booming tin mining industry.

Along the way, you'll visit Kellie's Castle, an unfinished mansion built by a Scottish rubber tycoon in 1915. You'll learn that this castle was used as a setting for the film Anna and the King.

Get a taste of the region's cuisine during lunch at a local restaurant. You'll then make your way to the royal town of Kuala Kangsar, where you'll visit Ubudiah Mosque, a unique, magnificent building with golden domes.

Then, head to Bukit Candan to visit Istana Iskandariah (Palace of the Sultan of Perak), where you'll marvel at the palace's pointed arches and onion-shaped domes, which reflect styles characteristic of West Asia.

Continue north across the Penang River and arrive on the island of Penang.

Overnight: 4-Star Bayview Beach Resort or similar in Penang

Day 6: Penang (B,L)
Start your morning with breakfast and then embark on a coach tour of Penang, the oldest British Settlement in Malaysia. Your guide will take you to Fort Cornwallis, Malaysia's largest standing fort and, interestingly, one that has never been used in battle. Explore the grounds and see old cannons that are sprinkled throughout.

Hop off the coach for a walking tour of the Old City Hall, St George's Church -- the oldest Anglican church in Malaysia -- and diverse places of worship including Kuan Yin Temple, a Hindu temple and Kapitan Keling Mosque.

You'll also stop by Little India and the Khoo Kongsi, a large Chinese clan house with elaborate architecture marking the dominant presence of the Chinese in Penang. This historic site is an association of the Leong San Tong (Dragon Mountain Hall) clan.

Lastly, visit the Chowrasta market to browse local foods and spices such as nutmeg. You'll have lunch at midday and enjoy the rest of the afternoon and evening at your leisure.

Overnight: Same hotel in Penang

Day 7: Penang (B)
Enjoy breakfast at your hotel and then spend the morning as you please. You'll be taken to the airport in the afternoon to conclude your tour.
July 2015
Fantastic guide and driver. Nothing was too much trouble for them. A really interesting insight into Malaysia and their people
May 2015
What made this tour so good was our guide Carl. His knowledge and history are amazing and he really is excellent at his job doing his best at all times to make sure all on his tour are having a most enjoyable holiday.
March 2015
This was an excellent tour. I`m glad a chose not 4 but 7-day trip. It`s a great chance to see Malaysia from different points of view.
Our guide Abdul was very informative and helpful. He showed us his love to Malaysia. I want to thank our driver for the high professionalism.
There are a lot of sites visited on this tour including cities and natural beauty. The hotels and meal were nice.
I would highly recommend this tour especially for the first visit to this region.
January 2015
I was impressed with how well organized this tour was. I liked how we were helped through customs from Singapore in Malaysia by a staff member. I liked the mix up information and tours in the morning with free time in the end. Very few shopping trips were organized, but we were pointed out where we could shop on our own. The hotels were very nice and the included lunches were quite tasty. I recommend eating a full breakfast as lunch was often at 1pm.
February 2014
An excellent and very enjoyable tour, supported by our knowledgeable and affable tour guide, "Chan". A very well organised and supported tour. All hotels were to a very good standard, plentiful quality food and centrally located. A good choice of locations which gave us the opportunity to explore. We were sad to leave this tour and the country!! A very suitable "taster" of Malaysia and would consider going back. Many thanks to all involved.
February 2014
The tour was well organised. The hotels chosen and the restaurants we went to were all of high standard with a good variety of different cuisines. The tour leader from Jalan Jalan (who conducted the tour) was veryinformative and helpful. We recommend this tour.
September 2013
The tour was awesome. He is very funny and know how country very well. I love to recommend my friends for this tour.
August 2013
This tour exceeded our expectations. It was fabulous, informative and fun. We learned so much about Malaysia visiting the places and being guided through by John from Julan Julan. At each place we saw important buildings that reflected Malaysia's culture and history. From the bustling Jonkers Street in Malacca, to the heights of the steep tea plantations in Cameron Highlands and the peace of the Temples. We have had such a memorable holiday.
CAROLINA S Canada
August 2013
Had a great time and stayed in great hotels. Breakfast and lunch included every day were great! Hotels located in city centre and good for spending free time. Visited all the important sites and guide was great.
From Singapore to KL not enough. Need to go at least as far as Penang. Bus was clean and comfortable. We were told that this tour always goes with a minimum of two people so if you're just two on the trip then you'll have the entire bus to yourself!
December 2015
The tour had an excellent itinerary - we saw the highlights of Malaysia in a comfortable air conditioned bus. Our guide was very knowledgable and shared interesting stories with us. There were several easy walking tours into temples and historical areas of Malaka and George Town Penang. I especially enjoyed the Cameron Highlands. The hotels were excellent, as was the food. I recommend this tour if you have the interest in seeing Malaysia.
Advertisement
Advertisement