157 Reviews
Location:

Singapore, Singapore

Duration:

3 hours

(approx.)
This is the gripping tale of brave men and women who fought and were interned during the Japanese Occupation in World War II. This motorcoach tour takes you to Changi Museum, Johore Battery, Selarang Barracks and Changi Village and Beach. Now an idyllic seaside spot, Changi was once witness to countless atrocities committed in several prisoner-of-war camps.
Highlights
Visit Changi Village and Changi Beach - site of the Sook Ching Massacre
Explore Changi Museum including the Changi Chapel
Walk outside the Selarang Barracks, a Japanese PoW internment WWII camp
Johore Battery, the replica of WWII15-inch gun battery
Make a stop to view the remains of the Old Changi Prison
Why Our Insiders Chose This Tour
The incredible guide paints a very clear picture of what prisoners in this WWII internment camp went through. You'll come away understanding so much more about a dark time in history.
Recent Photos of This Tour
What You Can Expect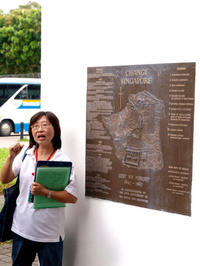 Once the site of many prisoner-of-war camps during the Japanese Occupation, Changi has since gone down in history as a place of much pain, torture and human suffering. It is said that more Australian PoWs perished under incarceration than in battle itself. Whether it is on the Death Railway or the countless labour camps in Japan and Formosa (Taiwan), the Changi WWII trail commemorates the fight of brave men and women during battle and in internment. Hear their story.

Join the guides who are experts in Singapore's rich heritage and colorful history. Highlights on this tour include The Changi Museum, Johore Battery (replica of WWII 15-inch gun battery), outside Selarang Barracks, Changi Village and Changi Beach (site of Sook Ching Massacre).
September 2015
Changi tour was excellent and at times emotional. Our guide Sha was great and very knowledgeable. This tour is a must.
September 2015
Our guide was excellent. Went a bit longer than expected and was starving by the end of it. Could have had more time on your own to explore and read parts of the museum
September 2015
Very professionally conducted our guide was Sha who was excellent, a tour not to be missed.
September 2015
My husband and I were so impressed with our tour with Carol. We were so lucky to only have 6 in our group 4 Aussies and 2 Kiwis and so she tailored the tour to what we wanted to hear and do. We could have spent almost 1 day listening to her and browsing through the museum, instead of the 3 hour visit. My husbands father was a POW in Changi prison so being able to visit these areas, see the chapel although not the original,wander through the museum, listen to the stories was a very moving and quite emotional experience. Being able to pay our respects also was so very important. The staff even printed out my husbands fathers war history and details whilst he was imprisoned. There was so much to appreciate and we could have stayed longeras it was we didnt return back to Pasir Ris station till almost 6pm. It is an easy MRT trip to the meeting place and dont be anxious if you wondering if you are at the right point for meeting your tour guideliterally stand at the steps at Exit B and she/he will be there around 2.00pm. Thank you Carol for an unforgettable experience.
September 2015
Guide was great. She had great knowledge and was very interesting to listen to. Could have been a bit dry tour but was far from it. Would recommend highly. Had a great day
September 2015
The tour guide on this trip Joo Ling was very interesting and informative. She seemed to work with the museum and had met many POW's who had returned to Changi at various times. Knew a lot about the museum and guided the group through and told lots of stories about the background of various items. On this tour you also get out to see the Battery gun. It is such a shame the actual prison was torn down and only a wall with two guard towers remain and you can see it driving by on the bus. Although the tour does not pick up from hotels it is very easy to get to the meeting point at Pasir Ris on the MRT, and was no problem at all.
August 2015
Well conducted and informative. guide was very knowledgeable, and provided an excellent insight into what happened during the Japanese occupation.
July 2015
Informative, moving, excellent guide! Would recommend this tour.
July 2015
very comprehensive tour by an experienced / knowledgable guide- recommended
June 2015
A great tour, revealing all the suffering of war at Changi and surrounding areas! Our guide Wina was first class giving us insights into the cruelty, suffering and even some of the humour of the POWs while in captivity. She presented with some humour and had a vast knowledge of the tragedies that occurred , with a little personal history of her own families involvement! I would highly recommend this tour, our only wish was to have spent more time in the museum!
Advertisement
Advertisement