Visit Changi Museum and the site of the old Changi Prison on this historical tour that focuses on the Japanese Occupation of Singapore during World War II. With an experienced guide who provides insightful commentary about this somber period of history, you'll learn about the prisoner-of-war camps that once stood here, see landmarks like the Johore Battery and Selarang Barracks, and visit Changi Beach.
Highlights
Visit Changi Village and Changi Beach - site of the Sook Ching Massacre
Explore Changi Museum including the Changi Chapel
Walk outside the Selarang Barracks, a Japanese PoW internment WWII camp
Johore Battery, the replica of WWII15-inch gun battery
Make a stop to view the remains of the Old Changi Prison
Why Our Insiders Chose This Tour
The incredible guide paints a very clear picture of what prisoners in this WWII internment camp went through. You'll come away understanding so much more about a dark time in history.
Recent Photos of This Tour
What You Can Expect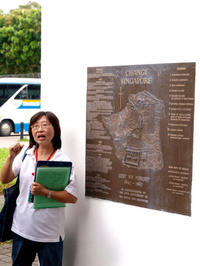 Your tour starts by meeting your knowledgeable guide, an expert in Singapore's fascinating history who will share enlightening information about the country's turbulent WWII years throughout this experience.

After the Battle of Singapore in 1942, which Singapore lost to Japanese forces, the island country spent time under the Japanese Occupation, and the Changi area was the center of much pain and suffering by prisoners of war (PoWs), mostly British and Australian, who were placed in internment camps here. With your guide, visit several sites in the area to learn more about these events, such as Johore Battery, a replica of a 15-inch gun battery, and Selarang Barracks. Explore the Changi Museum and Chapel, check out Changi Village and see Changi Beach to learn about the Sook Ching Massacre that took place here.

Your tour ends with return to your starting point.
May 2016
This tour was awesome - probably the highlight of our trip to Singapore. Our guide was informative, friendly and he made the whole experience personal by telling us stories of how the war impacted his family. I don't have relatives who were affected by WWII in Singapore, but I was emotionally hit bit time with the stores and pictures told in the museum. Absolutely worth the investment. Would definitely go again and recommend to anyone who is remotely interested in this sort of tour.
April 2016
Helena was a very interesting tour guide and I really appreciated her knowledge and explanations of the Fall of Singapore in 1942 and in particular the aftermath suffered by not only the Australian and other Allied forces, but also the impact on the people living in Singapore. Learning about what happened at Changi Beach and in the PoW camps should be very important to us all and touring the Changi Museum helped in increasing our awareness of the terrible suffering of those interned in these camps during WW2. Thank you for a very valuable history lesson.
April 2016
Excellent tour with engaging guide Wei Wei. She was full of interesting information and conducted the tour in a very professional, respectful way. Very moving museum. Highly recommended tour
April 2016
The guide was very knowledgeable and informative, well worth going on.
March 2016
Detailed narratives from the guide who is also passionate and helpful.
March 2016
Very educational and enlightening. The guide Helena was excellent.

March 2016
Great content. Interesting and engaged tour guide.
February 2016
The tour and our enthusiastic guide was excellent. The Changi museum and memorial were informative and very moving brought tears to the eyes.
February 2016
Really interesting morning. Tour was exactly how it was described - found it quite moving finding out what happened during WW2. Wui Wui, our Guide, was brilliant! She certainly knew her stuff, any question asked was answered and didn't feel rushed. The Tour ended at Changi War Museum, where you could stay and see the displays in more detail, however, I felt that Wui Wui covered everything so well. The bus takes you back to the MRT station where they pick you up from. If you have the time - go and see
February 2016
Outstanding excursion. Amazing amount of info and knowledge shared by guide.
Advertisement
Advertisement