Enjoy an outdoorsy getaway from the hustle and bustle of downtown Singapore on Pulau Ubin, a small, tranquil island off Singapore's northeast shore. During an eco-friendly kayak tour, you'll paddle 9 miles around the eastern half of the island, through wetlands and into streams. With the help of an experienced guide, watch for wildlife like dolphins, sea eagles, manta rays, otters and monitor lizards.
Highlights
6-hour Ubin kayak tour from Singapore
Paddle a sit-on-top sea kayak past Changi Beach and the rocky granite coves of Pulau Ubin
Spot wildlife in the mangroves, sea grass lagoons and coastal forests of Chek Jawa
Keep an eye out for dolphins, monitor lizards, manta rays and sea otters in this rich geological area
Learn kayaking techniques from an experienced guide
Perfect outdoor adventure for nature lovers!
What You Can Expect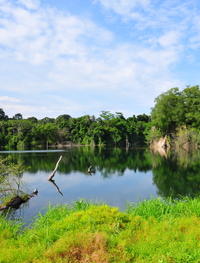 Your 9-mile (15-km) kayak tour starts on Pulau Ubin, so you'll need to make your own way to the small island from Singapore via a short ferry ride. When you arrive, meet your experienced guide at the tour office to be outfitted with your sit-on-top double kayak and life vest. Then hop in and take off, following your guide's instructions about paddling techniques.

A granite island made up of rocky shores, mangroves and inland creeks, Pulau Ubin is home to a variety of wildlife and vegetation around its waterways. With your guide leading the way, leave Changi Beach, paddling into the sea and then into tidal streams that bisect the north and south parts of the island. Pass by the cape of Chek Jawa, where 250 acres (100 hectares) of wetlands surround Ubin's eastern tip, and take a look at the mangroves, coral rubble, sea grass lagoon and coastal forest that make up the ecosystems here.

Continue on, paddling by dolphin hunting grounds and a sea eagle nesting site, and look for manta rays swimming in the water. Move into inland rivers at high tide to paddle down creeks and into mangroves, where you may spot a monitor lizard, tree snake or hornbill.

You'll take a break for lunch (bring your own food and drinks), where you can eat while enjoying the marine scenery. Near the end of the tour, pass by otter nesting areas and watch for them playing in the water. You'll finish back at the starting point, where you can change into dry clothes before departing Ubin on your own.

To see a map of the kayaking route, click the 'View additional info' link.
Meindert V Australia
February 2015
Had to make your own way to the Ferry station from your hotel, then needed to get a ferry across to the island. No one to meet you on the island and had to find your own way to the offices of the tour. Despite confirming the tour via e-mail and through the concierge at the hotel, the operator on the day had no knowledge of us booking the tour. Was then put on the wrong tour and only after I queried it, transferred onto the correct tour.
Was told to bring a packed lunch, though no provision was made by the tour operators to have the lunch transported or a dry bag supplied to keep it dry during the kayaking. This should be made clear to participants prior to booking this tour.
The tour description claims "go searching for dolphins". Never did, never will because according to the tour guide there never was and won't be any dolphins around that area. The time spent on the ocean was limited to paddling from the launch point to the entrance of the river to cross the island among the mangroves and then again getting back to the island. (less than 30min)
The fresh water part was unpleasant as the waterways were dirty and heavily polluted. As a medical professional I would go as far as to say it can present a major health risk to participants. The time on water was advertised as 5 - 6 hours. The full tour took 4 hours from arriving at the office to returning
On return: Had to clean your own kayaks, PPD, paddles etc.
There were no change rooms to change into dry clothes. The operator had two make shift open air showers, separated by a tarpaulin where we were told we could shower. It was mouldy and filthy to say the least. There were no toilet facilities either.
For the price paid, it was a disaster and the advertising on Viator is false. It would not recommend this tour to even my worst enemy. HIGHLY DISAPPOINTING.
Advertisement
Advertisement