Take a private 3.5-hour tour of Changi Village and learn from a knowledgeable guide about World War II history in the region. At the Changi Chapel and Museum, see exhibits on Singapore's POWs during Japanese occupation. Glimpse a mid-century 'kampung' — a traditional dwelling of the country's ethnic Malays — and then observe modern-day life on a visit to Tampines, Singapore's largest residential area. Round-trip transport by private vehicle is included from Singapore city and Sentosa hotels.
Highlights
Private half-day tour of Changi Chapel and Museum
Drive to Changi Village from Singapore by private vehicle
Learn about ethnic Malay culture and WWII history at Changi Chapel and Museum
Visit Tampines New Town, Singapore's largest residential area
Listen to amazing stories of POWs from your private guide
Private hotel pickup and drop-off included
What You Can Expect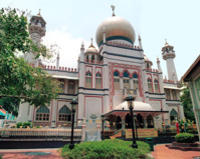 Upon hotel pickup in Singapore city or Sentosa, you're driven in the comfort of a private vehicle to the east coast village of Changi for a tour of the Changi Chapel and Museum. Ask your informative guide any questions you have about the region or Singapore's WWII prisoners of war, whose tools, personal belongings and other artifacts are on display here.
Hear about pre-war living conditions and the effect of militarization on Changi during Japanese occupation. You'll also get acquainted with the cultural heritage of Singapore's ethnic Malays at a
traditional dwelling
called a
kampung.
After a drive through Changi Village, your guide makes a brief stop in Tampines, Singapore's largest residential estate, for a contrasting view of the fascinating enclave in the Singapore
heartlands
.
Visit sites of the 'new town' such as the wet market, a coffee shop and housing blocks, before your 3.5-hour excursion ends with drop-off at your hotel.
January 2016
Our guide was very informative. Changi is a very emotional 'step back in time' and it certainly makes you think. It is very humbling to see pictures and read stories about the suffering which people endured.
We would suggest all should visit and remember.
April 2015
Dennis was a most knowledgable guide, he looked after us and would say this tour was very good value for money

November 2012
This tour was fantastic. Our tour guide Margaret was wonderful with loads of knowledge and information. A very emotional day, where we learnt more about the history of Changi and the atrocities that ooh place. I would recommend this tour to anyone visiting Singapore. Thanks again Margaret your knowledge was amazing and you educated us about Singapore in general too!
James H France
April 2010
Our personal guide and our chauffeur helped to make this very emotional trip a lovely experience. Changi Museum is very explicit, hard on the senses, it will make you weep, but our lovely guide made it bearable by her sympathetic approach. A must for anyone interested in WWII history.
April 2014
A Tour to take if you are interested in the war history of Singapore. Pricilla was our Guide and she was great telling us the stories behind the exhibits.
September 2013
Our tour guide was very informative about life in Singapore and took us to experience how they lived. We even walked through a "suburb" to see how they live in shop in the hi rises.
The tour mainly focused on their way of life which was different from tours I have been on all around the world.
June 2013
Very good overview of Changi and the effect of the war on Singapore. Visit to the Malay area was worthwhile too. Guide knowledgable and friendly.
September 2012
A nice allround trip - Guide was extremely pleasant and very well informed -- Disappointing to realise the original Changi Chapel is in Canberra and only got to see a copy, but rest of museum was great
Jason M Australia
July 2011
very well done with many interesting stop offs
Noah H USA
September 2014
This tour was quite good.
Advertisement
Advertisement