Journey on a half-day tour from Singapore to Johore Bahru, southern Malaysia's largest city. Watch local artists create intricate paintings on batik fabric, pay respects at the Sultan Abu Bakar Mosque and explore nearby Kampong village. An English-speaking guide accompanies the trip.
Highlights
Private tour with English-speaking licensed guide
Cross the boarder to Johore Bahru, Malaysia
Visit Sultan Abu Bakar Mosque, a Moorish-style mosque
An opportunity to view traditional Malay arts and crafts
See the craftsmen at work painting the national batik fabric
Hotel pickup and drop off
What You Can Expect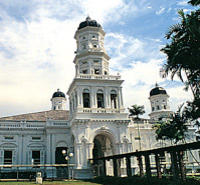 Drive across the causeway linking Singapore and Malaysia. After immigration formalities, we commence our tour of Johore Bahru with a visit to a handicraft center to observe batik painting. This is followed by a visit to Sultan Abu Bakar Mosque, a Moorish-styled mosque that is strategically positioned on top of a hill overlooking the Straits of Johore Bahru. Built in 1900 and is one of the most beautiful mosques in Malaysia, before arriving at a Kampong.

The final stop will be at a Muslim cemetery with a view from the exterior The Royal Mausoleum, an area where one can't help but appreciate the serene and tranquil atmosphere befitting a resting place for eternity. The Royal Mausoleum has been the final place for Royalty of Johore Bahru and the architecture is one of a fine, unique and aesthetic design of yesterday. From here proceed back to Singapore.
May 2014
We went on this Malaysia tour with my family (2 adults, 2 children) and my wife and I really liked it. This was our first visit to Malaysia, and as a half-day introduction to Malaysia, it was nice. That being said, I can understand why others may rate this trip lower.
The day went like this:
- 8:00am hotel pick-up in a van
- Drive to Johore Bahru (JB)
- Visit a traditional village home. (included an introduction to local plants and fruits, a dance performance, local fruit and drink sampling, a pewter workshop, and a gift shop)
- Visit to the Mosque with an explanation of its unique architectural features and history. (couldn't go in as I am not a Muslim)
- Visit to a Muslim Cemetery. This is unique to Malaysia as Muslims are traditionally buried in unmarked graves, but here they have adopted some British customs and it resembles a European style graveyard with a beautiful mausoleum of the Sultan and his family
- Drive back to Singapore, arrived at our hotel around 2:00pm
Things we loved about this tour:
- private and personal tour. It was only our driver, our tour guide, and us in the van so the trip felt personal and private and we went at our own pace. The driver and the guide were very flexible and accommodating.
- Very knowledgeable and friendly guide. I personally enjoyed the history of the mosque and the mausoleum as it has adopted unique characteristics and customs compared to other more traditional muslim sites.
Things we didn't like about the tour:
- Not very interesting for children. The stop in the traditional village home was interesting for my daughter as she tried some food and drinks, watched a dance performance, and saw a man working with pewter. The rest of the day she stayed in the car and just played on the I-Pad.
- The border crossing. Cool experience, but the traffic was heavy. We waited 30 minutes in the morning, and 1 hour in the afternoon. Good thing is, we didn't have to get out of the car so the kids slept.

BATTERSBY666 United Kingdom
March 2013
Our driver arrived on time and the car was comfy, clean and good air con. We drove over the border to pick up our guide - this was not explained but did not cause an issue. Our guide spoke good English and was very well informed and knowledgeable. The sites we visited were not very exciting, but I wanted to visit Malaysia and this tour was ideal for our short stay in Singapore.
November 2013
Horrible - guide was lousy and nothing to see! Think this was a huge ripe off, most expensive tour and the worst!
Advertisement
Advertisement