Visit River Safari in Singapore for a wildlife experience themed around the world's freshwater rivers. You'll wander around eight river habitats, from the Yangtze to the Mississippi, to encounter animals of all types, including the beloved giant panda. Learn about the native animals and plants that are found around the world's legendary rivers, and take a boat ride on the 'Amazon River,' if you wish (own expense). Hotel pickup and drop-off are included.
Highlights
3-hour tour to River Safari in Singapore
Experience the world's iconic rivers such as the Yangtze and the Nile
Get up close to giant salamanders, Chinese river otters and Mekong catfish
Watch giant pandas at the Giant Panda Forest
See manatees at the Amazon Flooded Forest, the world's biggest freshwater aquarium
Round-trip transport by air-conditioned vehicle included
What You Can Expect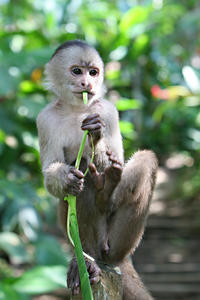 With hotel pickup included, it's easy to get to Singapore's River Safari, which is located in the northern part of the island. Home to 30 acres (12 hectares) of habitats that mimic the environments of some of the world's biggest rivers, River Safari provides an immersive experience where you can see 5,000 animals across 300 species, plus more than 150 different types of plants.

Walk around the eight themed habitats to spot giant fish, amphibians and river mammals, from the Chinese salamander to the endangered Mekong catfish. Look for river otters and a freshwater stingray, and don't miss the Yangtze River zone, where the Giant Panda Forest is one of the park's top attractions. Here you can watch resident pandas Jia Jia and Kai Kai laze around their climate-controlled habitat, where boulders, water features and lush vegetation imitate their natural environment in China.

Then visit the Amazon Flooded Forest zone, where you can see more than 18 animal species, including the arapaima and manatee. If you wish, you can hop on the Amazon Quest for a boat ride down the 'Amazon River' to see fascinating Amazon animals like the red howler monkey, jaguar, anteater, capybara and Brazilian tapir (boat ride at your own expense).

By the time you leave River Safari, you'll have a new appreciation for the fragile ecosystems that depend on Earth's rivers, such as the Mekong and the Nile. Learn about the conservation efforts in place to preserve some freshwater habitats that are disappearing more quickly than forest and ocean environments.

Your tour ends with return hotel transport.
December 2014
This tour was one of the best I have been on . panda bear was may highlight .so many things to look at . Singapore safari took you thou a lot of different countries of the world,
November 2014
Second time I did this tour. Still enjoyed it. Guide was explaining thing right from the word go. We learnt a lot about Singapore. Made me realise how short a history and what little Singapore has to show tourists. But they still do it in style. I wish poor Sri Lanka, which has so much to offer (proud history running 10,000 years, beaches, wild life, history, scenic country side), could learn from Singapore and market their treasured tourist attractions more aggressively in a tourist friendly manner. Hats off Singapore
September 2014
Picked up on time, friendly, professional tour guides. Great experience.
July 2015
Really enjoyed my afternoon sorry it was longer.

October 2014
Very nice and worth doing for sure with the night safari.
December 2014
It was ok. Pandas were sleeping. Monkeys were very active. Easy to get through this part of zoo in 1.5 hours. Guide was hilarious!
November 2013
Great potential, but its not all open yet. Hold on to next year if you can
October 2013
Unfortunately the Boats will not be in service until 2014. We were not aware of this prior to booking as the promotional material mentioned the boats.
July 2013
It was different then my expectation. I tought that we will ride a small boat slowly to see the river bank wildlife.
October 2015
A lot of time was spent in the pick up arrangements and so tour itself was shorter than expected. Not enough time to see everything if one took time to read any of the material on each exhibit. Last bit could only run through to get back to pick-up time.
Advertisement
Advertisement