15 Reviews
Location:

Singapore, Singapore

Duration:

4 hours

(approx.)
Escape the hustle and bustle of Singapore and enjoy this 4-hour bike ride through scenic Pulau Ubin. Cycle deep into the island to see natural wildlife including Malayan water monitors, wild boars and monkeys. Your experienced guide will lead you on an exploration of the island's fruit plantations, tranquil beaches, flourishing mangroves, old villages and more! This easy to moderate bike ride requires mere basic riding skills and is sure to whet your appetite for adventure.
Highlights
4-hour bike adventure on Pulau Ubin from Singapore
Enjoy an easy to moderate bike ride through the scenic island with your expert guide
Get a glimpse of local life in Singapore's only remaining kampungs (villages)
Admire the island's natural scenery including secluded beaches, lush forests, fruit plantations and more!
Certified guide offers knowledgeable commentary and an enjoyable riding route
Perfect bike tour for beginners and experts alike!
Two departure times for you to choose from

Recent Photos of This Tour
Singapore Bike Adventure around Pulau Ubin
What You Can Expect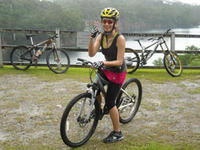 Escape Singapore and embark on an enjoyable bike tour around the beautiful rural island of Pulau Ubin on this guided bike adventure. From Singapore, make your own way to Pulau Ubin on a short and inexpensive (approx. USD $2) bumboat ride. Enjoy the sights of Singapore and of Pulau Ubin from the water on this 10-minute ride. Meet your guide at the National Parks Information Kiosk, located directly across the ferry terminal. Follow your guide into the bike rental shop, where you'll choose your bike, strap on your safety gear, and receive a detailed orientation. Then, embark on your 4-hour biking adventure!
Pulau Ubin, meaning 'Granite Island,' is a small rural island that will give you a tranquil escape from Singapore's busy city streets. Travel back to the 1960s as you visit the island's kampungs, Singapore's last remaining villages. Enjoy the refreshingly cool breeze as you bike on a combination of tarmac roads and dirt tracks.Your certified guide will lead you on any one of the many cycling routes available. These routes tend to change daily, though each will surely give you a glimpse of the island's natural wildlife and local village life.
One route may take you to the western part of the island, where you will ride to the Pekan Quarry. Visit the German Girl Shrine and learn about the 'Mystery Girl of Ubin' while enjoying magnificent views of the Western Straits of Johor. Another riding route may take you to the eastern part, where you will make stops at places like the fruit plantations of Jalan Ubin and Chek Jawa with its virtually unspoiled sandy beaches and coastal forests, all brimming with native wildlife.
Pulau Ubin has plenty of easy and moderate riding routes for both beginners and experts to enjoy. Whichever route your guide chooses for the day, there will be planned stops to give you an opportunity to take photos and have your guide share some local history.
June 2015
March 2015
This was an excellent experience we had. Our guide, Fadil was fantastic, very knowledgable as well as entertaining. A trip around the island was so worthwhile as it gave an insight into the original way of life in Singapore (in Kampong villages). This is definitely a must do.
August 2014
Despite very hot and humid conditions, the tracks were mostly in shade so it was quite pleasant. Our tour guide was a local so had estensive knowledge of the island history, flora and fauna and he was easy to communicate with. He made sure we travelled on paths and at speeds that suited our age and fitness levels so we felt safe at all times. The island is quite beautiful and the actual riding time was about two hours, quite enough in thta heat. We would defintiely recommend it to others.
June 2014
Had a great time. The guide was very considerate of our ages (72 and 71)' but we managed the ride with some walking.
Anonymous
October 2013
Excellent ride, very well guided, lots of information provided. Would recommend to others traveling to Singapore. Very happy :)
July 2013
Very nice experience! The guide was knowledgeable and well prepared. He is a native from the island and has an interesting story about everything you will pass by. The island is worth seeing especially when you have a certain ideas of a "modern" Singapore. What you will see here will surprise you.
July 2013
This was a very worthwhile outing. Palau Ubin is a jungle park, a short ferry ride from Urban Singapore. The guide was local and knew where to find wildllife and had the backstory on what was happening on the island. I think both the bike outings and paddle outings would be a veyr good way to spend a day in Singapore.
March 2013
I did this tour 3 Mar 13 (AUD46.93). I loved it! This was my 4th trip to Sgp and I was determined NOT to go anywhere near Orchard Rd. I wanted to see the real Sgp with some peace, quiet and tranquility-away from crazy crowds. I took a taxi from V Hotel (MRT Lavender) to Changi Ferry terminal. 20 mins, approx SGD20. (Bus #2 from Victoria Rd). I boarded the bumboat for SGD2.50 each way. The little wooden boats don't go to timetable, they just go when they have 12 passengers (full boat). It was a lovely 15 min ride over to Pulau Ubin (Ubin Island). I met my tour guide, Zhiguang right on time at 9.15am. I was amazed I was the only rider, so I had a personal tour guide for my money. Bonus! We went and got our mountain bikes and took off. What a beautiful National Park. Very few residents - those there are still living in traditional style houses.
I absolutely loved peddling around the sealed roads with Zhiguang. He is studying Sports Science at College and we had some great chats about fitness and Singapore in general. He has been coming to Ubin since 2007 so he knows the island really well. I loved peddling on the "blue trail" the easy off road circuit - a bit of gravel, mud and grass, a few lumps and bumps but nothing crazy for a beginner like me. There is also "black diamond" and "double black diamond" trail for the serious riders - but you wont be doing them on this tour (ha ha). I loved riding around and seeing the "Butterfly Hill" (counted 7 varieties of butterfly in just a few minutes), the "Secret Spice Garden", the waterlilly pond, the Shrine to German Girl, the old granite quarry (now a reservoir filled with water forming a beautiful lake) and the amazing views over to Malaysia - I didn't realise it was so close you could swim across. I had a blast! I was so sorry it was over at 1.30pm. I invited Zhiguang to some lunch at one of the local restaurants. I wanted to thank him for the best tour - I enjoyed it HEAPS more than shopping on Orchard Rd!
Anonymous
June 2012
A different way to see and experience Singapore. Must do~~~
Anonymous
June 2012
A wonderful experience, very informative. Thoroughly enjoyed the cycling. A great time cycling through the mangroves, etc and the guides were so much fun. Kind Regards, Trevor and Vicky Forde
Advertisement
Advertisement