75 Reviews
Location:

Singapore, Singapore

Duration:

3 hours 30 minutes

(approx.)
Take a glimpse into the history, lifestyle and unique character of the Peranakan of Singapore — people of mixed ethnic origins — on this 3.5-hour coach tour with a knowledgeable guide. Follow a walking trail through the Spice Garden at Fort Canning Park, and see an exhibition of clothing, jewelry, furniture, customs and festivals at the Peranakan Museum. You'll view traditional Peranakan shophouses dating back to the 1920s and end with a food tasting of local Peranakan (also called Nyonya) cuisine, a combination of Chinese, Malay and other influences.
Highlights
3.5-hour Peranakan heritage tour of Singapore
Hear commentary from an informative guide on a walk through the Spice Garden at Fort Canning Park
Learn about the cuisine and customs of the Peranakan people at the Peranakan Museum
Visit the suburb communities of Katong and Joo Chiat, and sample a few Nonya specialties in Kim Choo
Coach pickup and drop-off included from most major hotels in Singapore city or Sentosa Island
Why Our Insiders Chose This Tour
You'll learn all about Singapore's Peranakan population including Straits-born Chinese (also called Baba-Nyonya) — descendants of 15th- through 17th-century Chinese immigrants — as well as other ethnic communities including Arab, Indian and Eurasian.
Recent Photos of This Tour
Singapore Heritage Tour: Peranakan Museum, Spice Garden and Food Tasting
What You Can Expect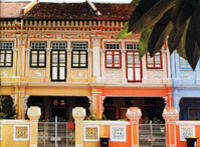 After pickup at your Singapore city or Sentosa Island hotel, you're driven by comfortable coach to Fort Canning Park, a hilltop landmark of lush greenery. Venture along a walking path into the Spice Garden, which dates back to the origins of Singapore's first botanical garden in 1822 and boasts more than 100 varieties of plants and trees.
Follow your knowledgeable guide, who points out various herbs and spices, such as chili, galangal, lemongrass, turmeric, curry leaves and ginger, used in cooking tangy Peranakan dishes.
The next stop on your coach tour is the Peranakan Museum, where you'll learn more about the customs of the Peranakan people in permanent exhibits on their origins, language, fashions and religion. See displays about food and feasting traditions, including a video demonstration on Peranakan cuisine — a blend of Chinese, Malay, Indian and European ingredients and cooking methods.
Next, you're off to Katong and Joo Chiat, bustling enclaves well known for their rich cultural mix, with residents from various communities adding to the cultural fabric of Singapore. See rows of colorful, traditional Peranakan shophouses dating back to the 1920s and 1930s in an area that draws people from around the island for delicious local food.
Finally, stop in Kim Choo for a Peranakan beading demonstration followed by tea and food sampling. Try several Nonya specialties, such as dumplings, otak otak (grilled fish cake mixed spices) and layered cake before you're taken back to your hotel.
May 2015
Very good experience in all fronts!
April 2015
Very nice guide - I liked the herb garden tour and seeing and tasting the food. Such wonderful coloured houses - nice to see that they have been preserved.
February 2015
First we walk through the spice garden park to smell the various fragrances. Next we go to a little shop where we sample a couple of appetizers. Finally we go to the Pernankan museum to learn about the people and culture of the country.
As a reviewer had mentioned, this is not a tour to just sit down and eat like a fat lazy (insert country here). Thus I do agree that the tour title should be changed. However, I had no issues understanding what the tour would entail because I read the entire description and information like any conscientious traveler should.
I would recommend the tour to someone who enjoys both cooking and learning about different cultures. If you can identify a spice by the smell - then you would appreciate the spice garden. If you care about the history of the city and how the residents came to be - you need to have liked history in school - then the museum is a good place.
I had the fortune like others to have Mr. Foo as my guide. (I also had him for the Round Island tour, lucky me!) Plus there were only 3 of us in the group, so the tour was very intimate. It's hard to hear a guide when there is a large group of people, so having such a small group helped immensely for me to be able to listen to him and ask a lot of questions.
February 2015
The tour guide was very knowledgeable
I was glad I decided to join the tour I be using more of your tour around the world
It was great.
February 2015
Loved this tour. Our tour guide was full of information and the food tasting was lovely. A great insight into the Peranakan people and culture.
December 2014
Very informative and enjoyable. great value for money.
December 2014
I was very impressed with this tour, especially our guide, Mr Foo - what a wealth of knowledge. I was fortunate to have a small group of 3 with Mr Foo, so we gained enormous benefit of listening to his stories and understanding of local history. I did, however find the title of the tour slightly misleading as the tour was more cultural than food tasting i.e. we started at the Spice Gardens, then drove around observing the local architecture and some of the heritage listed properties, then onto a market shop for local handicrafts and plate of 3 small bites of food followed by a visit to the Peranakan museum. If anyone signs up to this tour for food they would be disappointed.
December 2014
I have visited Singapore many times but knew nothing of the Peranakan Trail. What an amazing interesting morning. I learned more from your guide in 3 hours than I have on many previous visits to the country. The only disappointment was the short amount of time we had in the Museum, others I think it was wonderful. The guide was really knowledgeable, not only about his subject but about the overall history of Singapore.
November 2014
This is an excellent tour. Our guide, Phillip, was very good with his comments, knowledge and feeling for the history and food of the Peranakan. The tastings were excellent and the Museum was extremely interesting. Well worth doing.
August 2014
An excellent tour local tour guide was excellent a very interesting tour
Advertisement
Advertisement