Combine two of Singapore's top attractions in one animal-filled day on this Super Saver. You'll spend the afternoon and evening at some of the most popular wildlife experiences in Asia—the River Safari and the Night Safari, affiliated with the Singapore Zoo. At River Safari, see more than 300 animal species from the world's freshwater river environments, from Amazon manatees to Chinese giant pandas. Then head to Night Safari for a tram ride past open habitats where nocturnal animals spend their waking hours. Hotel pickup and drop-off are included.
Highlights
8-hour combo tour of Singapore River Safari and Singapore Zoo Night Safari
Discover eight river habitats, and explore the night jungle by tram
See Mekong catfish, Chinese river otters and giant salamanders
Observe pandas living in the Giant Panda Forest
Visit the Amazon Flooded Forest
Get up close to the forest wildlife on a guided trail walk
Round-trip transport by air-conditioned vehicle included
Recent Photos of This Tour
Singapore Super Saver: Night Safari and River Safari
What You Can Expect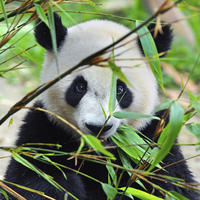 River Safari:
Your wildlife Super Saver starts with hotel pickup for the drive to River Safari, where eight river habitats are spread across 30 acres (12 hectares) that are home to 5,000 animals. During the drive, learn about the various ecosystems of some of the world's legendary rivers.

When you arrive at the reserve, you can explore by both walking and on a boat ride. Encounter creatures like the endangered Mekong catfish, a Chinese salamander, river otters and a freshwater stingray. The different zones, which mimic natural environments, include the Yangtze River, home to one of the largest panda habitats in Southeast Asia. At this must-see exhibit, watch resident pandas Kai Kai and Jia Jia as they laze about and eat bamboo.

Then head to the Amazon Flooded Forest zone for a look at more than 18 animal species, from the manatee to the arapaima. Hop on the Amazon River Quest for a boat ride down the 'Amazon River,' where you'll spot fascinating animals like a capybara, Brazilian tapir, jaguar, red howler monkey and giant anteater.

Night Safari:
When your time at River Safari ends, you'll be driven over to Night Safari, next to the Singapore Zoo. One of the world's first nighttime zoo experiences, Night Safari is home to 98 acres (40 hectares) of naturalistic open-style habitats, where nocturnal animals like tigers can be seen in the subtle moon-like lighting.

Aboard an open-air tram, explore the zoo and enjoy the mysterious thrill of traveling through the jungle after dark. The tram will make stops so you can hop off and follow your guide on foot down walking paths that get you closer to the animals. Pass by a large reservoir, and admire the specially designed habitats that imitate environments such as the rainforest of Southeast Asia, foothills of the Himalayas and the Indian subcontinent.

Your tour ends with return transportation to your hotel.
May 2016
Excellent tour, plenty of time to see the various sections

April 2016
April 2016
Great tour. Saw many animals on the night safari. The staff were great and helpful. The river safari was a little less impressive just because there was less to see.
November 2015
This was really good value and the Pandas were absolutely adorable and lived up to all expectations. Being on a tour paid off enormously at the Night Safari because the queues were horrendous it was the evening before a public holiday and we got preferential entry and then had our own tram as well - brilliant. The tour guide was a little bossy perhaps but very organised and efficient and rather amusing on the way back to our hotel in the bus. Being collected from and taken back to our hotel was a major bonus too - made everything so easy. It was a very late night though later than the info about the tour mentions. We weren't back to our hotel until 11.15pm, which was late for my 10 year old daughter, however, she coped fine and really enjoyed the whole experience. One thing to note is that we were transferred from a minibus to a bigger bus and the meeting place for the larger bus was decidedly odd - some kind of student hostel place with old furniture stacked up all over the place - we arrived there just before the tour people which was a little disconcerting but when others arrived it was all good. Overall I highly recommend this tour.
November 2015
We had a great afternoon at the river safari and the night safari we took our 12 year old son and he total enjoy this day Linda chan our guide was brilliant full of great information thank you Linda
November 2015
As a total package this was great value for money. Being able to see animals in a natural environment was a great change. It was a real education and the opportunity to see the Giant Pandas on the River Safari was really special.
The Night Safari was incredible. I am sure that what Singapore has done with this part of their zoo should be an inspiration to other zoos around the world.
How this all compares with the rest of the zoo, I don't know but I do know that it was great value for money and will provide many wonderful memories and a realisation that many of the animals that are seen at zoos from 9 to 5, are in fact just as active from 7 to 12.
As an added treat, the Thumbuakar Warriors Fire Show presentation is something to behold. You don't need special pyro-technics when these guys are around.
The Night Safari is a show that you will be disappointed if you miss it.
November 2015
October 2015
A very well organised and exacuted tour, very funny tour quide

October 2015
My daughter and I had a wonderful time on this tour. I would recommend both the River Safari and Night Safari. Both offer a great experience for families. Being picked up from our hotel and then taken back at the end of the evening certainly made the day run more smoothly.
The only issue we had was not with the tour but with the haze, so I would advise not to go during the dry season when haze is at its peak.
Would definitely go on this our again
September 2015
Excellent setup thoroughly enjoyed just be prepared for a long day
Advertisement
Advertisement