Get to know Singaporean nightlife past and present on a walking and driving tour of Chinatown and Geylang Road. A knowledgable guide accompanies you along the alleyways of Chinatown's former red light district, sharing stories and history of the neighborhood en route. Then it's off to Singapore's eastern end to explore a red light district that's still very much alive. Sample foods from numerous hawker stalls (own expense) along the way and check out Singapore's bustling Club Street. This adult-themed cultural and historical tour takes place only at night.
Highlights
2.5-hour historical tour of Singapore's Chinatown at night
Venture into the back alleys of Chinatown and along Geylang Road
Learn about Singapore's designated red light district through a guide's informative commentary
Walk through lively Club Street, Food Street and Singapore's 'East End'
Why Our Insiders Chose This Tour
On this adult-themed tour of Chinatown, a finalist of the Singapore Experience Awards for Best Travel Experience 2014, you'll learn about the lives of Singaporeans once embroiled in such vices as gambling and prostitution.
What You Can Expect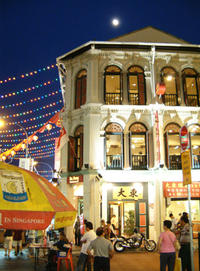 Join your guide, an expert in Singapore's heritage and colorful history, at the Chinatown MRT Station on Pagoda Street. During an informative 2.5-hour tour, you'll discover age-old vices — and learn about 'entertainment' still practiced today on the fringes — as you explore the shadow-side of Chinatown by night.
Glimpse side streets on a walk through Chinatown, where a proliferation of brothels and opium dens crowded the streets by the end of the 19th century. Then take a coach to Geylang, Singapore's still-thriving red light district, and get a behind-the-scenes peek at its numerous back alleys during a walking tour of the area.
Other highlights include the pedestrian-friendly Food Street with its mesmerizing array of street food stalls, and a stroll down Club Street, where you can soak up the buzzing nightlife of one of Singapore's trendiest clubbing areas.
April 2016
First - a heads up. This is not really a 'cultural and historical tour of Chinatown', it is a tour of Singapore's red light districts, past and present, that starts in Chinatown.
WOW! This tour was amazing. Our guide really knew her stuff, was friendly, and really seemed to love her job. We started off in Chinatown, where we went through a restored house cum museum which showed what conditions were like way back when. We then walked through Chinatown to meet the bus, with the guide telling us stories specific to the places we were moving through. She really brought it to life.
We then caught a chartered bus into the very much current red light district of Geylang. Those willing were given the opportunity to try 'shellfish' hmm... turtle! crocodile! lauded by some locals for its virility-increasing powers at a restaurant, before we walked through the main street and some very well lit, only in Singapore back alleys.
All in all, a fantastic night and highly recommended tour. Our guide was fantastic, and it was great to see the other side of Singapore's squeaky clean reputation.
November 2015
This tour is absolutely amazing! Really a must for everyone who wants to unravel the deepest secrets of singapore. Our tour guide Sharul was so knowledgeable, funny and entertaining! this is my third viator tour in singapore and this one is beyond comparison. AMAZING
November 2014
Great guide. Tour very interesting, well organized.
December 2011
A great experience, full of info and fun would recomend as NOT TO BE MISSED
December 2011
enjoyable and very well presented :)
November 2015
We found the tour very interesting and enjoyed Nancy's presentation. Would have done a food tour but there was none avail on the Saturday night.

Keith H Australia
October 2015
A Fascinating insight into The Red Lantern secrets. Our guide Joanne was excellent. Her passion and exuberance for the subject was infectious. Highly recommended
April 2011
John G Australia
January 2010
Very enjoyable tour, our guide was excellent.
Trudy S USA
November 2007
We had a great guide with a good sense of humor.
Advertisement
Advertisement