114 Reviews
Location:

Sorrento, Italy

Duration:

8 hours

(approx.)
Explore the famous Amalfi Coast with your own driver to chauffeur you from town to town on this private full-day excursion from Sorrento. You'll discover Positano, Amalfi and Ravello, three of the most beautiful villages in the south of Italy. A private visit to the Amalfi Coast is the perfect choice if you want to get a real taste of southern Italy and its exquisite coastal landscapes.
Highlights
Private full-day tour of the Amalfi Coast from Sorrento

Choose your own itinerary

The four pearls of the Amalfi Coast: Sorrento, Positano, Amalfi, and Ravello

Option to have an English-speaking guide

Private chauffeur-driven car

Hotel pick-up or drop-off

Recent Photos of This Tour
Amalfi Coast Private Day Tour from Sorrento
What You Can Expect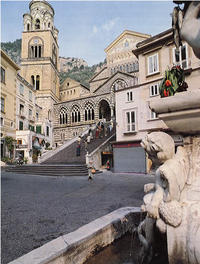 By taking a private tour, you have the option to spend as little or as much time as possible in the picturesque towns of Positano, Amalfi and Ravello, world famous for their charm and colorful architecture.

The villages scattered along the Amalfi Coast have always attracted visitors, bewitching all who visit. The charm lies not only in the towns themselves but also in their history and rich legacy of fine churches, villas and monasteries.

Positano
Positano sits in a splendid panoramic position on one of the most beautiful stretches of coastline. Its enchanting town center of delightful pastel-hued houses surrounds the parish church of Santa Maria Assunta, its laneways are lined with quaint, colorful shops and its numerous beaches are world famous.

Amalfi
Amalfi's typically Mediterranean architecture, made up of lanes and characteristic white houses piled one upon the other, makes it one of Italy's most famous resorts.

Ravello
Ravello is situated in a more elevated position than the other pearls of the Amalfi Coast, boasting exceptional views of the coast and its marvelous villas and gardens.
August 2015
We asked for a less expensive room in our Sorrento hotel so we could splurge on this private tour. We are glad we did. After reading the reviews,and knowing we would feel sick on a bus on those winding roads, we decided to request Rosario to drive us along the Amalfi coast.. We elected not to have a tour guide as we were toured out by then and relished the quiet and slower pace. Rosario was prompt picking us up at our hotel, kind, a gentleman, a very safe driver and very personable and comfortable to be with. He was a perfect balance between allowing us our space and providing us with interesting information as we drove along. Rosario knew to stop at key points for photo taking and, as he did with those before us, suggested a restaurant between Ravello and Positano that had very flavorful food. We enjoyed our meal overlooking the coast and under 100year old lemon trees. Of the 3 towns we visited, Amalfi, Positano and Ravello, we enjoyed Ravello the most. It was the least touristy of the towns. Though we appreciated what Italy has to offer, i.e. ceramics, oils, cheeses, textiles, shoes!, Ravello was more Music centered. When we return , we will be sure to stay in Ravello for a few days. On our ride back we played Italian music Return to Sorrento and Pavarotti as Rosario drove us back to our hotel, for the full experience ! We would highly recommend this tour and Rosario as your driver. Be sure to wear good walking shoes! FYI, we learned while touring Pompeii that the best of Pompeii is in the archeological museum in Naples!
July 2015
This is a must do trip. Breathtaking views and the towns are fantastic!
July 2015
So glad we decided to book this tour. Our driver was great and got us to each destination on time and safe. The Amalfi Coast roads are very scary so I am glad we didn't try to drive ourselves we never would have seen everything that we did with Pepe. We didn't have a guide so we were on our own in each town which was great. We had a couple options for lunch and ended up with a fantastic view of the coast. It was a great day!
July 2015
This tour was so much fun! We really enjoyed ourselves. We were a bit worried we would miss out on some things because we had no guide, but our driver Rosario was very knowledgeable and spoke an impeccable English. He was very professional and was willing to adapt to our needs. We felt safe having him as our driver and he took us to an amazing place overlooking the sea for a nice, quiet lunch. It was a really great way to experience all the beauty of the Amalfi coast. We couldn't have asked for more! We even saw Rosario 2 days later in Sorrento while walking on our food tour and he was actually the one that spotted us and rolled down his window to wave hello at us. Really nice guy and an excellent photographer too! Go ahead and book this tour without a guide, you will not be disappointed! The Amalfi coast is absolutely beautiful!
July 2015
We took the drive along the Amalfi Coast with 6 people in our party. The van was comfortable and the driver knowledgeable on the area. It was a beautiful day trip and one that we recommend to everyone staying along the coast!
July 2015
Great tour. Great driver. Door to door service and well worth the investment.
July 2015
So glad we splurged on the private tour. Our driver, Adriano, was punctual, friendly, and very accommodating. He offered to take our photo at several scenic locations and recommended a fantastic restaurant for lunch with a breath-taking view of the coast. Most importantly, he drove us safely on this very crowded road. We very much enjoyed our tour of the Amalfi Coast and would highly recommended it.
June 2015
This tour was the highlight of our week in Sorrento. The views were amazing and our driver, Gianni, was excellent. I will happily recommend this tour to friends and family visiting the region.
June 2015
What a wonderful way for us both to see the wonderful views of the Amalfi coast and to experience the narrow, winding coast road in comfort and safety. We were picked up from our hotel and the day was just so relaxing. We stopped in Positano and Amalfi where we had lunch at Stella Maris which was wonderful and had time to wander around both of these lovely little towns. We decided not to bother with Ravello as were going to be staying there for two nights after our stay in Sorrento.
We both preferred Amalfi which had some wonderful shops and was very photogenic.
Anthonio, our driver, did some explaining but his English was just so-so and he needed to concentrate on the roads as the Italian drivers can be a bit crazy! How buses managed to get past each other on the bends and little narrow road is a miracle that is great to watch.
This is a beautiful way of seeing the coast rather than being squeezed in to a shared minibus or coach as it is more relaxed and open and you are able to amend the itinerary to suit yourself.
June 2015
Our driver and guide were really great. They provided a tour that suited our capabilities since we had some difficulty climbing stairs. Their flexibility and attention to our needs was wonderful. They did everything to make sure we had a full experience of the Amalfi coast. One added bonus was a boat tour from the Amalfi port to experience the coast from the water, I recommend that you add this even though it is extra, it was well worth it.
Advertisement
Advertisement