See the stunning Amalfi Coast at your own speed on this private, full-day trip from Sorrento. After creating your own itinerary, sit back and relax as a private driver takes you along the coast, making stops in the most beautiful villages in southern Italy: Positano, Ravello and Amalfi. Get a true taste of the region's rich history, architecture and cuisine before concluding with drop-off back in Sorrento.
Highlights
Private full-day tour of the Amalfi Coast from Sorrento

Choose your own itinerary

The four pearls of the Amalfi Coast: Sorrento, Positano, Amalfi, and Ravello

Option to have an English-speaking guide

Private chauffeur-driven car

Hotel pick-up or drop-off

Recent Photos of This Tour
Amalfi Coast Private Day Tour from Sorrento
What You Can Expect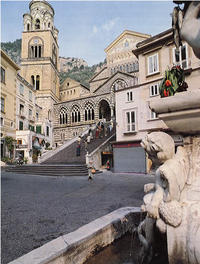 Craft your own travel itinerary along the Amalfi Coast without worrying about the logistics on this private day trip. Departing from Sorrento with your own personal driver, explore Positano, Ravello and Amalfi at your leisure, each beloved for their stunning views of the coast, colorful architecture and small-town charm.

Check out the Itinerary section for more information on each of the towns.
Itinerary
Positano
Positano sits in a splendid panoramic position on one of the most beautiful stretches of coastline. Its enchanting town center of delightful pastel-hued houses surrounds the parish church of Santa Maria Assunta, its laneways are lined with quaint, colorful shops and its numerous beaches are world famous.

Amalfi
Amalfi's typically Mediterranean architecture, made up of lanes and characteristic white houses piled one upon the other, makes it one of Italy's most famous resorts.

Ravello
Ravello is situated in a more elevated position than the other pearls of the Amalfi Coast, boasting exceptional views of the coast and its marvelous villas and gardens.
May 2016
Our trip to Positano, Amalfi, and Ravello was terrific. Our guide Claudio did a great job. He let us customize our trip the way we wanted. This was our first Viator tour and we would definitely use your services again.

May 2016
This was a very enjoyable trip. Rosario our driver picked us up at our hotel and could not have been more professional and friendly. We did not book the guide option and this did not detract at all as Rosario was very knowledgable and his English was very good. Rosario stopped at various scenic points along the route so that we could take photographs. At each of the stops, Rosario advised us where to go and we were then at liberty to explore on our own. Before our last stop at Positano, Rosario recommended a lovely restaurant for lunch with stunning views - we would never have found this if Rosario had not recommended. While this was quite an expensive trip due to only bring two of us, we would highly recommend it and it was well worth the money.
May 2016
Amazing tour. Would highly recommend to anyone thinking of taking this tour to go in a chauffeur driven car rather than taking the bus. My sister and myself are so pleased with took this option. Rozario, our driver, was absolutely first class in knowledge of the areas and was a very careful driver in those oh so narrow roads. Would highly recommend the Restaurant he stops at for lunch in Positano. Highlight of our holiday.

May 2016
Words cannot describe the beauty of the Amalfi Coast it is something that needs to be experienced, having a driver and a guide makes it even more enjoyable. Mariana, our English speaking guide, along with Pepe, our driver made the whole day ours. We felt very safe in their company and they helped us discover the wonderful Amalfi coast. I highly recommend this tour, it has given us so many happy memories.

April 2016
What am amazing day!!! We were promptly picked up at our hotel by Johnny. He spoke very good english, despite him saying he didn't!! We spent the day driving up and down the Amalfi Coast, stopped at placed at the side of the road that one would not normally see like a small fishing village in a small cove. We had an hour in Amalfi, Positano, and Ravello. If we wanted more time, we would only have to ask. All three places were beautiful! It was the perfect way to relax and enjoy the beauty of this part of Italy without having to worry about driving on SS163.
April 2016
Johnny was a wonderful driver and did well in communicating with us. A lovely day and the weather outstanding!
April 2016
Johnny was an incredible driver. We learned so much and had an incredible day touring the coast with him. He stopped in all the best spots for unbelievable photo ops. We will treasure these photos and memories from this day. This tour was our most expensive, but well worth the expense.

April 2016
Our driver Gianni is a gem. He is a true master driving these coastal roads. We had such a good time with him and our guide, Ariana. She gave us great insight with the history of the Amalfi coast. My favorite part of the tour was our ride home when Gianna played Italian folk songs, we sang and dance
April 2016
A wonderful trip ! We would definitely recommend this tour. Johnny the driver was excellent, he drove well on narrow, bendy streets stopping for us to take memorable photos. The restaurant he recommended was amazing, great views and wonderful Almafi Rose. this trip is a must !
December 2015
Loved this intimate tour that allowed us to set our own pace and spend more time in locations we enjoyed. The restaurant that was recommended for lunch was fantastic. It was a wonderful day!
Advertisement
Advertisement