This 4-hour tour of Herculaneum leaves from Sorrento and takes you on a historical journey you won't soon forget. With a knowledgeable guide at your side the entire time, you'll visit the famed archaeological site where a once-thriving port town existed until it was buried by the Mt Vesuvius volcanic explosion of 79 AD. See the amazing mosaics in the public bath and the gymnasium. Stroll through the streets and gawk at the ruins and statues that survived the eruption. Get a glimpse of what daily life was like and learn all about the history of the area.
Highlights
4-hour tour of Herculaneum Archeological Site from Sorrento with an expert guide
Stroll through the well-preserved streets of the ancient Roman town of Herculaneum
Visit some of the most important sites of the UNESCO-listed site including the public baths and gymnasium
Learn about the volcanic eruption that buried Herculaneum, Pompeii and other nearby areas
Enjoy round-trip transport by air-conditioned coach from your hotel to the site
What You Can Expect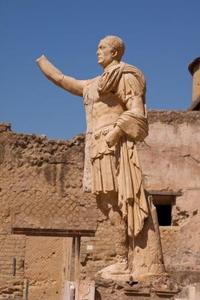 Meet up with your guide in front of your central hotel in Sorrento and hop in the air-conditioned vehicle for the trip to Herculaneum. During the journey, take in the scenic nature and terracotta-roofed villages while learning about the history of Herculaneum and the volcanic eruption that sealed its fate.
Once there, about an hour from Sorrento, marvel as you approach the statuesque archway that serves as the site's entrance.
It was once believed the denizens of Herculaneum had successfully fled the eruption, unlike those from Pompeii who were instantly covered in mud and lava, freezing them there for centuries. But, alas, Herculaneum suffered a similar fate, as 300 skeletons — likely locals running for their lives — were unearthed near the port, buried under layers of dirt.
Visit the 'fast' food restaurant where you'll see clay jars that were used for storing food. See the gymnasium and the colorful mosaics in the public bathhouse.
After exploring the Herculaneum Archaeological Site, your tour concludes back at your Sorrento hotel in the afternoon.
June 2015
Really enjoyed this, excellent for someone like me who is a rome and history fanatic.
Fairly quiet so no problem getting in or seeing anything. Tour could have been longer as start was delayed by waiting for everyone to use the two toilets!

May 2015
Our bus picked us up from our hotel at 08.25 and, due to a road accident on one road and a broken down lorry on the other road, we didn't reach Herculaneum until 10.30! However, this was the only downside to the whole trip. Herculaneum regulates the number of visitors in the site and so occasionally they will stop entrance for a while but we only waited about 20 mins and, if I'm honest, it does make the whole experience more enjoyable as you are not fighting through the crowds. Nello, our guide, was passionate and knowledgeable about his subject and his tour was extremely good. The site itself was very interesting although some of the best preserved houses were closed to the public for restoration. All in all, a very good tour and one I would thoroughly recommend. I would especially recommend Nello for his wonderful narrative.
September 2014
April 2016
Herculaneum is smaller than Pompeii but goodness me, there is a LOT to explore! Our guide Michael was so knowledgable and gave us valuable insights into the life and times when the town was at its' peak. It should be noted that entrance fees aren't included in the tour price it's stated on the Viator site, but some people on our bus purchased the tour via their hotel and they weren't told. We had Katrina as our host on the bus for both this tour and the Amalfi coast tour and she's lovely! The driver Alberto was great too.
Basically, this is a group bus ride to and from Herculaneum where you skip the line to get in. They also do hotel pick-up/drop-off, so for those who are less able to walk around, it's great. Be warned though - there are a few steps and the walk out of Herculaneum after the tour gives your legs a good workout!
Highly recommend visiting this place!
October 2015
well worth doing guide was very knowlegeable and moved at an easy pace on a very hot day.
July 2015
Tour guide passionate and knowledgeable.
July 2015
We enjoyed our half day tour to Herculaneum and found the tour a great way to see the highlights of this smaller excavation compared to Pompeii. We did this tour first to ease ourselves into our hectic time seeing the sights of Sorrento area and I am pleased we did as I think it was my least favourite of all the tours we joined in our weeks stay. There was nothing special about our day but also nothing wrong either. I would just say it was okay and a good way to begin to see the area. The guide was pleasant but just felt there was no one thing that made the tour stand out and no real passion, just facts about Herclaneum and a few local points about the journey to the site.
June 2015
Excellent guide, very good tour
June 2015
June 2015
Tour was good, but I wish there was more uncovered. Apparently a lot of Herculaneum still remains under the modern city. Interesting information provided by guide!
Advertisement
Advertisement