Explore the infamous volcano Mt Vesuvius up close on this 4-hour tour from Sorrento. Watch the Italian countryside glide by the window of an air-conditioned coach as you make your way up the slopes of Mt Vesuvius. This is the volcano that buried Pompeii and Herculaneum in hot ash in 79 AD, and from its summit you can see not only the immense crater but also excellent views over the Mediterranean Sea.
Highlights
4-hour trip to Mt Vesuvius from Sorrento by air-conditioned coach
Enjoy a scenic journey along the coastline and through traditional Italian towns
Admire sweeping views of the Bay of Naples and the Sorrento Peninsula from the summit
Explore the top of the crater with an expert guide
Learn about the infamous eruption that destroyed the Roman towns of Pompeii and Herculaneum
Recent Photos of This Tour
Mt Vesuvius Tour from Sorrento
What You Can Expect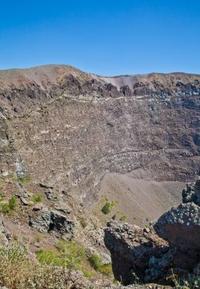 Meet your expert guide outside your central Sorrento hotel or other pre-arranged pick-up location to board an air-conditioned coach, then relax as you are transported up a mountain and back in time.

Wind along a scenic coastline beside pretty towns, and then after about an hour, begin the ascent up Mt. Vesuvius. As the coach makes its way up the mountain, your guide sets the scene with the story of the massive eruptions that took place here more than 2,000 years ago. The thriving ancient Roman cities of Pompeii and Herculaneum were both inundated with ash, killing roughly 16,000 people and burying entire towns.

The coach climbs to nearly 3,300 feet (1,000 meters), where you'll have an opportunity to enjoy a thrilling 360-degree view that includes the Sorrentine Peninsula, the Bay of Naples, the island of Capri, and the city of Naples far below.

You can even join your guide for a walk up to the crater itself, learning about the geology and history of the area along the way. Look into the crater of this dormant - but still active - volcano and marvel at the devastation it once created.

After exploring on your own at the summit of Mt Vesuvius, follow your guide back to the coach for a relaxing drive back to Sorrento where you'll be dropped off where you were picked up.
July 2015
the trip was enjoyable and the tour guide Gus was very knowledgeable and entertaining.
October 2014
Climbing Mt Vesuvius was one of my highlights of my trip. The tour is essentially a taxi service, but a very good one. We were picked up from Sorrento and driven to the Mt Vesuvius coach park, stopping along the way to collect other members of our group. There is commentary from the guide on the coach journey but once at Vesuvius the guide does not come with you, you are free to climb alone and the 10 euro ticket to climb is not included in the price of the tour. I was quite happy to go at my own pace and loved every second of this tour!
June 2016
August 2015
Great half day tour very interesting and great views. definitely worth the money good tour
July 2015
We had a small group of about 10 people on this trip which was ideal. The guide joined us on the climb to the crater we didn't realise how steep the climb would be so comfortable trainers and lots of water are a must! The guide arranged the Vesuvius tour guide once we got to the top of the mountain and allowed us to explore at our leisure once the talk was over. Definitely worth doing as part of a smaller group as opposed to a large excursion.
June 2015
Good tour, very steep so no good if you have mobility problems. Did see two people at start hoping to take the kids up In A pushchair! Don't think that will have been possible. Only way to get to top is under your own steam!
Also I will point out that when we arrived we were told there were two toilets. In fact only one was open, and apprently it was disgusting, no running water or loo paper, so I didn't bother. Thought to use at decent, but then it was closed. So if you have problems with needing toilet, don't go, as there is nowhere discreet for you to take a pee.
June 2015
Great experience but expected more information from tour guide on mt vesuvio. You're really just paying for return bus fare to the mountain as you have to pay seperately for entry into the grounds anyway.
September 2014
Very enjoyable tour. Tour guide Vincenzo was very informative.
August 2014
Recommend for you to list on your website "suggested attire" in order to be more prepared for this excursion. Wish we had known ahead of time, to wear hiking shoes and or simply closed sturdy walking shoes and wear layers of clothing to adapt to changing temperatures. Also think the guide should accompany the travelers on the walk to ensure they all get from start to finish. Viator should include the $10 euro to complete the hike within the cost , this is the most important aspect of seeing Mt Vesuvius should not be in addtion , just make a part of the overall fee. Lastly, we were more than a bit turned off at the workers that were charging euro to use a port -a -potty. Certainly did not leave a memorable impression of the excursion.
October 2015
We got there but that is really all I can say.
Advertisement
Advertisement