Explore Naples and the UNESCO-listed ruins of Pompeii on a half-day trip from Sorrento. Led by a local guide, begin with a city tour around Naples' top attractions, including the Royal Palace and the grand Cathedral. Afterward, journey to Pompeii to explore the largest archeological site in Europe, visiting the Forum, Thermal Baths, 'Lupanare brothel' and more. Your trip will conclude with transportation back to your original departure point.
Highlights
Combined Naples city tour and visit to Pompeii

Naples' Cathedral S. Restituta, Royal Palace and Church of St Francesco di Paula

Panoramic views over Naples from Posillipo terrace

This is a great shore excursion from Sorrento visiting Naples city and Pompeii
Guided tour of Pompeii

The Forum, Thermal Baths, Vetti's House and Lupanare

Narration by a professional driver-guide

Hotel pick-up and drop-off

What You Can Expect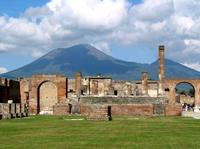 Begin your trip with pickup from your Sorrento hotel or the Sorrento port. Travel into the historic city of Naples, stopping at the Cathedral to see the 4th-century Santa Restituta Basilica, as well as Treasure Chapel. Then drive to Plebiscite Square to visit the stunning St Francesco di Paula Church, the Royal Palace and the medieval Castel Nuovo, a major architectural landmark first erected in 1279.

Afterward, soak up gorgeous views of the coast from the district of Posillipo, before continuing on to the UNESCO-listed ruins of Pompeii.

Explore the fascinating archeological site, passing the Thermal Baths, the Forum, the 'Lupanare' brothel and Vetti's House, all buried by volcanic ashes during the eruption. As you wander, your guide will discuss the haunting day in 79 AD when Mt Vesuvius destroyed the prosperous city.

Enjoy 30 minutes of free time to shop or purchase lunch in Pompeii after your tour of the ruins concludes. Then wrap up your trip with transportation back to Sorrento.

April 2016
Naples. we got picked up from our hotel early just to wait in Naples. Our tour guide Elise was so sweet funny and totally real. she gave us good information as well as dining tips in Sorrento! which we ended up going to. shout out to Ristorante Donna Sofia. we then did Pompeii with another guide which was fascinating to finally see. the only thing I would say would be to add 15 minutes at the end of Pompeii to use the restroom, buy a snack etc. They sort of rushed us to the bus. Other than that, def should do this tour.
October 2015
Loved being picked up at our hotel. Wonderful guides...informative,patient, even in the pouring rain. Not sure how they keep such great attitudes...but it is very much appreciated.
November 2014
The Naple's tour was just for us and then we joined the Pompeii tour. The guide was excellent,well paced, and knowledgeable.
November 2014
This trip is certainly worthwhile if you have never been to Naples or Pompeii. The tour guide was a wealth of knowledge on Naples and Pompeii. I would strongly recommend this tour.
September 2014
August 2014
We had separate guides for Naples and Pompeii, both were very knowledgeable and keen to provide plenty of information. A very worthwhile experience.
July 2014
Bummer that traffic slowed things down, but overall this is a great way to hit a few highlights in Naples, see Pompei and then get back to Sorrento in time to enjoy the late afternoon and have a nice dinner. Definitely a must.
July 2014
We had the best time on the Naples/Pompeii tour with Viator. Andrew was an excellent guide and very well informed about Naples and Pompeii. We had such a fun time. We will remember Pompeii forever as Andrew brought it alive with his speaking tour!!! Our van driver and hotel pickup driver were the best drivers ever. thank you so much. We will recommend this tour to all our friends and to anyone wishing to visit Naples and Pompeii.
September 2013
The Naples visit was a little on the short side, although The Basilca St Genaro was interesting and Pompeii was very very good and most important the guide Andrea I think his name is, he was very good in giving interesting information
June 2013
Very interesting with excellent guide
Advertisement
Advertisement