Leave behind the bucolic coast for a day and head to Rome on this guided day-long tour of the Eternal City. See the highlights of Rome, and learn about the history of the city and of each landmark, including the Colosseum, the Trevi Fountain, the Spanish Steps and, of course the Vatican Museums and all its artistic glories. End the tour with a hearty three-course dinner with your fellow travelers. All entrance fees are at your own expense.
Highlights
Day trip to Rome from Sorrento
Witness Michelangelo's masterpiece in the Sistine Chapel
Walk through St Peter's Basilica and enjoy views from atop the dome
Admire historical Renaissance artwork at the Vatican Museums
Explore the ancient Colosseum, one of the world's most iconic and fascinating sites
Combine guided tours with free time to sightsee independently
Enjoy a 3-course Italian dinner on your way back to Sorrento
What You Can Expect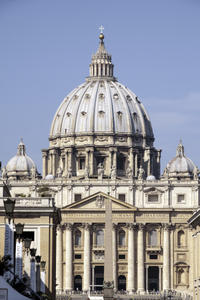 Hop on the comfortable coach in the center of Sorrento and wave goodbye to the coast for a few hours, as you spend the day exploring Rome, one of the most important cities in the history of the Western world. During the 4-hour ride, relax and listen to the guide prep you with plenty of fun historical anecdotes about the city.
After your arrival, stroll around Vatican City, one of the world's smallest nations and the home of the pope. Linger for a while in St. Peter's Square and listen to your guide speak of the history of the square and the design of St. Peter's Basilica, of which Michelangelo designed the dome. Take some free time here to further explore or sit down for an authentic Roman lunch at a nearby restaurant (at own expense).
Another option, visit the Vatican Museums, a depository for some of the world's greatest art. Gawk at Raphael's cherubs and spend some time in the Sistine Chapel, where Michelangelo created a masterpiece on all four walls and the ceiling. And don't forget to step inside St. Peter's Basilica and marvel at all the glory.
When your free time is up, meet with your guide and head over to the Colosseum, one of the greatest still-extant structures from Ancient Rome, where bloody gladiator fights took place on a regular basis. After you've taken in the great antique amphitheater, hop aboard the bus for the journey back to Sorrento.
Sample Menu:
Starter (choice of one):
Minestrone soup

Pasta with tomato sauce



Main course:
Buffet with mixed salad, bruschetta, cold meat and cheese




Vegetarian option (available on request

)

Dessert:
Drinks:
October 2015
Would highly recommend this trip. The tour guide was extremely knowledgeable of the area and showed us sights on the way, the meal at the place we stopped was fantastic with wine and water. Overall I thoroughly enjoyed this trip and would definitely go again. It was a long drive but well worth it. Diane C
August 2015
An absolutely FABULOUS one day trip from Sorrento with an excellent guide in Alberio. All the main sites were covered i.e. St. Peter's Basilica, Vatican City, Spanish Steps, the Trevi fountain, Forum, Colosseum and so much more. The meal back was adequate for such a trip, and we even got back to Sorrento 90 minutes EARLY being dropped off right outside the hotel. To Alberio - you are a star! And as for Pepe the driver - you must have nerves of steel to drive on those Italian roads where most of the other drivers are lunatics!!!! Many thanks for a truly memorable experience.
May 2016
I decided to book this trip because the focus of my trip and hotel was in the Amalfi coast but Rome was close enough for a day trip. You really only have 4 hours there so its impossible to see everything. However, this is a good trip if you just want to see the highlights. You can pretty much rule out being able to see the Vatican or the Sistine Chapel due to the lines and the size of the place if you choose this you'll likely need to forgo seeing anything else. Be prepared to wear sneakers as you will walk everywhere. Also if you plan on visiting St. Peter's Basilica which was amazing take the dress code very seriously you will not be allowed in if your shoulders or knees are showing. There are security personnel who examine outfit. Everything about the tour met my expectations and the tour guide was very friendly and organized. My only complaint would be the dinner. It was absolutely terrible! The restaurant which I still doubt was in fact a real restaurant as it was in a room attached to rest stop. There was no options or choices to be made. The wine was cheap the dessert was two stale cake that was crumbed into pieces and put in a cup with a scoop of vanilla ice cream. The buffet appeared to be left overs/odd combinations of whatever they didn't end up selling that the rest stop earlier rest stop will be your breakfast stop as well. I don't think I would have been as upset/disappointed if the tour guide hadn't been raving about the dinner all day long. Just make sure to carve out time for a good lunch in Rome! Overall, would recommend if you only have a short amount of time to dedicate to Rome/ don't want to pay for a hotel to stay there.
August 2015
It was a little different then expected. We were dropped off at the Vatican and picked up 4 hours later by the collesium. It was nice to have the time to wander around a map was provided but I was glad I didn't get tickets to Vatican or Collesium ahead of time. Would not have had time for both. Wish there was a little more time in Rome. I was expecting more like 5 to 6 hours there.

July 2014
Don't be confused, this tour is a ride to Rome with some information about Rome along the way, not a guided tour of the vatican and colosseum. The tour guide was knowledgeable and friendly but There was not enough time to adequately see either the vatican or colosseum.
Advertisement
Advertisement