Make your Italy vacation complete with a visit to Rome! On this Rome day trip from Sorrento, cross the Colosseum off your bucket list, marvel at the magnificent Sistine Chapel, admire renowned Renaissance art at the Vatican Museums and walk in the footsteps of the pope at St Peter's Basilica. End the day with a 3-course dinner with your fellow travelers. All entrance fees are at your own expense.
Highlights
Day trip to Rome from Sorrento
Witness Michelangelo's masterpiece in the Sistine Chapel
Walk through St Peter's Basilica and enjoy views from atop the dome
Admire historical Renaissance artwork at the Vatican Museums
Explore the ancient Colosseum, one of the world's most iconic and fascinating sites
Combine guided tours with free time to sightsee independently
Enjoy a 3-course Italian dinner on your way back to Sorrento
What You Can Expect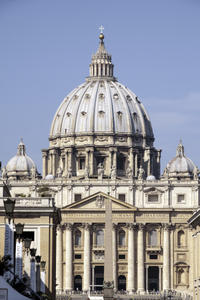 Board your coach in central Sorrento in the morning and get ready for your day trip to Rome: Italy's must-visit destination. Sit back and relax on the 4-hour journey north while listening to your guide talk about the day's itinerary. When you arrive in Rome, get acquainted with the city by seeing the sights from the comfort of your coach. Then, hop out when you reach Vatican City, Rome's sovereign city-state that's home to the pope.
Follow your guide by foot to St Peter's Square, a massive plaza sitting in front of St Peter's Basilica, a famous place of pilgrimage for Roman Catholics. Get an overview of the surrounding sites before enjoying three hours of free time to explore independently. The time can also be used to enjoy lunch in the area at your own expense; simply ask your guide to recommend a restaurant.

Perhaps visit the Vatican Museums, home to some of the most renowned sculptures and Renaissance art in the world, and step inside the Sistine Chapel, official residence of the Pope, to marvel at the stunning ceiling painted by Michelangelo. Head inside St Peter's Basilica to visit the underground tombs where past Popes are laid to rest. Or, if you have a head for heights, make your way to the top of the dome for sweeping city views.

Reconvene with your guide and travel to the Colosseum, considered one of the greatest works of Roman architecture and engineering. The largest of the Roman Empire, this jaw-dropping amphitheater was used for gladiator entertainment for millennia. Spend an hour exploring the interior independently, and imagine those fearless warriors fighting against each other to their deaths, watched over by the thousands of spectators.
This Colosseum is the last stop on your Roman adventure. Reboard your coach and begin the journey back to Sorrento, stopping at a restaurant along the way to enjoy dinner with your group.
Sample Menu:
Starter (choice of one):
Minestrone soup
Pasta with tomato sauce

Main course:
Buffet with mixed salad, bruschetta, cold meat and cheese

Vegetarian option (available on request)

Dessert:
Drinks:
October 2015
Would highly recommend this trip. The tour guide was extremely knowledgeable of the area and showed us sights on the way, the meal at the place we stopped was fantastic with wine and water. Overall I thoroughly enjoyed this trip and would definitely go again. It was a long drive but well worth it. Diane C
August 2015
An absolutely FABULOUS one day trip from Sorrento with an excellent guide in Alberio. All the main sites were covered i.e. St. Peter's Basilica, Vatican City, Spanish Steps, the Trevi fountain, Forum, Colosseum and so much more. The meal back was adequate for such a trip, and we even got back to Sorrento 90 minutes EARLY being dropped off right outside the hotel. To Alberio - you are a star! And as for Pepe the driver - you must have nerves of steel to drive on those Italian roads where most of the other drivers are lunatics!!!! Many thanks for a truly memorable experience.
August 2015
It was a little different then expected. We were dropped off at the Vatican and picked up 4 hours later by the collesium. It was nice to have the time to wander around a map was provided but I was glad I didn't get tickets to Vatican or Collesium ahead of time. Would not have had time for both. Wish there was a little more time in Rome. I was expecting more like 5 to 6 hours there.
July 2014
Don't be confused, this tour is a ride to Rome with some information about Rome along the way, not a guided tour of the vatican and colosseum. The tour guide was knowledgeable and friendly but There was not enough time to adequately see either the vatican or colosseum.
Advertisement
Advertisement