Spend seven nights at sea on this independent Adriatic cruise from Split, and discover the little pieces of paradise that make up Croatia's alluring archipelago as well as the Dalmatian Coast's mainland towns. Explore and swim by day, and dock overnight in Korčula, Dubrovnik, Mljet, Hvar and Split. The cruise boat is relatively small and intimate with just 17 cabins — the perfect size to visit the smaller islands that the larger liners can't access — and all food is included on board.
Highlights
7-night independent Adriatic cruise around the stunning Dalmatian Coast
Dock at night in the mainland towns of Split and Dubrovnik, as well as the islands of Korčula, Mljet and Hvar
Cruise around the idyllic Elaphiti Islands and discover the charms of Olipa with its secluded coves
Explore Mljet National Park if you wish, and then stroll around historical Hvar Town
Full-board catering is included throughout the duration of your cruise
Recent Photos of This Tour
What You Can Expect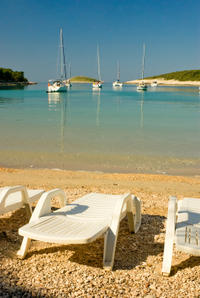 Your 7-night Croatia tour takes place on a small, state-of-the-art cruise boat, the handsome Nicola. You'll have a choice of cabin on booking — upper-deck cabins boast the best views! All cabins, whether they're located on the upper, middle or lower decks, have private bathroom facilities, and the vessel itself boasts a dining room and bar. With a spacious sun deck to bask on while cruising, you have everything you need to island-hop with ease!

Start with an airport transfer from Split Airport to the port in time to board your boat in the early afternoon. Alternatively, if you are already in the city you can opt for a hotel-to-port transfer. Meet your host on board to hear a detailed breakdown of the itinerary throughout your cruise. All meals are included, and your host will give timings for each meal before leaving. Then, however you spend the rest of your time on your cruise is up to you! No excursions, activities or guides are included.

Dock overnight in sleepy village ports or vibrant coastal towns, following a well-considered route that introduces you to both sides of the dazzling Dalmatian Coast. Party all night in the mainland towns of Split and Dubrovnik (if you wish), and embrace tranquil sunsets on the islands of Korčula and Mljet.
Itinerary
Day 1: Split – Brač or Omiš (D)
Board your boat at Split Port in the early afternoon, and then set sail for the islands of Brač or Omiš (depending on weather conditions), two gorgeous rocky outlets basking in the Adriatic, just off the coast of Croatia. Enjoy free time on both of the islands to explore their pretty pebble beaches. Enjoy dinner on board in the evening.

Overnight: boat docked at Brač or Omiš

Day 2: Brač or Omiš – Hvar or Loviste – Korčula (B,L,D)
Enjoy breakfast on board, and then cruise toward the island of Korčula. Stop on the way at either the coastal town of Lovište on the mainland's Pelješac Peninsula, or at the island of Hvar. The location will be decided on the day of travel, but you'll have time for swimming in deep blue waters of the Adriatic at either destination.

Relax over lunch on your boat, and then arrive at Korčula in the afternoon. As one of the many alleged birthplaces of the intrepid 13th-century explorer Marco Polo, the island brims with history making it as culturally rich as it is aesthetically pleasing. Take a walk around the island's Old Town to see sites such as the Cathedral of St Mark or perhaps pay a visit to Vela Luka to see 20,000-year-old caves.

Overnight: boat docked at Korčula

Day 3: Korčula – Olipa – Slano (B, L, D)
Relax over breakfast as your cruise ship glides away from Korčula port, and head south to the neighboring island of Olipa, the westernmost isle in the Elaphiti Islands archipelago. This gloriously isolated, rocky outcrop gets relatively few visitors, so spend your time here making the most of the seclusion. Perhaps swim in its magical coves or take a stroll to see its cute little lighthouse on the island's southernmost tip. In the evening, cruise to Slano and enjoy dinner on the boat.

Overnight: boat docked at Slano

Day 4: Slano – Dubrovnik (B, L, D)
After your breakfast, cruise from Slano to Dubrovnik. During your route, a swimming stop is factored in one of the sun-soaked Elaphite Islands. Enjoy lunch on board, and then arrive at Dubrovnik in the late afternoon. Spend your evening getting acquainted with the city, perhaps discovering its world-famous nightlife scene, and return to your boat for dinner.

Overnight: boated docked at Dubrovnik (mainland)

Day 5: Dubrovnik – Elaphiti Islands – Mljet (B, L, D)
After breakfast, cruise north to the Elaphiti Islands and spend most of your morning swimming in the sea and soaking up the scenery. The largely uninhabited cluster of tiny islands is the embodiment of a Mediterranean idyll with rocky coves and swaying palm trees set against the backdrop of a startling blue sea. Soak it all up and then head back to the boat for lunch.

Continue cruising to the equally enchanting island of Mljet and dock in Pomena, its main town. More akin to a fishing village, Pomena's biggest draw is it charming harbor lined with historical fishing boats and slick yachts. Stroll around, getting a feel for laid-back island life, or perhaps venture further out and explore beautiful Mljet National Park, Dalmatia's most important protected area of land. Enjoy dinner on board in the evening.

Overnight: boat docked at Mljet

Day 6: Mljet – Šćedro (time permitting) – Hvar (B, L, D)
Cruise away from Mljet as you enjoy breakfast, and then head north toward the island of Hvar. If time permits, then stop at Šćedro, an island and nature park just south of Hvar. Unspoilt in every sense of the word, the island is one of the best places in the Adriatic to find secluded coves to swim in and explore.

Enjoy lunch as you cruise to Hvar, and then perhaps take a stroll through the town to explore. Be sure to visit Hvar Pjaca – one of Dalmatia's largest squares – and then wander along the glitzy seaside promenade that doubles up as Hvar Town's main street. Stroll past the arsenal building that houses one of the oldest European theaters (Hvar Historical Theatre) and pose for pictures in front of Hvar's Franciscan monastery with its elegant bell tower. Enjoy dinner on board in the evening.

Overnight: boat docked at Hvar

Day 7: Hvar – Brac – Split (B, L, D)
Savor an early breakfast as you leave Hvar and cruise back toward Split. Stop at the island of Brač for one last swim in the Adriatic and then head north. Enjoy lunch on board your boat and arrive in Split by the afternoon. Use your time here to see anything that you may have missed before, such as Bačvice Beach or Marjan Hill, from where incredible views can be admired from Vidilica Terrace. Enjoy dinner on board in the evening.

Overnight: boat docked at Split

Day 8: Split (B)
After breakfast on board, disembark your boat and then finish your tour with either a Split Airport transfer or hotel transfer.
September 2015
The cruise ended today and I so wish that I could still be on the cruise. The MS Nikola is a lovely old boat with plenty of seating area options to enjoy the cruise. The crew, especially Tom, are great and available to help out with anything you need during the trip. We went to Hvar, Korcula, Slano, Dubrovnik, Mjet, and Omis on our trip with swim stops on 3 of the days. We had some bad weather upon leaving Dubrovnik so that changed our itinerary slightly, but honestly, I rather enjoyed having one day where absolutely nothing was going on. This is not a luxury cruise, so, if that is what you're after, don't book this trip. However, the cabin was very comfortable and what I was expecting for a boat trip make realistic expectations. The bathroom each cabin has its own is a combination shower/toilet/sink, but very workable. I'm 6'1, and was perfectly comfortable in the cabin and bathroom. The meals breakfast and lunch were always delicious if a bit filling. Don't bother booking dinner as part of your meal plan - you'll want to eat in port. As for the cruise director - he was fine, but really I don't see the benefit of having him onboard. He managed to disappear himself during cruising time and only appeared after lunch to let us know where to meet if you booked the tour for that port and recommend a restaurant for dinner. Otherwise, Tom was much more available and open to providing information about where we were going, etc. I met a real great group of fellow passengers and even though I was traveling solo the others were very welcoming and a real pleasure to spend 7 days with. The captain of the MS Nikola is a bit of a grump and does not interact with his passengers in the least, but this is okay. He does a fine job of getting us to our destinations and ensuring our safety. I just wish they would have a 2 week option of this trip in order to spend 2 nights in each port and truly experience each place.
September 2015
Great tour on a smaller boat 24 passengers total. We got the half board, which includes breakfast and lunch. The breakfast was continental but plenty to eat and the lunch was more like dinner. Several very nice excursions were set up by the cruise manager that we took part in but were extra: 20-25 - a traditional meal and tour in a small village outside of Korcula, boat excursion in some canyons, ... Our tour was on the MB Nikola. The crew were very helpful. Only surprise was that the boat stayed in Split port on Saturday first night instead of Friday last night as our itinerary stated, which may have affected when we got into Split.
October 2014
The 7 night cruise Split to Split is highly recommended. Visited a different island each day arriving around 3-4pm enough time to explore the town before dinner. Meals were excellent and gave a good taste of the local Croatian cuisine, thanks Denis! All the staff very attentive and helpful, thanks Tom
September 2014
Good value for money. The itinerary is very well planned and combines smaller with bigger villages, natural parks and coastline. The food onboard was delicious, freshly cooked every day, and a great opportunity to try local delicacies. The crew also caters for food intolerance and provides alternative options. The accommodation was comfortable, and the sailing smooth and easy. Overall a very nice experience; I would do it again!
June 2013
This is an amazing trip...they let you go your own way but are always on hand with recommendations if you ask for them. Weather was beautiful and it was so relaxing watching the islands float by while sitting in a recliner on the deck in the shade! The ship is in great shape and the room is small but well-equipped.
June 2013
A relaxing and enjoyable way to visit Croatia. The crew were very attentive, the food was good and the trip ticked all of the boxes.
May 2015
Overall the cruise was good. We enjoyed the island stops, the boat was nice and clean, and the crew was wonderful. It was supposed to be an independent cruise but I guess from what I heard from the crew, having a tour manager on board was something new this year. The tour manager 'persuaded' us to join the walking tours at each island stop, for extra charge of course. We were told it's optional, however if the minimum number of participants is not met, the tours will have to be cancelled. It was not in our plan but we ended up going as we felt bad for those who wanted to go. It would not have been a big deal but the quality of the tour was just so-so... I wish we were informed about this upfront or should just have included it in the total price of the cruise so there are no surprises.
July 2014
For all of you wondering who runs this tour, it's a company called Elite. It appears that they subcontract with individual boat captains so you may not know what boat you'll be on until the last moment. They also use a variety of travel agents to book this tour. Unfortunately, because there are so many people booking and coordinating this trip, there is a lot of misinformation out there about the price, schedule, and timing of this tour. Make sure you confirm start time with the travel agent who emails you. Of the 38 passengers on board, we were all told different start times ranging from 11 am until 5 pm. The reality is that Elite allows the passengers to dictate when this tour leaves by being flexible on arrival times. This means you could be stuck in Split for a lot longer than you want. Don't arrive early. Despite what is publicized, the boat returns to Split by 1:30 on Friday and you overnight in Split harbor. Return flights can be booked for any time on Saturday - no need to add an extra day to accommodate an unknown arrival time. Viator's price included three meals a day. Not all passengers are required to pay for full board, so look around if you're interested in just half board. I would recommend half board. The food is plentiful but very average. The boat can accommodate dietary restrictions but confirm multiple times in writing. My biggest tip - force the crew to give you information about the schedule. The crew can and will vary the stops depending on the demands of the passengers. Unfortunately, the changes are not made democratically and you may not even be aware that you had options before changes are made. If you want the publicized intenerary - make sure you say so. Communication is weak on both Elite's and the crew's part. We didn't see a representative from Elite until Wednesday, and even then she showed up unprepared.
We sailed on the Mb Nikola. The boat is clean, but old. This is not a luxury cruise so manage your expectations accordingly.
Advertisement
Advertisement