Tour code:
5360SPLITCRUISE
Discover the idyllic Croatian archipelago and Dalmatian Coast on a 7-night cruise from Split. In the day, use your free time for cool-down dips in the sea and dock overnight in the mainland towns of Split and Dubrovnik and the islands of Hvar, Mljet, Omis and Korčula. With only 17 cabins, the boat is just the right size to get up close to the tinier, secluded islands that the bigger vessels can't reach. Choose between half-or full-board catering, and enjoy optional excursions and tours at your own expense, if you wish.
Highlights
7-night independent Adriatic cruise around the stunning Dalmatian Coast
Dock at night in the mainland towns of Split and Dubrovnik, as well as the islands of Korčula, Mljet, Hvar and more
Cruise around the idyllic Elaphiti Islands and stop to swim and sunbathe
Enjoy an included excursion to Montenegro via the Gulf of Kotor
Explore Mljet National Park if you wish, and then stroll around historical Hvar Town
Choose between full- or half-board catering for the duration of your cruise
Recent Photos of This Tour
What You Can Expect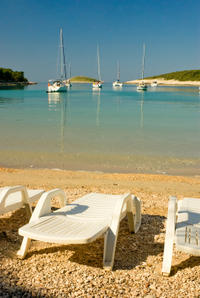 Aboard the intimately sized, modern Nikola boat, you have everything you need to cruise around the Adriatic in comfort. All cabins have private bathrooms, and the upper-deck accommodations benefit from great views. The boat also has a dining area, bar and a sizeable deck that's the perfect place to top up your tan as you cruise.
To begin your experience, make use of an airport transfer to the port, and embark at the start of the afternoon. Or, start with a transfer to the port from your hotel. Once on board, meet your host to learn about your full itinerary.
Choose full-board catering to include all your meals, or select half-board catering to enjoy only breakfasts and your main meals. The rest of your time on the boat is free time, and how you enjoy it is down to you. Enjoy one included excursion to Montenegro, and take part in other daily tours and guided excursions at your own expense, if you wish. Read the Itinerary for details.
Itinerary
Day 1: Split
Board your boat at Split port in the early afternoon, and spend the rest of your day at leisure. Enjoy dinner on board in the evening.
Overnight: boat docked at Split
Day 2: Split – Hvar
Relax over breakfast on board, and then start your day with a walking tour of Spit. Later in the morning, return to your boat and cruise to the island of Hvar, enjoying a stop along the way for a cool-down dip in the sea.
In the afternoon, dock at Hvar port, and stretch your legs with a tour of town. Explore the winding stone streets with your guide, and learn about Hvar Town's history as you get your bearings.
Overnight: boat docked at Hvar
Day 3: Hvar – Mljet
Savor breakfast as your cruise ship glides away from Hvar port, and head east toward the enchating island of Mljet. If the weather permits, stop to swim and bask in the sun at the Pakleni Islands — a group of islets with pebble beaches and sandy coves.
In the afternoon, dock in Mljet's main town of Pomena. More akin to a fishing village, Pomena's biggest draw is draw is it charming harbor lined with historical fishing boats and slick yachts. Stroll around, getting a feel for laid-back island life, or perhaps venture further out on an excursion to Mljet National Park, Dalmatia's most important protected area of land.
Overnight: boat docked at Mljet
Day 4: Mljet – Dubrovnik
After your breakfast, cruise from Pomena to Dubrovnik. During your route, a swimming stop is factored in on Jakljan island. Cruise past Dubrovnik's old port and the age-old city walls as you snack on Dalmatian-style fried fish. Dock at Gruž port for a transfer to the Old Town gate, and join a guided tour of the city. The walking tour takes in Dubrovnik Old Town — a well-known landmark in its own right — and gaze at its 13th-century fortifications.
Overnight: boated docked at Dubrovnik (mainland)
Day 5: Dubrovnik – Montenegro – Dubrovnik
Following breakfast, leave Dubrovnik for your included excursion to Montenegro via the Gulf of Kotor, where a picture-perfect landscape of beaches, clear water and mountains await. Learn about the area from a guide, and hear how the gulf towns of Risan and Kotor are believed to be one of the country's earliest inhabited areas; p
roof of civilization dates back to Iilrian, Roman and early Christian times.
Immerse yourself in history with a visit to the baroque town of Perast, and take a boat ride to the one of the bay's islets to visit the Church of Our Lady of the Rocks, home to a fine collections of wall paintings. Continue through the UNESCO-listed town of Kotor — one of the Adriatic's beautifully preserved medieval cities — and enjoy some free time before your return to Dubrovnik.
Overnight: boat docked at Dubrovnik
Day 6: Dubrovnik – Elaphiti Islands – Korčula
Cruise away from Dubrovnik as you enjoy breakfast, and then head toward the sun-soaked Elaphite Islands. Enjoy a short stop to swim in the sea and soak up the scenery. The largely uninhabited cluster of tiny islands is the embodiment of a Mediterranean idyll with rocky coves and swaying trees set against the backdrop of a startling blue sea. Soak it all up and return to the boat for a snack of the local sweet cakes.
In the afternoon, dock at Korčula and take a walking tour around the beautiful Dalmatian town, and then relax overnight.
Overnight: boat docked at Korčula
Day 7: Korčula – Brač – Omiš (B, L, D)
Leave Korčula after breakfast and cruise toward Brač. When the boat's anchor is dropped, enjoy a dip in a secluded bay, before your journey continues to Pucisca, on Brač's northern shores. Here, visit a stonemasonry school to learn about the local limestone and the somewhat different tools that are used by the island's stonemasoners.
Continue to the nearby island of Omiš — a town known for pirates and river beauty — and enjoy a Cetina River trip, if you wish.
Overnight: boat docked at Omiš
Day 8: Split (B)
Cruise in the early morning from Omiš to Split. Finish your experience with a final breakfast on board, and then disembark your boat.
September 2015
The cruise ended today and I so wish that I could still be on the cruise. The MS Nikola is a lovely old boat with plenty of seating area options to enjoy the cruise. The crew, especially Tom, are great and available to help out with anything you need during the trip. We went to Hvar, Korcula, Slano, Dubrovnik, Mjet, and Omis on our trip with swim stops on 3 of the days. We had some bad weather upon leaving Dubrovnik so that changed our itinerary slightly, but honestly, I rather enjoyed having one day where absolutely nothing was going on. This is not a luxury cruise, so, if that is what you're after, don't book this trip. However, the cabin was very comfortable and what I was expecting for a boat trip make realistic expectations. The bathroom each cabin has its own is a combination shower/toilet/sink, but very workable. I'm 6'1, and was perfectly comfortable in the cabin and bathroom. The meals breakfast and lunch were always delicious if a bit filling. Don't bother booking dinner as part of your meal plan - you'll want to eat in port. As for the cruise director - he was fine, but really I don't see the benefit of having him onboard. He managed to disappear himself during cruising time and only appeared after lunch to let us know where to meet if you booked the tour for that port and recommend a restaurant for dinner. Otherwise, Tom was much more available and open to providing information about where we were going, etc. I met a real great group of fellow passengers and even though I was traveling solo the others were very welcoming and a real pleasure to spend 7 days with. The captain of the MS Nikola is a bit of a grump and does not interact with his passengers in the least, but this is okay. He does a fine job of getting us to our destinations and ensuring our safety. I just wish they would have a 2 week option of this trip in order to spend 2 nights in each port and truly experience each place.
September 2015
Great tour on a smaller boat 24 passengers total. We got the half board, which includes breakfast and lunch. The breakfast was continental but plenty to eat and the lunch was more like dinner. Several very nice excursions were set up by the cruise manager that we took part in but were extra: 20-25 - a traditional meal and tour in a small village outside of Korcula, boat excursion in some canyons, ... Our tour was on the MB Nikola. The crew were very helpful. Only surprise was that the boat stayed in Split port on Saturday first night instead of Friday last night as our itinerary stated, which may have affected when we got into Split.
October 2014
The 7 night cruise Split to Split is highly recommended. Visited a different island each day arriving around 3-4pm enough time to explore the town before dinner. Meals were excellent and gave a good taste of the local Croatian cuisine, thanks Denis! All the staff very attentive and helpful, thanks Tom

September 2014
Good value for money. The itinerary is very well planned and combines smaller with bigger villages, natural parks and coastline. The food onboard was delicious, freshly cooked every day, and a great opportunity to try local delicacies. The crew also caters for food intolerance and provides alternative options. The accommodation was comfortable, and the sailing smooth and easy. Overall a very nice experience; I would do it again!
June 2013
This is an amazing trip...they let you go your own way but are always on hand with recommendations if you ask for them. Weather was beautiful and it was so relaxing watching the islands float by while sitting in a recliner on the deck in the shade! The ship is in great shape and the room is small but well-equipped.
June 2013
A relaxing and enjoyable way to visit Croatia. The crew were very attentive, the food was good and the trip ticked all of the boxes.
May 2015
Overall the cruise was good. We enjoyed the island stops, the boat was nice and clean, and the crew was wonderful. It was supposed to be an independent cruise but I guess from what I heard from the crew, having a tour manager on board was something new this year. The tour manager 'persuaded' us to join the walking tours at each island stop, for extra charge of course. We were told it's optional, however if the minimum number of participants is not met, the tours will have to be cancelled. It was not in our plan but we ended up going as we felt bad for those who wanted to go. It would not have been a big deal but the quality of the tour was just so-so... I wish we were informed about this upfront or should just have included it in the total price of the cruise so there are no surprises.
July 2014
For all of you wondering who runs this tour, it's a company called Elite. It appears that they subcontract with individual boat captains so you may not know what boat you'll be on until the last moment. They also use a variety of travel agents to book this tour. Unfortunately, because there are so many people booking and coordinating this trip, there is a lot of misinformation out there about the price, schedule, and timing of this tour. Make sure you confirm start time with the travel agent who emails you. Of the 38 passengers on board, we were all told different start times ranging from 11 am until 5 pm. The reality is that Elite allows the passengers to dictate when this tour leaves by being flexible on arrival times. This means you could be stuck in Split for a lot longer than you want. Don't arrive early. Despite what is publicized, the boat returns to Split by 1:30 on Friday and you overnight in Split harbor. Return flights can be booked for any time on Saturday - no need to add an extra day to accommodate an unknown arrival time. Viator's price included three meals a day. Not all passengers are required to pay for full board, so look around if you're interested in just half board. I would recommend half board. The food is plentiful but very average. The boat can accommodate dietary restrictions but confirm multiple times in writing. My biggest tip - force the crew to give you information about the schedule. The crew can and will vary the stops depending on the demands of the passengers. Unfortunately, the changes are not made democratically and you may not even be aware that you had options before changes are made. If you want the publicized intenerary - make sure you say so. Communication is weak on both Elite's and the crew's part. We didn't see a representative from Elite until Wednesday, and even then she showed up unprepared.
We sailed on the Mb Nikola. The boat is clean, but old. This is not a luxury cruise so manage your expectations accordingly.
December 2015
Ship was too small and the details we received from Viator were incorrect, Not a good trip and would never use Viator again.
Advertisement
Advertisement