There's only one way to truly see the Dalmatian Coast: by island hopping from Split to Dubrovnik. Book this independent trip and then get ready to be dazzled by the splendor that is the Dalmatian Coast. Visit the islands of
Korčula and Hvar, explore Dubrovnik – the 'Pearl of the Adriatic' – and take an optional excursion to Lokrum Island or the verdant
Elafiti Islands.
Highlights
8-day independent Croatia tour from Split to Dubrovnik, with 3- or 4-star hotel accommodation
Explore Split on a walking tour and visit top city attractions like Diocletian Palace
Hop between islands by ferry or catamaran and visit Hvar and Korčula islands
Enjoy a mix of walking tours and free time on each island
Discover the delights of Dubrovnik Old Town – a UNESCO World Heritage Site
Take an excursion to the Elafiti Islands or Lokrum Island if you wish
What You Can Expect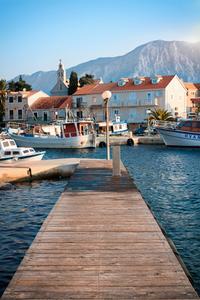 Commence this 8-day independent tour of the southern Dalmatian Coast by getting picked up from the airport in Split and taken to your hotel. Or, if you're already in Split, choose to do a hotel-to-hotel transfer with the driver. The drivers are safe, professional and reliable. After the tour has begun shared transfers to all ports are included. And if you don't want to travel with a group but prefer your own travel companions, just upgrade to the private transfer option.

This expansive and thorough tour includes hotel accommodation in Split, Hvar, Korčula and Dubrovnik. All of the properties are located in the center of the towns and there will be plenty of time to explore each place, strolling the cobbled lanes and drinking in the incredible views of the Adriatic Sea and gawking at the centuries-old churches and monasteries.
Itinerary
Day 1: Split
On arrival in Split, check in to your hotel where an envelope will be waiting for you with details of your boat journeys, hotels and excursions throughout the rest of your tour. Then, the rest of the day is yours to spend at leisure. Perhaps visit its pretty shingle beach – Bačvice – or browse the wares at Split Market.

Overnight: Hotel Globo or Hotel President in Split

Day 2: Split – Hvar Island (B)
Relax with breakfast in your hotel and then stroll into the city center for a leisurely paced walking tour. Split's streets and buildings echo with history, with imprints left by the city's countless succeeding rulers: Romans, Byzantines, Croatians, Hungarians and Napoleons (not forgetting the Doges of Venice, who had a go, too). Hear the history and see the sights, visiting top Split attractions like the UNESCO-listed Diocletian Palace and Cathedral of St Dominus, where Roman Emperor Diocletian was buried.

Return to your hotel, and then head to the port to board your boat for the short journey to Hvar Island. Check in to your Hvar hotel and spend the rest of your afternoon at leisure. Perhaps seek out its swanky bars, or maybe just loll about on one its suitably sun-baked beaches.

Overnight: Amfora Hotel or Riva Hotel in Hvar Town

Day 3: Hvar Island (B)
After breakfast, amble around the streets on your morning walking tour of Hvar Town. Stroll through Hvar Pjaca – one of Dalmatia's largest squares – and then wander along the glitzy seaside promenade that doubles up as Hvar Town's main street. Stroll past the Arsenal building that houses one of the oldest European theaters – Hvar Historical Theatre – and then see the Franciscan monastery with its elegant bell tower.

Your walking tour finishes in town, so that you're ideally placed to continue sightseeing independently for the rest of the day. It only takes a few strides to escape the crowds on this island, so perhaps take a walk around the island itself, seeking solitude in its gloriously secluded coves or visiting the sleepy towns of Stari Grad or Jelsa (transport to the towns is at your own expense).

Overnight: Amfora Hotel or Riva Hotel in Hvar Town

Day 4: Hvar – Korčula Island (B)
Leave your hotel after breakfast and then cruise from Hvar Port to Korčula. This neighboring island is akin to a tropical idyll, home to a smattering of tiny hamlets that are peppered around its pretty coves. Why not make the most of its stunning scenery on a stroll around? Check in to your Korčula hotel, and then spend the rest of your day at leisure, exploring wherever you wish.

Overnight: Hotel Liburna or Hotel Marko Polo in Korčula

Day 5: Korčula – Dubrovnik (B)
Your morning is yours to do as you please, so after breakfast perhaps sightsee around Korčula Town. One of the many supposed hometowns of the intrepid explorer Marco Polo, Korčula enjoys a wealth of interesting sites, with countless museums vying for your attention alongside picturesque Renaissance and Gothic architecture. Entrance fees to museums and monuments are at your own expense.

Meet your guide at a pre-arranged time in the afternoon, and board your boat back to Croatia's mainland. Arrive in Dubrovnik around late afternoon, and then check in to your hotel. Spend your evening at leisure.

Overnight: Hotel Aquarius, Hotel Ikva or Hotel Lero in Dubrovnik

Day 6: Dubrovnik (B)
After breakfast, set out on a walking tour of Dubrovnik's UNESCO-listed Old Town, admiring its intact city walls and discovering its countless charms. See Pile Gate -- the monument that marks the start of the Old Town -- and marvel at the splendor of Sponza Palace – once the city's custom house and now home to Croatia's State Archives.

At the end of your tour, the remainder of your day consists of free time. If your morning's exploration of the Old Town has whet your appetite for more, then continue wandering around, relaxing in its ambient cafés or visiting its many monuments, like St Blaise Church or the Franciscan monastery (own expense).

Overnight: Hotel Aquarius, Hotel Ivka or Hotel Lero in Dubrovnik

Day 7: Dubrovnik (B)
Your entire day is spent at leisure, so after your leisurely breakfast in your hotel, why not venture out of Dubrovnik to see what the pleasures the surrounding countryside holds? Prior to the day, your hotel can assist with any excursions that you may wish to do. Perhaps visit Lokrum Island, famous for its scenic rocky beaches and spectacular reefs, or cruise around the Elafiti Islands – an archipelago of tiny rocks and islands adrift in the Adriatic.

Overnight: Hotel Aquarius, Hotel Ikva or Hotel Lero in Dubrovnik

Day 8: Dubrovnik (B)
Enjoy breakfast and then spend your morning at leisure in Dubrovnik. In the afternoon, check out and then finish your 8-day tour with either a Dubrovnik Airport transfer or hotel transfer.
June 2016
we were impressed with the punctuality and organization of our tour guides. You made our trip so much better than it would have been on our own. We really appreciated the drivers too. They were informative and helpful in every instance.. Thanks you.
April 2016
I would certainly recommend this tour with Viator. All the transfers were very well organized. We were met at every location with friendly helpful drivers. When the weather prevented a catamaran from leaving Hvar Island, arrangements were quickly and efficiently made for us on an alternative route. We were very pleased with the beautiful hotels. This tour let us travel independently yet we didn't have to make our own arrangements or handle our own luggage. Made for hassle-free traveling.
May 2014
Very well organized! This independent tour was a great way to see these beautiful places in the Dalmatian coast. Every transfer arrived and departured on time, as per schedule, every walking tour was done by a very professional guide (Iris in Split, Nikol in Hvar, and Ivanna in Dubrovnik). Each hotel was located at walking distances from the old town. The time spent at each place was perfect, with more free time allocated to the towns with more choices/activities to do. It was perfect to have walking tours and then time to wander by ourselves or to find other activities to do, like visiting museums or go for wine tours or to enjoy relaxing time at the restaurants located at the beautiful plazas/seaside on these incredible towns. Highly recommended.
October 2014
We really enjoyed the tour . The hotels were good as were the forms of transport. The tour leaders in Split and Hvar were excellent. The driver to Dubrovnik was excellent too. We were not picked up at KORCULA island at 9pm on the Sunday night as promised and had to find our own way to the hotel pulling our bags in the dark and we would have appreciated a more personal tour of Dubrovnik maybe at a less busy time, perhaps in the afternoon. The tour leader was nice but she had to wait around for cruise people and there were too many in the group .Many thanks for providing this tour, Wendy and Frank Wilkinson.
December 2013
This is ideal for travellers who want everything organised for them end-to-end... from the moment you land at the airport, to all the hotel transfers, ferry trips between islands, city tours and final transfer back to the airport. All inclusive, no hassles. They also leave a message at your hotel with regards to the pick up time the next day to the next destination. Really very organised and punctual.
The downside is the hotel selection. Our first hotel in Split (Hotel Globo) was in the middle nowhere, surrounded by empty carparks and ugly concrete, desserted buildings. Even the surrounding cafes/restaurants were depressingly empty. It is about 15 mins to the beautiful part of town, the real Split that visitors paid to see.
The subsequent hotels were also just average. Our Dubrovnik hotel (Hotel Lero) was a good 20 minutes walk to town. Getting back was an uphill battle, quite literally. Only our hotel in Hvar was in a perfect location.
It would be worthwhile if Viator gave the option to upgrade to a more decent place to stay. Alot of travellers want to be in a central location and will be willing to pay more. The convenience of going back to the hotel for a quick change or a nap is not really an easy option.
Advertisement
Advertisement