Discover the ins and outs, secrets and secluded spots of Diocletian's Place in Split, a UNESCO-World Heritage-listed spot, with a knowledgeable local guide as you traverse this 1,700-year-old palace that has become a part of the city. The 1.5-hour tour takes you through the palace to Peristyle Square, underground cellars, the Temple of St. Jupiter and the Cathedral of St. Duje. And if that's not enough, upgrade the tour to include an additional 2-hour tour of nearby Trogir, a stunningly gorgeous small town that is beautifully preserved and off the radar to many tourists.
Highlights
1.5-hour walking tour of the UNESCO-listed Diocletian Palace in Split

Hear tales of the Roman Emperor Diocletian who commissioned the palace to be built as his vast home
Visit the underground cellars and explore Peristyle Square with your expert local guide
Learn about the city's patron saint while admiring Cathedral of St Duje
Upgrade to include an afternoon trip to the UNESCO-listed town of Trogir, and explore it on a walking tour
Recent Photos of This Tour
What You Can Expect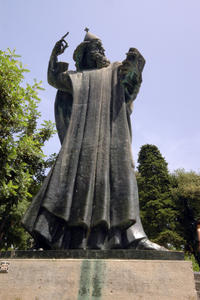 Meet up with the guide just outside of Diocletian's Palace then begin the walking tour of this historical wonder. Built in the early third century as a retirement home for the Roman emperor, the palace was large and lavish. In the seventh century, 400 years after it was built, the palace was crumbling and city residents began incorporating it into the city. Which is why today, the palace is made up of homes and shops and cafes.
Begin the tour in the cellars and the subterranean tunnels that exist underneath the old palace and learn about their function from your guide. Then head above ground again and linger for a while in Peristyle Square. Stroll the streets of the palace as the guide tells historical tales about the emperor, who was quite an eccentric fellow. Stop into the Cathedral of St. Duje – named for the patron saint of Split – as well as the Temple of Jupiter, and then wander through the market to gawk at the fruit and vegetable and other delights for sale.
Not had enough? Of course not! Then upgrade the tour to get in an extra two hours. Head to Trogir, a UNESCO-listed town just north of Split. Hop on the shuttle for the drive along the coast to the walled town. Stroll the town at your leisure, your guide regaling the small group with interesting historical tales about the once-important city on the coast. See St. Lawrence Cathedral, designed by lauded medieval architect Radovan. After traversing the city, hop back on the shuttle and split back to Split, ending at the palace where the tour began.
June 2016
Anna was a great guide, told us plenty of interesting stories about the palace and the old town, which brought it's ancient history to life. We ended up having a private tour too which was great. Thanks Anna!

June 2016
Our guide Ines was lovely and very knowledgeable. I didn't book the trip to Trogir and she gave me loads of tips on what to do in and around Diocletian Palace after the walking tour.

June 2016
We had a great time on this tour! We loved all the history and culture of this city. Our guide was very familiar with all the buildings, structures and statues. She knew her history and never hesitated to answer our questions. There was a nice balance between guided tour and free time, which we used to enjoy a wonderful meal in a restaurant in Trogir. There really is far too much to see and learn about Croatian history to try and navigate on your own, no regrets on booking this one!
June 2016
A Wonderful tour. Great way to learn about both the Diocletian Palace and visit the fabulous town of Trogir. Our guide, Damir, was very knowledgeable and had a great sense of humor. Highly recommend adding Trogir to the trip. A very pleasant day. Just the right length we had time to relax and walk around Split when the tour was over.
May 2016
Wonderful. Interesting. Just great.
November 2015
My husband and I enjoyed a wonderful tour of the Palace and trip to Trogir in a friendly small group today. Even a rainy day did not spoil the experience and our wonderful guide added so much personal warmth and really helped us to understand not only the ancient history of this beautiful country and region but also the much more recent experiences they have faced. We would thoroughly recommend this tour and especially the extra trip to Trogir which is a real little gem!
November 2015
My husband and I thoroughly enjoyed our walk through Split and tour to Trogir. Our delightful guide was very knowledgable about the history of both towns but was also willing to share her personal experiences and those of her family over recent years. Even though it was a wet day we hardly noticed as it was such a good tour and we would thoroughly recommend it.
November 2015
Very interesting and informative. Lovely guide , Damir . Great to understand some of the history and culture of Split and Trogir is a must see.
October 2015
Very interesting tour with a guide who was passionate about Split. Our Guide sorry I cannot remember her name took her time explaining the history of Diocletions Palace that it almost came to life. We were a small group of 6 which made it easier. The only minus which was no fault of our guide, was that there were 2 cruise ships docked and a lot of different groups doing tours which some times got in each others way. Other wise, well worth it and highly recommended.
October 2015
Tamara, our guide was excellent. She knows her history and made it interesting. You can tell she likes her job. Does it well and very personable. Top marks from us.
Advertisement
Advertisement