See a different side of Croatia – from a kayak! – with this fun 4-hour guided sea-kayaking tour near Split's Marjan peninsula. With a local guide padding in front of you, casually cruise through untrammeled coves and inlets, enjoying an afternoon on the water. Upgrade to a longer, 6-hour tour and paddle over to beautiful Čiovo Island. Or opt for the ultimate Croatian kayaking adventure: an 8-hour tour, which includes a meal, and kayak from Hvar Island to the Pakleni archipelago. The tours are suitable for all kayaking levels.
Highlights
Sea kayaking tour in Split, led by a professional guide
Paddle around Bene Beach and the scenic Marjan peninsula
Stop to snorkel, swim or sunbathe at secluded bays
Upgrade to a 6-hour tour and kayak to Čiovo, an island popular with dolphins
Select an 8-hour tour to paddle around Hvar and the Pakleni Islands
Why Our Insiders Chose This Tour
I love this kayaking experience as it offers three options: stay closer to town or venture further afield to explore one of two islands! The guide is really attentive and sticks close by to give any help you need. You might feel tired at the end, but it's definitely a wonderful experience.
What You Can Expect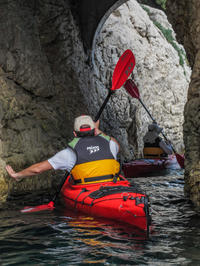 After meeting your guide in the center of Split, head to Bene Beach near the base of Marjan Hill and listen to an instructional about safety and proper kayaking technique. Then slip on your life jacket, grab a paddle and hop into your kayak for this fun day of paddling around overlooked inlets and uncrowded coves. Get great views of Split's beaches and historical center and enjoy a sun-kissed few hours on the sea.
Take some time to pull up to the beach and take a break to swim in the lush Adriatic or go snorkeling. Learn about the history of the area from your guide and get some good tips on kayaking technique, such as more advanced paddling styles.
Finish the tour at Bene Beach and stay there to relax or do some exploring on your own.
If you have the time and inclination, opt for an upgrade to a 6- or 8-hour sea kayaking tour, where you'll visit some nearby islands. All options begin and conclude in the center of Split.
6-Hour Tour:From Bene Beach, paddle over to diminutive Čiovo Island. On the way, note the great views of Split and the Mosor mountain range nearby. And keep your eyes open for dolphins and other sea life that frequent this year. Once in Čiovo, enjoy some time to snorkel or swim in the Adriatic before heading back to Split.
8-Hour Tour:
From central Split, get on a ferry and cut through the Adriatic waters to the port of Hvar Island, a two-hour journey. Once in Stari Grad on Hvar, hop on to your kayak and paddle to the lovely Pakleni islands, a set of islands that boast more than two dozen uninhabited coves and bays. Pull up to the shores and enjoy the some time on the beach or go swimming. Once back in Hvar, enjoy a light meal at a local restaurant.

May 2016
We really enjoyed this trip. Our host was very friendly, helpful and knowledgeable.
The views were beautiful and we had plenty of breaks by the beach.
Definitely recommended for a great afternoon.
April 2016
I cannot recommend this tour highly enough. My instructors Vese and Kicho were the nicest people; experienced, patient and very knowledgeable, they tutored me as a novice and tailored the tour to make sure I had the best experience possible.
If you only have a short time in Split, so this :)
October 2015
Beautiful morning of ocean kayaking. We were met in town and then took the city bus for about 20 minutes to a large park where we put in. The scenery was gorgeous, the guide was excellent. A perfect way to see a different side of Split.
July 2015
We chose a longer trip of 6 hours for the chance to see another island and we definitely don't regret it! an amazing experience and we even did a bit of snorkelling when we were on the beach! A brilliant day and would definitely recommend it to anyone going to Split!

May 2015
Had a great small group tour around the Marjan peninsular. The group moved at a nice pace, less pressure to keep up compared to kayaking tours we've had elsewhere. In retrospect there was no real safety briefing beforehand but the water was very calm. Take your own water with you.
September 2014
Amazing tour! It was so much fun, the instructor was very helpful and fun guy. We went to a private beach whih was very special. Would do it again. The only thing I would say is that the instructor could have informed us of any pain and how to avoid it from the beginning. Other than that, brill!
August 2014
we attended on the 16th, a great experience, lined on the water and beautiful landscapes, professional guides.
June 2016
Great expirience. Took a dubble kayak, and get off over sea to an island with high cliffs. Once there, we went on a small prive beach for 45'. When going back to the starting point, we saw 2 dolphins in the see to.
June 2015
We chose the 6 hour trip which was good but we didn't know the 45 min stop was at a deserted beach with no facilities. The trip was too long without a food break, we knew lunch wasn't provided but we should have been told to take food with us. Our guide was good and competent.
Advertisement
Advertisement