Leave Split to cruise to Hvar by ferry, and then sail around the breathtaking Palenki Islands by yacht, and enjoy stops to swim or snorkel around their gloriously secluded beaches. Under the watchful eye of a guide, act as part of the crew and help handle the ship on a 4-hour sailing adventure. No prior experience is needed, just a desire to actively participate while soaking up the sights of Croatia's beautiful island wilderness.
Highlights
4-hour sailing tour around the Palenki Islands

Travel from Split to Hvar by ferry, and then by yacht around the Palenki Islands

Experience sailing a yacht, overseen by a professional sailing crew
Enjoy stops for swimming and snorkeling in the shimmering Adriatic Sea
Make the most of a stop on the gorgeous island of Palmižana and walk around its botanical gardens

Hear tips about sailing and learn about the Palenki Islands' wildlife and scenery
Why Our Insiders Chose This Tour
It's a great way to discover incredible scenery without going far from Split. The seafood lunch on the full-day tour is a winner, too!
What You Can Expect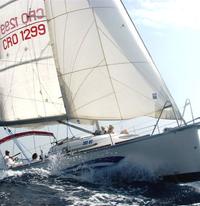 Meet your guide in the afternoon in central Split, and make your way to the port walking. Board your ferry and cross the sea to the island of Hvar. Dock in the harbor and transfer to your yacht to start your sailing adventure with a comprehensive safety briefing. All equipment — for both sailing and snorkeling — are provided for your use; just be sure to bring a bathing suit and sunglasses!

Set sail and cruise southwest across a stretch of the shimmering Adriatic toward the Palenki islands, a gorgeous chain of tiny islets that boast woodland, hideaway coves and deserted beaches. As you sail around the islands, admire their unspoiled scenery, and gaze at the sun-baked pebble beaches lapped by the turquoise waves of the Adriatic.

Many of the islands are perfect for mooring up and taking a swim, so do just that! Splash around in the water at leisure and even try snorkeling, if you wish. The exact islands visited are decided on the day by the yacht's crew, but your itinerary will always include a stop at Palmižana, one of the more remote Palenki Islands. Use the stop to explore Palmižana's lush botanical gardens, or enjoy a snack or drink (own expense).

In between exploring and swimming stops, help the crew with the handling of the yacht, and hear tips about sailing and navigation as well as learning about the local area and its wildlife. After four hours sailing around the island, return to Hvar, and then travel back by ferry to central Split where your experience finishes.
June 2014
After booking the Split half day tour - we were contacted to take a half day sailing from Hvar instead as there was no longer the Split sail available. This turned out to be fine although there were a number of last minute changes. Since we were staying in Split, it meant however that we couldn't get back to the mainland until quite late - which we weren't informed about until we got to Hvar. So a little disorganised.
But the actual sailing trip was magnificent! Beautiful day for sailing, got the learn the ropes with the lovely and friendly crew members; who provided wine, crackers and Croatian music :)
Great way to get a taste of what sailing is like! We stopped in a gorgeous bay for a (chilly!) swim and relax. The day turned out to be the highlight of the trip. My only advice is wear a LOT of sunscreen!
May 2015
This was a fun outing. Our captain was very enjoyable, funny, and personable. He did a good job, especially considering the windy conditions on the day we sailed. The stop at Palmižana was nice. One disappointment was we were looking forward to the swimming and snorkeling aspect of the trip, but with the cloudy day and winds, this was skipped entirely. I wish that we had been notified ahead of time that there was a chance of not swimming/snorkeling because we would have brought different stuff with us in our daypacks.
One other minor complaint is that the description of this tour shows the duration at approximately 8 hours. Our trip was closer to 12 hours. We met a company representative at 8AM in Split and returned to Split at about 7:45PM. The long time was mainly because we had to take slow car ferry to Stari Grad instead of one of the faster catamarans. Perhaps the catamarans run later in the season and make it a faster trip where the 8 hour estimate is more accurate.
Advertisement
Advertisement