Get an insider's view of the HBO show 'Game of Thrones' by booking this entertaining 3.5-hour guided walking tour in Split – it's a Viator Exclusive that you won't find anywhere else. Get a behind-the-scenes look with your local guide, learning about the spots in the fictional city of Meereen and the fortress of Klis. End up at Diocletian's Palace, located smack in the center of Split. Learn fun facts about the show as well as some juicy medieval gossip.
Highlights
3.5-hour tour of Split's Game of Thrones filming locations

Visit the local sights featured in the HBO TV series Game of Thrones with a local guide
Hear insider gossip about the series, based on George Martin's A Song of Ice and Fire novels
See Klis Fortress where Daenerys Targaryen launched an attack on the mountaintop city of Meereen
Explore Diocletian's Palace, where the slaves conspired with the Unsullied Army to overthrow the masters
This tour cannot be booked anywhere else — don't miss out on this unforgettable experience!
Recent Photos of This Tour
Viator Exclusive: 'Game of Thrones' Tour in Split
What You Can Expect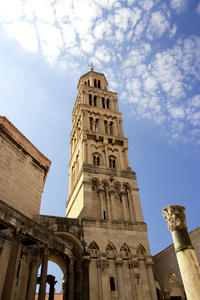 Meet your guide at the UNESCO World Heritage-listed Diocletian's Palace, right where the center of Split meets the sea to start this exciting 3.5-hour Game of Thrones-themed tour. Hop into your van and head to the mountainside fortress of Klis. During the ride, learn gossip from the HBO show, as well as the history of the places you'll visit. Speculate with fellow participants about what will happen in future episodes of the show.
Once there, explore the fortress, which acts as the city of Meereen in Season 4. Check out the views of the shimmering Adriatic and stroll around the fortress with your guide.
After 60 minutes at Klis, head back to Diocletian's Palace for your 90-minute walking tour. The palace, built in the early 4th century for Diocletian's retirement, was the setting for several scenes in the city of Meereen. Follow in Daenerys' footsteps as you explore this 1,700-year-old palace, visiting the throne room and other featured locations. Then step into the cellars where the slaves worked with the Unsullied Army and Grey Worm to crush their leaders. Today the palace is a living monument, as residences and shops began moving into the then-ruined palace around the 7th century.
Late in the afternoon, head outside Diocletian's Palace to finish your Viator Exclusive tour and bid your guide goodbye.
Viator Exclusives combine unique experiences and great deals — from traditional tours to once-in-a-lifetime experiences — and are not available from other 3rd-party online sellers.

June 2016
Agnes is such a great guide! She gave not just info about GoT but about the history of split. She also gave us guide where to eat, what to buy for souvenirs...must do for GoT fans...love it!!!
June 2016
A great tour of the filming sites from the show. Agnes was a great guide with lots of information to share about the show, the sites as well as Split past and present. hours well spent!
May 2016
Agnes was our tour guide and she was AWESOME! Very knowledgable in both GOT and the history of sites we visited. My friend and I really enjoyed this tour and really happy we did it. Highly recommend it to anyone interested in local history and a GOT fan! You will not be disappointed!
May 2016
Agnes was excellent. She was very knowledgeable and passionate about the history of Split and the scenes from Game of Thrones. Very professional. Thank you Agnes!
May 2016
Our tour was wonderful! Our guide was personable and informative, giving us a history of the area while taking us to exact filiming locations around and outside of Split. It was easy to locate our tour guide, and the van ride out the Klis fortress was comfortable. Our guide also gave us excellent advice on good places to buy souvenirs and where to eat. In fact, her recommendation for a restaurant ended up being our favorite place in Split! Definitely a fun tour, great for all kinds of groups and all ages.
April 2016
An excellent visit...made all the better by a wonderful guide, who provided detailed insight to the history and development of the area especially during walking tour of Split. She also provided interesting facts about the filming of GoT in the city and surroundings....with discussion relating to next series.
November 2015
A must-see for any fan of Game of Thrones. An excellent tour.
November 2015
I ended up on a private tour. Our guide and driver were both very friendly. The guide was very knowledgable and gave me insight on both GoT and the history of Split. Was a great introduction to the city and would highly recommend it!
October 2015
This is a great way to spend time in split.especially if you like got.our guide was fantastic, not only did she know all about the tv show. She knew about the history of split to and was very funny with it.great for all the family.
October 2015
Guide was excellent and had many items of interest that I can't remember them all.
Advertisement
Advertisement