Explore the best that St Augustine has to offer with admission to three historic attractions plus a hop-on hop-off trolley tour of the city. Visit the Old Jail, the St Augustine History Museum and the Oldest Store Museum Experience, plus more than 100 other points of interest among the city's top attractions. Board the trolley at any of the 22 stops. It's a great way to see everything St Augustine has to offer.
Highlights
Discover the history of St Augustine whichever way you'd like!
See the Old Jail, which still retains its 19th-century characteristics
Learn about St Augustine's history at the history museum
Ride the Old Town hop-on hop-off trolley through the city
See the Old Store Museum and find out what was sold during the late 1890s and early 1900s
What You Can Expect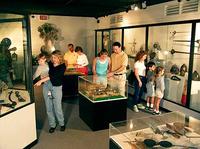 Get to know the history of St Augustine, the nation's oldest European-settled city. Enjoy admission to three of its top attractions — the Old Jail, the St Augustine History Museum and the Oldest Store Museum Experience — plus an entertaining hop-on hop-off trolley tour of the city.

At the Old Jail, get a compelling look at the cell blocks and gallows of this landmark site that held prisoners for over 60 years. Check out the maximum security area and the variety of weapons that were stored here. Actors in period outfits take you back to when this was a working prison.

The St Augustine History Museum has over 400 years of history on display — toys and dolls from the early 19th and 20th centuries, a replica Spanish galleon and real gold, silver and jewelry that was found in lost treasures off the Florida coast.

Then at the Oldest Store Museum Experience, watch the friendly clerks, butcher and snake oil salesman demonstrate the latest inventions for living at the turn of the 20th century, like a goat-powered washing machine and a gas-powered iron.

Enjoy three consecutive days of riding the Old Town Trolley. Learn about the 500 years of American history and happenings of St Augustine and enjoy the cobblestone streets, landmarks and pristine beaches as the trolley rolls along from one location to the next. Hop off at any of the attractions for a closer look, then hop back on when it's convenient.

It truly is a fun and fast way to get to know the city of St. Augustine and the many historic attractions it offers.
Itinerary
22 stops listed by points of interest
1. The Old Jail, St. Augustine History Museum, Oldest Museum Experience, Gator Bob's Trading Post
2. Old Town Trolley Welcome Center US1
3. Visitors Information Center on Castillo Drive
4. Old Drug Store, Tolomato Cemetery
5. City Gates, Spanish Quarter, Oldest Wooden School House, St. George Street, Ripley's Believe It or Not
6. Spanish Quarter, Castillo de San Marcos, Pirate & Treasure Museum
7. Bay View at the Monterey, Carriage Rides
8. Hypolita and St. George Street (historic walking mall)
9. Flagler Memorial, Presbyterian Church, Ancient City Baptist Church, Grace United Methodist Church
10. San Sebastian Winery
11. Whetstone's Chocolate Factory
12. Villa Zorayda Museum
13. Lightner Museum, Flagler College, Dow Museum of Historic Homes
14. Plaza de la Constitucion, Government House, Cathedral Basilica of St. Augustine
15. Potter's Wax Museum, Spanish Military Hospital, Beach Bus Stop*
16. Oldest House, Fernando-Lambias House
17. Castillo de San Marcos
18. Ripley's Believe It or Not
19. Old Town Trolley Welcome Center, Ghost and Gravestones, Uptown San Marco
20. Mission of Nombre de Dios, Shrine of Our Lady of La Leche
21. The Old Senator
22. Fountain of Youth

*Beach Bus is free and takes you to such attractions as the Alligator Farm, Lighthouse and Museum, St. Augustine beach and numerous sightseeing cruises
June 2016
We LOVED our trip to St. Augustine. We were thrilled with the Old Town Trolley and we are thankful we upgraded to the attractions passes. In fact, while there we also added more attractions at a discounted rate. We can't wait to go back and see more. There's so much history there and I would definitely recommend the trolley because you get so much information from the drivers! LOVED IT ALL!!!!
June 2016
very worth the money for 3 days! Able to see many sites and visit many attractions.
Just loved the narrative trolley drivers,very informative!

islandflower73 United States of ...
March 2016
Loved riding the trolley which took my hubby and I to all the tourist attractions and the guides were very knowledgeable and helpful. Will definitely use again when in St. Augustine.
December 2015
This was a great way to see the sights. We only spent 2 days but there was so much more to see.
November 2015
June 2015
Convenient and informative.
April 2015
The best way to see St. Augustine in a short amount of time!
November 2014
Always a great way to get the lay of the land. Loved the history. After 2 days on the trolley, we did our own walking tours.
September 2014
TravelerD USA
July 2014
Very good introduction for a first time visitor to St. Augustine.
Advertisement
Advertisement