Kayak, hike and snorkel in Caneel Bay, a UNESCO World Heritage-listed National Park. During this 3- or 5-hour tour on St John, follow your adventure guide to trek down forest trails on Turtle Point, paddle a kayak in the bay's serene waters and snorkel through beds of sea grass inhabited by the local sea turtles. Along the way, enjoy informative commentary about the history, ecology and natural resources of this unique ecological zone. All equipment is included, and the 5-hour tour includes lunch.
Highlights
3- or 5-hour kayak, hike and snorkel tour in St John
Paddle and snorkel in Caneel Bay within Virgin Islands National Park, a UNESCO Biosphere Reserve
Walk the trails to Turtle Point for breathtaking panoramic views
Learn about St John's abundant flora and fauna from an expert guide
Safety briefing as well as paddling and snorkeling instruction included
Choose from a morning or afternoon departure (3-hour option)
Upgrade your tour to a 5-hour option and enjoy a picnic lunch
Recent Photos of This Tour
What You Can Expect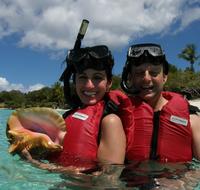 Find your way to Honeymoon Beach on Caneel Bay to meet your nature guide for a short orientation and safety briefing. Get fitted for equipment, including a kayak and paddle, snorkel gear and lifejacket before taking to the waters. The tour will be tailored to the skill level and preferences of your group.
Paddle your kayak around the turquoise waters of the Virgin Islands National Park, listed as a UNESCO World Heritage Site. Explore the area's spectacular coral reef, home to a rich array of marine life.
Pull the kayaks up on a white sand beach and begin your hike under the shade of coconut palms and sea grape trees. Walk through Turtle Point's tropical forests and listen as your nature guide points out specimens of the 800+ species of plants along the way. Reach rocky outcrops that give spectacular views of the Durloe Cays and Hawksnest Bay. Look for local fauna like white-tailed deer, mongoose and wild donkeys.
Don your snorkel gear and explore the UNESCO Biosphere Reserve that is home to many species of coral, as well as sea turtles and stingrays.

After your half-day of exploring this rich natural landscape, return to Honeymoon Beach. Please see the Itinerary section below for tour choices.
Itinerary
Option 1: 3-hour tourChoose from a morning or afternoon departure, including beverages and snacks.
Option 2: 5-hour tourDepart in the morning and enjoy a complimentary picnic lunch from a local deli.
February 2016
Great tour with plenty of info and just the right amount of activity for us. We were lucky to be the only couple that day and Jessie, our wonderful guide, customized it to our needs and skills. She shared her enthusiasm for the fauna and flora very well and led us to the right spots to sample what St John offers. I even got to see more turtles on that day than through multiple prior tours. Returning to Honeymoon Beach to lounge or enjoy water sports in the protected bay was perfect.
February 2016
Jason was our guide and he did a great job of offering insights and information on the island. Snorkeling was not fantastic because of weather but we did see sea turtles, fish and star fish. Kayaking and hiking gave us a real insight to the development of St. John.. Would highly recommend the trip.
January 2016
The tour was great with a little taste of kayaking, hiking, and snorkeling. Our guide, Ben, was fun, energetic, and shared his knowledge if the island with us. Great trip!
October 2015
WOW, What an excellent Trip! My wife and I booked this echo tour and had a blast. Our tour guide Hayden was fantastic. Very knowledgeable on the history of the area, marine life, etc. Without him we would have just wandered around the island and missed all the important facts. Coming back in 2 years and bringing the whole family to take this tour. Highlight of our trip. Definite bucket list fulfilled! Thanks
June 2015
We loved it! Austin took great pictures and had a fun personality! We got to observe tarantulas, swim with turtles and see many fish! It's a good variety of activity in a few short hours!

May 2015
The tour was fantastic. Patrick our guide was knowledgeable, fun and really made sure we had some great experiences. Would highly recommend the 3 hour tour and Patrick.
March 2015
I was skeptical to book any tours prior to our arrival but I am really glad we booked this tour through Viator. My boyfriend and I weren't staying in St, John so we took a cab from the Ferry terminal to Caneel Bay and walked about .75 of a mile through the resort to the top of Honeymoon beach where we were greeted by our tour-guide Patrick and his team! Much to our delight there was only one other couple who would be heading out with us they mentioned tour groups vary in size 4 - 10 people. Day locks were provided to secure our belongings and Patrick brought plenty of water bottles for our tour. We started out with a quick kayak trip to a private beach within the Caneel resort where we began our hike. The hike was great and Patrick was incredibly knowledgeable! I recommend hiking in sneakers or water shoes as it is rocky and muddy but people did hike in flip flops and were fine. After the hike we snorkeled and this was my favorite part because Patrick snorkeled with us! He made the sea turtles come to the surface and pointed out awesome things we wouldn't have noticed on our own. After snorkeling we headed back to Honeymoon Beach via Kayak. There were several restrooms to use along the way including a great restroom on the Caneel property. Upon our return they advised we could use any of the rental equipment chairs, paddleboards, etc for the remainder of the day! After our tour we went to Caneel Resort for lunch and then came back to Honeymoon beach for relaxing! I definitely recommend the morning tour which is what we did.
Two small cons to mention - the snack was 1 chips-ahoy cookie and by the end of the trip I was starving -- we were gone from 930ish-130ish. It was also chilly when we got out of the water post snorkel, would have been nice if Patrick had a few small towels handy.
All in all awesome tour - I wish Patrick could have showed us the entire island of St. John!!
February 2015
Unfortunately, our tour was canceled due to rough seas, but the staff who take care of Honeymoon Beach at Caneel Bay where the tour starts were fantastic. We spent the previous day at the beach there and enjoyed the all-day beach pass, which included paddleboards, kayaks, beach chairs and snorkel gear. Would highly recommend this spot.
December 2014
This tour was amazing! Lots of fun. Our guide customized it for our group and it was fantastic.
July 2014
Great tour! Learned a lot from our guide Nate! Took us along a very scenic hike around caneel bay with breathtaking views!
Advertisement
Advertisement