Helicopter tours offer a variety of truly amazing panoramic delights, priceless memories and photographic opportunities for both around the island tours and Montserrat volcano tour. Flights can be arranged for a 45 minute Montserrat Volcano Tour, or a 20 or 30 minute Antigua Island Tour.
Highlights
Helicopter tour from St John's, Antigua

Several choices of flight times

Fly over Montserrat, an active volcano on the island of Antigua

Recent Photos of This Tour
What You Can Expect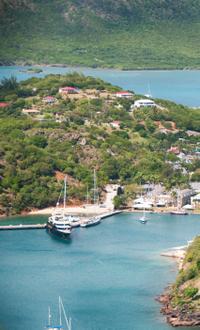 A flight over Montserrat offers a very rare opportunity to witness an active volcano from a safe distance. After laying dormant for over half a century, the Soufriere Hills Volcano rumbled to life in 1995 and has been active ever since. Activity increased in 1997, with huge eruptions of lava, rocks and ash changing the face of Montserrat forever. Entire villages were engulfed by pyroclastic flows, and the southern half of the island was evacuated and is still considered an exclusion zone today.
Antigua is just 13 miles across but has many coves and bays, and 365 white sand beaches - one for every day of the year! The island has warm, steady winds, a complex coastline of safe harbors, and a protective, nearly unbroken wall of coral reef. Seeing Antigua from a helicopter is a beautiful sight, one not easily forgotten.
Please note: All passenger's weights must be advised at the time of booking.
October 2011
Excellent trip. Caribbean Helicopters staff are all very friendly and welcoming. Well worth the $80 (US) taxi ride from St James!
February 2010
Great tour. However, after much communcation prior to my arrival at the storefront, there was still drama when the man behind the counter wasn't expecting me and ask me to pay for my tour even though it had been paid for 6 weeks prior. And, even though my voucher said PREPAID, he still didn't believe that I had paid. I had to encourage him to make a phone call to the woman I had been speaking to for weeks. Once the call was made, everything was cleared up. Also, there were 5 of us in the helicoptor. 2 married couples and me. Instead of putting me up front and letting the married couples be together, he split up a married couple one up fron and one in back and had me facing backward even though I had booked weeks in advance. That wasn't fair. But, once we took off, the sights were awesome, the ride was awesome and the pilot knew his stuff and was very infomative.
September 2008
After a few booking problems, the flight took place when finally scheduled and was brilliant, well worth the trip. The journey over Montserrat was something quite special and could only be done in a helicopter.
Anonymous
September 2008
This was my first helicopter tour. I was nervous, but there was no need. The crew were very safe, the views excellent. I thing for cruises coming to the island, especially, this is a very special way to see the ocean and land from above.
September 2010
I chose the 45 minute tour for a longer helicopter experience but 20 - 25 minutes was crossing the water & back so quite boring but the views over Montserrat seeing all the devastation was quite moving and an eye opening experience. If you want the excitement of flying in a helicopter I'd suggest one of the cheaper shorter tours, if you want to see the Montserrat post eruption then this is definitely worth it.
February 2015
Sent my mum and dad on a helicopter tour for there 25th anniversary told the company a few times that it was special and they split them up in the flight my mum in the front with the pilot,my dad with his back to her not only did they not enjoy it my dad had to watch the co pilot star down her top!
Advertisement
Advertisement