Spend a relaxing day of swimming and fun in the sun on one of Antigua's top beaches, Runaway Beach during this 4-hour beach day excursion. Whether you want to get active with some snorkeling, swimming or kayaking in the calm, crystal-clear waters, or simply want to plant yourself in a beach chair and relax, you're sure to find your slice of paradise. Your beach excursion also includes a welcome beverage and round-trip shared transfer from St. John's.
Highlights
Half-day Runaway Beach pass
Enjoy access to the beachside facilities of a deluxe resort
Lounge in your provided beach chair on a private stretch of sand
Rent kayaks, snorkeling gear and other water-sports equipment
Includes the use of restrooms, showers and changing areas
Relax on a short drive with round-trip transport from St John's Pier
What You Can Expect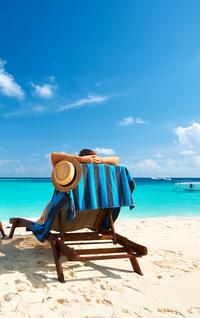 Relax on the calm, shallow waters of Runaway Beach, a stretch of coastline in Antigua that's perfect for beach bums and water-sports fans alike. Rent a kayak or snorkel gear to explore the coast, or take a break in a complimentary beach chair as you let the mellow atmosphere take your worries away.
Meet at 8:45am at St. John's pier for a 10-minute air-conditioned taxi ride to the deluxe resort that owns this exclusive strip of sand. Spend the next 3.5 hours in appropriate Caribbean style: basking in the resort's half mile of beautiful sun-drenched sand as you enjoy a complimentary cocktail (Caribbean fruit or rum punch) and sample a variety of fun beach activities.
If you desire a mellow day, find a free beach chair and soak up the idyllic island vibes of this serene resort. Or spend a more active day in the water swimming, or by renting a catamaran, kayak or snorkel gear from the resort. If you're looking for some relaxed adventure, head for the nearby limestone cliffs where you can observe pelicans as they hunt for fish or observe sailboats as they ply the nearby waters. The choice is yours.
A variety of services are also available on site should you require them. If the sun gets too intense, feel free to rent an umbrella from the resort at your own expense. And if you're feeling hungry, a variety of snacks and refreshments are for sale at the on-site bar and restaurant. Make use of the resort's restrooms and freshwater showers at any time during your visit.
At the conclusion of your 3.5-hour beach day, head back to your taxi for the return trip to St. John's Pier.
April 2016
Tour was exactly as advertised. The rep met us where we were supposed to be. She put us on our transportation and we were taken to a nice clean beach area. We were provided with two lounge chairs and paid only 10 for an umbrella. The people were pleasant and nice. There were some vendors but not obnoxious. If you said NO, they left you alone. We were give a free run punch and food and drinks were available for a reasonable price. The restroom was clean. I would recommend this tour!
July 2015
We enjoyed our half-day trip to Dickenson Bay in Antigua. The beach was pristine! The resort has changing rooms and a café on site. Transportation was provided from the cruise ship pier. Good value for the price.
June 2015
Had a great time beautiful beach!
June 2015
Beautiful beach, older facility but did the trick. Vendors frequent but not aggressive. Tour staff very nice.
March 2016
Disappointed in the beach could not walk into the water. Expecting a beach with shops and not what we got. People were accommodating but could not connect to Internet
Russell S United States of ...
February 2016
Website inferred a hotel beach location on Dickerson Bay. It wasn't a hotel and it wasn't Dickerson Bay.
The beach bar wanted 10 for a 4 hour unbrella rental - exorbitent!
December 2014
We were taken to a different beach. One of the locals said it was Fort James, and another said it was Miller's Beach, so we don't know which, but it was definitely not Dickenson Bay. When we were dropped off at the location by the taxi driver, the beach guide asked the driver why we were brought there. The guide had to cover up for the driver saying Dickenson Bay was closed due to storm damage. Really? A major tourist site and it was closed? We were never notified of any changes to our itinerary. I think the driver just wanted to save on gas money.
Advertisement
Advertisement