Gallop on horseback along the idyllic beaches and crystal clear waters of Antigua as you explore the island's history and scenic beauty on this 2.5-hour horse riding adventure. Check out stunning views of St. John's Harbor, mounted on your trusty steed, as you discover the area in and around Fort James. Then head back to the beach to cool off with a cocktail and take a relaxing swim (with your horse) in the cool Caribbean waters. This horse riding tour also includes a guide, bottled water and all necessary equipment.
Highlights
2.5-hour horseback riding tour from St John's
Ride over soft sand along the Caribbean coast
Explore Fort James, an 18th-century British stronghold
Ride bareback into the warm water
Take a break at the beach to stroll or sunbathe
Enjoy amazing views of St John's Harbour and the sea
What You Can Expect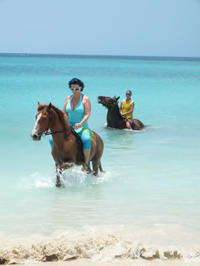 Get a different perspective on the history and majestic scenery of Antigua as you explore this stunning island by horseback. Frolic among the beautiful blue waters and sugar sand (with your horse) and spend some time exploring the remains of an 18th century British fort.
Begin your excursion by meeting your guide at a central location in Antigua, proceeding 10 minutes by air-conditioned minivan to Fort James Beach for the start of your ride. Get a quick introduction to riding before receiving a horse that's fitted to your size and ability level.
Once you've mounted up, make your way on horseback out onto the serene beach, complete with coconut palms, ocean breezes and perfect white sand, heading toward the historic Fort James. This military stronghold, constructed by the British in 1706, contains the remains of several antique cannons, along with fantastic views of the harbor and coast.
Then head back onto the coastline with your horse, where you'll enjoy another mile (1.6km) of beach riding before dismounting for a short break. Grab a bottle of mineral water as your guide prepares your horse for you to take fun horseback ride in the ocean. Strap on a buoyancy belt as you join your horse and guide for a refreshing and fun experience swimming in the swallow waves near shore.
Finish your adventure with an hour of free time. You can choose to kick back in a lounge chair with a cocktail, take a walk on the beach or jump back in the water for a quick swim. If you're hungry, an oceanfront restaurant offers snacks and lunch for purchase. Take an opportunity to shower and clean up before returning to the tour starting point by minivan.
February 2014
nothing like riding a horse on the beach. cab was sent for us, the owner "Sunfire" and his sons run the place. they are very friendly and make you feel welcome. very fun and pleasant ride. horses basically follow each other but if you know how to ride then you can move about. definitely never rode a horse in water before so that was great.
July 2014
This was a great tour. However I left out a star because Viator did not inform me to bring a towel to sit on under the saddle so I was forced to purchase one from the nearby souvenir shop even though I didnt want to spend the extra money. I could easily have brought my own towel.
October 2014
My husband and I enjoyed the horseback riding tour. The guide was very friendly and informative. The ride in the beach was very brief (less than 5 minutes), I thought it would have been a little longer but we were told the water was a little rough (not really) which could be why it was so short. However, I did not give this more than 3 stars because this tour was supposed to be 3.5 hours. We were picked up and dropped off in under 2.5 hours. We were supposed to have been given an opportunity to hang out at the beach and given a bottle of water but were not. When we came out of the water, we were told our taxi to take us back to St. John's would be arriving in less than 5 minutes. I think this is because that driver had another job and wouldn't be available to pick us up later. In that case, they should have arranged to have a different driver drive us back to town. We were hoping to be able to enjoy the beautiful beach there before heading back to town.
February 2014
Lots of fun but too big of a group (20-25 people) and not split up between experienced riders and beginners thus it was very slow and not too much of a riding experience. Transport from pick up location to Fort James was good but no one showed up to drive us back. I enjoyed it a lot overall though
Advertisement
Advertisement