Take to the Caribbean water and experience the beauty of St. Kitts as you kayak and snorkel in the crystal-clear waters. Enjoy scenic coastal views of the island and depart on a spectacular underwater adventure filled with exotic fish and turtles. For a true St. Kitts water experience, book the kayak and snorkel adventure today!
Highlights
3-hour kayak snorkeling adventure

Experience the beauty of St. Kitts and the Caribbean coast

Kayak by steep cliffs and remote bays

See a variety of fish and other sea creatures while snorkeling

Includes refreshments and snacks
What You Can Expect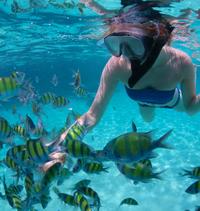 Your 3-hour adventure begins with a scenic drive along the rugged southeast peninsula. Before your kayak adventure begins, you'll meet your tour guide for a kayak lesson and safety briefing. Kayak and snorkeling equipment are included.

Then enjoy a 45-minute kayak ride with your guide, and see the steep cliffs and remote bays. Observe the local wildlife including the beautiful hawksbill and greenback turtles, pelicans, frigate birds and vervet monkeys. Snorkel along the Caribbean coast on an underwater adventure revealing a variety of fish and other sea creatures.

At the end of your journey, enjoy refreshments and snacks on a secluded beach before returning to the dock.
April 2014
Although the other people doing this tour were trying to ruin my day (saying the water wasn't clear [it was--visibility under the water was about 30 feet], not wanting to leave their belongings in a secured room, and just being grumpy), they did not ruin this for me. The kayaking was great with just the right amount of paddling. The scenery from the ocean was beautiful and I got a few of my favorite photos on this trip. The other people skipped the snorkeling (their loss) and I was happy to receive a private snorkel adventure. I had been SNUBA from this same location just a few days before, but snorkeling I saw quite a few different fish. I would definitely recommend doing this and when I revisit in a few years, I will again be kayaking on the ocean here!
April 2014
The 3-hour adventure begins with a scenic drive along the rugged southeast peninsula is a tour through the side streets of Basseterre from the Marriott. Tight streets and subdivision viewing. We had six people and took out three two person kayaks. The kayak lesson and safety briefing was minimal. Our instructor took off and it was literally a race to try to catch up with him. He would wait for us then turn and race up the ocean and wait again. We took a nice break at a beach and then went back to the starting port. Next was snorkeling. Once again, minimal training for those of us who did not know how to snorkel. Out in the water the fish were abundant and lively. Very beautiful. The instructor did not give us any instruction on where to look. After 30 minutes we went back to the base.The "refreshments and snacks" which were said to be included was a small cup (4 ounces) of punch. No sandwiches or even a bag of chips. So why do they get a 5 star rating? It really is fun and quite affordable. The equipment is top notch and clean. I get the impression that this is the first year they have been doing this and do not have the subtle nuances that are needed to appease the tourists. Once they get the confidence then they will be better. They should stay in port until everyone feels comfortable with the equipment. The lead kayak should stay with the group pointing out the specific sights we are seeing and even tell stories about the island while sitting in our kayaks. The lead snorkel should lead the pack and show different fish. They could have a picture and description of the fish that can be seen as there are a lot and abundant. A snack, like other tours give, such as a sandwich, chips and a drink would make the tour better and bring back others again and again. When I am back in Saint Kitts I will be back on this tour.
Advertisement
Advertisement