Take your Saint Kitts visit to new heights during this 8-hour guided volcano hike to the top of the now-extinct Mount Liamuiga, enjoying a sky-high picnic lunch at the top. Explore the spectacular scenery during your hike through the island's lush rainforest, admiring towering trees and hanging vines as you ascend. Then reach the top and enjoy 360-degree panoramic views of the entire island spread below, as well as nearby Nevis and Saint Barts, along with a delicious picnic lunch served in this magnificent setting. Your St. Kitts volcano hike also includes round-trip hotel transport.
Highlights
Guided volcano crater tour

Vigorous hike to the top of Mt. Liamuiga

Observe the beautiful rainforest scenery

Includes lunch and beverages
Roundtrip transportation from your hotel
What You Can Expect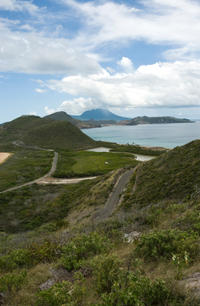 Scale Saint Kitt's impressive Mount Liamuiga, a 3,792-foot (1,156m) high extinct volcano, enjoying magnificent views and a picnic lunch at the top, during this 8-hour hiking adventure. This strenuous hike is a great adventure for anyone looking to get off the beaches and experience a different side of this lush, mountainous island.
Start your Mt. Liamuiga hike with pickup from your Basseterre or Frigate Bay hotel, proceeding to the trailhead for your 2.5-hour hike towards the peak of this one-time volcano. The walk begins in the bright-green environs of the island's tropical jungle, a climate zone where you'll observe towering trees, swaying vines and colorful flowers. Along the way, your tour guide will point out highlights of the island's diverse range of flora and fauna.
After a vigorous hike, you'll arrive at the peak of this extinct volcano, a sublime setting from which you'll have vistas of the entire island below, as well as the
nearby islands of St. Barts and Nevis,
set among the beautiful blue of the Caribbean Sea. It's in this special setting you'll enjoy a picnic lunch and rest up before beginning the hike down.
Following lunch, head back down to the start of you hike, where a Land Rover waits to drop you off back at your St. Kitts hotel.
Please Note:
sneakers, long pants required. Individuals should be in good physical condition.
May 2015
Our tour guide was fantastic. We had a group of 7 on our hike- 3 younger hikers, 4 older hikers. The guide did a great job making sure everyone could catch up and catch a break when they needed it. NOTE: we didn't have any cruise ship passengers on our hike- if we did, we would not have had this luxury, as they are more time-crunched.
The hike has some difficult parts, so I would suggest being in good shape beforehand. I am pretty active and I found it strenuous but not a killer. The views at the top are definitely worth it!
December 2014
Went on a boat instead, tour company was nice enough to switch and recommend when our tour did not have enough people signed up.
Advertisement
Advertisement