Trek along the Gros Piton Nature Trail with a local guide during this full-day adventure on St Lucia. Visit the nature interpretation center at Fond Gens Libre to learn about the area's flora and fauna. Attempt the challenging climb to Gros Piton's summit, which affords panoramic views of the entire island and the turquoise Caribbean Sea that lies beyond. Explore the tunnels and caves at Anse L'Ivrogne Canyon, a historic site used as a hiding spot for rebel fighters during the slave uprising in the 18th century.
Highlights
Gros Piton Nature Trail hike on St Lucia
Visit the Fond Gens Libre interpreter center to learn about the flora and fauna
Hike a moderate to strenuous trail to the summit of Gros Piton
Discover the caves and rock shelters of Anse L'lvrogne Canyon
Admire views of its volcanic twin peak, Petit Piton, and the Caribbean Sea
Learn about the fascinating history of St Lucia from an expert guide
Round-trip hotel transport from your North Island hotel
Recent Photos of This Tour
What You Can Expect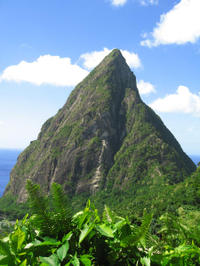 Following pickup at your hotel in St Lucia, board a coach for the scenic ride to the west coast of St Lucia.
Upon arrival at Fond Gens Libre, named for the freedom fighters who used the area as a hideout during the 18th-century slave rebellion, meet your guide at the nature interpretation center. Peruse the center's exhibits to learn about the wildlife and native flora found in the area, which will be helpful later to identify those species on your hike.
Start up the Gros Piton Nature Trail with your guide, the first section of which is a moderate trek around the base of the mountain. As you wind around the mountain, enjoy panoramic views of the Caribbean Sea and Choiseul Village. Look for local birds, some of them rare, like the St Lucia black finch and the St Lucian oriole. At Anse
L'lvrogne Canyon, explore the hideouts, tunnels and caves that were used by freedom fighters centuries ago.
The second part of the climb is strenuous, and suitable only for those in good physical condition. The summit of Grand Piton affords fantastic views of the entire island of St Lucia, as well as the twin peak of Petit Piton in the near distance.
After the 4-hour round-trip hike, return to the coach for transportation back to your hotel.
April 2016
My husband, 10 1/2 year old, 13 year old and I just hiked the Gros Piton last week while on spring break. I'm so glad we booked with Viator. From pick up, through the hike, and back to the drop off at our hotel, it was the perfect excursion! The gentleman who picked us up from the hotel and I'm kicking myself because I don't remember his name! was amazing. He was so nice, and incredibly knowledgeable about all things St. Lucia. Through our questions and conversations, he told us about the current government, upcoming elections, the economy, culture, everything! He had no problem stopping for us whenever we saw a photo opportunity, and likewise pulled over to jump out and show us his favorite sites. He picked cocoa pods and let us taste the kernels inside citrus-like, handed us tamarind pods and soursop fruits, showed us cashews growing in the trees, pointed out nutmeg and cinnamon trees and explained how bananas grow. And then gave my son his only can of lemon lime soda flavored with nutmeg and Angostura bitters. He delivered us to the amazing Simone who was our guide for the hike mandatory. Simone made certain we had the recommended water for each of us available AND reasonably priced in the welcome center and then gave us a brief history of the area, and an overview of what to expect from the hike. The only restrooms on the trail were here and were very clean. We rented walking sticks for 1, but found out well into the hike that they would have been worth 50! The hike was strenuous for those of us in fairly decent shape, but breaks were very welcome. Sunscreen, hats, and snacks are a must, as are very sturdy shoes. The climb is about 1200 feet over 3.5 miles, and then back down. We did it in about 4 1/2 hours. There were no crowds, which was great, and we only passed a few other small groups on the way up and down. The views from several points on the trail and from the top totally make it worth visiting this World Heritage Site.
February 2015
February 2015
Wow! Great hike. Seriously a challenge. Do not go unless you are in great shape! We loved it but can honestly say that it was one of the tougher hikes we completed. We run, lift ,play sports, etc and still a great challenge. Some of our party made it 1/4 of the way. Bring lots of water.
Christopher T USA
March 2009
This was a great trip and definitely worth doing. What a different way to see St. Lucia! Along the trail there are many fabulous views, and the view from the top is incredible. The hike, however, is definitely advanced. You hike straight up for about two and a half hours over rocks and steep pathways. Make sure to take plenty of water and energy snacks!
Ren United States of ...
May 2013
This is a very challenging hike. The view at the top is not as great as what you will see about halfway up.
Joe K USA
December 2010
This is a very, very challenging hike, but the reward upon finishing is fantastic and well worth the effort. The views are postcard perfect. The trail is very well marked, however, you are required to have a "guide". I think this is just so locals can make money, but I don't really have a problem with that. However, our guide basically led us up the trail, but did not share much information. I learned more about the trail and the mountain by reading about it before we even arrived in St. Lucia. There are some really good photo spots along the trail, including an incredible view of Petit Piton at the 1/2 mark. While the hike itself is pretty fantastic, it can be a very long drive (1.5-2 hrs) from areas of Castries or further north. It is a very winding and twisty road. Our tour driver never stopped for lunch, as listed, which was a huge negative since we were starving after hiking. At $130, this tour is way overpriced(especially without lunch), but if you are a hiker and you want great views, it might be worth the money.
Advertisement
Advertisement