Glide through the lush rainforest canopy of St Lucia's eastern coast on a zipline adventure from either Vieux Fort or North Island. Soar along 500-feet (150 meters) of cable through trees and above rivers, admiring the spectacular jungle scenery as you literally fly from one point to the next. This wonderful nature and wildlife tour also includes round-trip transport between most area hotels.
Highlights
Rainforest canopy adventure in St. Lucia
Over 500 feet (150 meters) of ziplines
Breathtaking bird's eye views of the rainforest and lush tropical vegetation
Complimentary pickup and drop off from most Vieux Fort and North Island hotels
What You Can Expect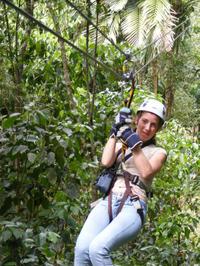 A short scenic drive along St. Lucia's east coast brings you to the welcome center situated in the heart of the rainforest. For those less inclined to meandering along a forest trail, but would rather seek a more thrilling adventure, there is little that compares to zipping along 500 ft (150 meters) of cable at heights ranging from 30 ft (10 meters) to 50 ft (15 meters).

Enjoy a bird's eye view of the rain forest as you glide over tree tops and rivers and feel the thrill of "flying" through lush tropical vegetation. Reawaken your sense of adventure on this stunningly breathtaking ride which will leave you with a renewed appreciation of nature. Return to the start up point where you'll join the bus for the scenic ride back to the hotel.

Please Note:
This tour is not suitable for persons with heart ailments or physically challenged persons
August 2011
Great staff! Very friendly and informative. The zipline was exhilerating!
Christopher N USA
July 2010
It was lots of fun. The tour was great!
J.R. Canada
April 2012
My teenage son and I had a great time. It was worth it even though it was raining. Our guides - Annie, baby! and Chubby - were wonderful and provided a lot of background information during the van ride to and from Dennery. They would stop occasionally so we could get photos - bread fruit trees, pineapple, a small boa constrictor at the side of the road near a broken coconut, etc. I discovered there is a zipline closer to the Northern resorts, near Castries, but I think going to Dennery was better - we saw a lot of St. Lucian life on the trip, and the zipline system in Dennery is a series of 12 lines, and felt quite professionally done. The only downside is that the winding roads of St. Lucia can make you nauseated if you're prone to car sickness.

June 2013
Personally I did not rate this particular activity. There are 20 different lines you zip along of different heights and lengths. After the first 7/8 it felt a bit like same old thing again. Also I found it tricky to be looking around at the vegetation and at the same time avoid the tree branches, some of which get quite close as you are zipping along.
Others in our group thought it was fantastic, but personally I did not rate it.
Advertisement
Advertisement