An excellent excursion for nature lovers! St. Lucia possesses a topography and ecology of stunning beauty, matched by no other location in the Caribbean. Take a short walk along a forest trail to the heart of the lush green forest to experience the tropical flora and fauna up close!
Highlights
Enjoy a guided walk through the tropical rainforest in St. Lucia
Learn about the diverse topography and ecology of St. Lucia
Up close views of distinct exotic flora and fauna
Complimentary pickup and drop off from most North Island hotels
Arriving to St; Lucia on a cruise ship? Book this as a shore excursion here!

Recent Photos of This Tour
What You Can Expect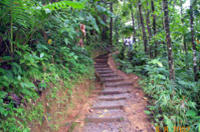 A short scenic drive to the lush green forest allows you to enjoy the warmth and quaintness that sums up St. Lucia. You'll be met by an expert forestry guide who will lead you on an awe inspiring nature walk. You'll explore massive gommier trees and blue mahaut trees, various species of lichen as they intricately wind their way up large tree trunks, wild anthurim lilies, wild nutmeg and the seemingly endless species of flora and fauna.

Savor the privilege of sharing a habitat with endemic birds like the Mangrove Cuckoo and the Black Finch as you stroll through their enchanting and natural sanctuary. There is the chance of seeing or hearing the cry of the elusive "St. Lucian Parrot" and experiencing the thrill of viewing a Boa Constrictor lying in cool indifference on a tree trunk.
February 2014
The walk is great with very knowledgeable guides. The only difficulty for me was that I found it hard to do the climbing of the stairs because of my COPD. Both the guide and my fellow walkers were very supportive - I felt like I was holding everyone up but they said no.
March 2013
Part of the Aerial Tram and Zipline set up. Well organised, and our knowledgable guide Terry told us a lot about the Rainforest. The walk took about 3 hours in total and altogether climbs about 800 feet. Consequently there are quite a lot of fairly steep stepped sections, so a bit more strenuous than we were expecting. However there is no forcing of the pace and there were frequent stops.
April 2012
We had a really informative guide but the walk was quite steep in places and although my husband and I were able to manage it, a few people had to drop out half way. Perhaps it should have been made clearer in the information that the walk was quite strenuous.
August 2011
Well this tour was cancelled due to a lack of participants.A representative was sent to our hotel room with this itenerary to inform us of the cancellation and even offered to replace this activity with another. We ended up doing the rainforest tour with the tram ride for an extra $50 pp. It was AWSOME! The sounds and sights of the rainforest is best experienced in person. Although all we say were trees and occasional flowers, I enjoyed the trip. The tram ride was an added plus. Although after the tram ride when the guide took us on a 10 minute 'hike' around the rainforest, she rushed the whole thing. I would recommend the tram ride through the rainforest.
October 2008
Very interesting. An easy hike even though it was raining. Our guide was very knowledgeable.
Anonymous
August 2008
Our guide was excellent. The length of the walk was just right. We saw many interesting and unusual plants and birds.
August 2008
Good day out. Learnt lots of new information about rain forests. Guide very knowledgeable.
Advertisement
Advertisement