Special Offer
Book with us and save 10% compared to another travel site!
Hop aboard a Segway for a unique natural trail experience. Explore St Lucia's Rodney Bay and Mt Pimard aboard a self-balancing stand-up Segway, learning about local flora and historical sites as you follow your guide along a 1.7-mile (2.7-km) trail system. Stop for pics at the sealed bunkers that Americans used as tunnels during World War II, savor incredible views of Pigeon Island and the Caribbean Sea and feed fish at a freshwater pond.
Highlights
St Lucia Segway tour

Drive your own Segway along a nature trail

Enjoy multiple photo opportunities along the way

Complimentary roundtrip hotel pickup and drop-off included

Recent Photos of This Tour
St Lucia Segway Nature Trail Experience
What You Can Expect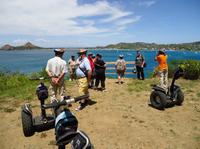 Your St Lucia Segway tour starts at the Segway practice track, where you'll have a 20-minute orientation session. Get the feel of your new vehicle, and test out the Segway X2's amazing balance controls. Professional staff and equipment allow for a safe and fun experience for all.

You'll then hit the nature trail, which begins right in the heart of Rodney Bay. Explore the historical wonders of Mt Pimard as you "glide" effortlessly along the 1.7-mile (2.7-km) trail system. Your friendly naturalist guide will explain everything along the way -- from the exotic flora and fauna to the battles between the English and French over the Helen of the West Indies!

There are plenty of photo stops and educational spots along the way. Explore the now-sealed bunkers that once served as tunnels, storage and lookouts for the American Military during World War II, and enjoy breathtaking vistas of Pigeon Island, Reduit Beach, the Rodney Bay Marina and the Caribbean Sea. Other stops include a local fruit shop and a pond where you'll feed fresh-water fish.
January 2016
Very good indeed. We were collected bang on time and driven to the Segway site. Check-in was quick and easy. Out instructors/guides, Edwin and Kestin, were very informative, and good fun, on both riding the Segway and the various bits of nature we encountered along the way. Would go again. Must buy a Segway now I'm home...
December 2015
Lloyd was there to meet us at the designated time and place and took care of the transport for us. The guys were great and took us to some great spots overlooking the bay and gave us lots of information. They made sure everyone had a good time and were safe. They prepared a tropical buffet for us which was a brilliant added touch. Highly recommended
April 2015
This trip was a lot of fun. We did this with our teenager and we all enjoyed it. Our tour guide was Little Man who did a great job. Easy way to see some of the beautiful ocean views of the island.
December 2014
My wife and I took several very good tours while vacationing in Saint Lucia, but this was the most fun of the lot! The leaders/instructors were so helpful, and very funny to boot! We had never used a Segway before, but it took very little time to adapt, and we were off on a very interesting adventure! The area toured is mostly private property, which includes some breathtaking views, plenty of spicy flora (some of which we sampled), and interesting ruins of abandoned fortifications. There was also a unique pool up the mountain, stocked with Coy that we were allowed to feed. The water was seethed with hungry fish! On the way back, we stopped off at the beach, where refreshments were available. For us, this would have been a tiring walk without the Segways, but it was a total breeze with them! Try it!
August 2014
A very professional pleasant experience. Very knowledgeable tour guides giving a great insight into the local history and foliage.
Make sure you go for a drink to Marie's bar on the way back. A perfect day for all the family. They were very patient and helpful with my young daughter who didn't take to it at first.
May 2014
Amazing experience!! Our guide was brilliant-informative and fun. We were out for about 2hrs but only 1 was on the Segway.. But the other hour was well spent.. Eating fresh fruit in a world war 2 bunker and feeding some fish in a stone face pond.. And taking in the scenery of course. Brilliant!!
January 2014
Thoroughly enjoyable trip I highly recommend it as a fun family outing. I was a little nervous but the guys looked after me very well and even gave me my own guide to look after me. Fantastic experience.
October 2013
July 2013
The tour was so much fun, we enjoyed our time with Jenga-Denga and Lil Man ! It was easy to learn to ride the Segway and the trail was beautiful. We would recommend the tour for everyone who wants to have two hours full of fun! Sandra, Thomas , Alexander and Christian from Austria

June 2013
This was so much fun. We had never used a Segway before, but they are really easy to handle as long as you don't start horsing about on them. The trail we went on was off road and we also went on a stretch of beach. One guy got into difficulties and ended upon getting whacked on the head by the handle bars. A stark reminder of why you should not mess about on these things and also why we were told to wear safety helmets. No doubt about it he would have been knocked out cold if it was'nt for the helmet.
Tour guide was a really nice chap and even stopped at fairly regular intervals to show us different trees and explain their medicinal properties. Made a stop to try some of the local fruits and another for a few shots. Definitely would recommend the Segway, is a really fun experience.
Special Offer
$95.00 Save $10.01
Advertisement
Advertisement