Special Offer
Book now and save 10% compared to another travel site!
Cruise the coastal waters of St Lucia while searching for whales and dolphins during this 3-hour excursion. Learn about the marine mammals that live in St Lucia's waters from your expert captain and experienced crew. Have your camera at the ready while the boat skirts the island's northern coast looking for signs of these magnificent animals. Round-trip transportation from local hotels is included.
Highlights
Whale and dolphin spotting adventure from St. Lucia's north island

Learn about the marine mammals that frequent St. Lucia's waters

Spot a wide variety of whales and dolphins, including Bottlenose and Spinner dolphins

Fantastic photo opportunities of St. Lucia's North Island coast

What You Can Expect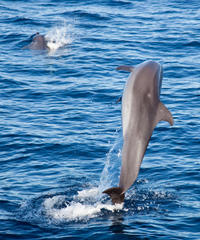 Following pickup at your local North Island hotel, transfer to the pier to meet your boat. Be sure to bring your camera, a hat and sunscreen for the adventure ahead.
Climb aboard and meet your experienced captain and crew, who will make sure you are comfortable during your 3-hour trip. Your hosts have tons of experience searching for whales and dolphins, so they know what to look for. Learn about the marine mammals native to this area as the captain steers the boat toward the best spots for spotting whales and dolphins.
As the boat cruises away from the beautiful tropical shoreline, relax and keep your eyes open for whale spouts and dolphin acrobatics. Bottlenose dolphins, spinner dolphins, pilot whales and sperm whales abound in St Lucia's waters. Train your camera on the scenic coast, which features sleepy fishing villages and remote, pristine coves.
After 3 hours of cruising and viewing the local marine wildlife, you'll return to shore for drop-off back at your hotel.
August 2013
Well being prone to motion sickness I unfortunately was... BUT... It was worth it! We saw hundreds of dolphins up close and personal, 3 sperm whales, a swordfish and many flying fish. What a fantastic day that my niece is still excited from!
June 2013
They said when we left the dock we have a 70% chance of seeing whales and dolphins.
What we seen were three different pods of dolphins each a different speices.All came up beside ,ahead, and behind the boat.Some flying fish went by because this was what they were feeding on.Also a pod of Pilot Whales.All this in three hours.A must for all to see.
Debz United Kingdom
October 2012
Great day. Saw loads of dolphins and a couple of whales.
April 2016
We saw many many dolphins and several whales.What more can I say. We had a fabulous time
January 2014
All of a sudden, saw lots and lots of dolphins, it was brilliant!!
June 2013
Trip was well organised and pick up at hotel was on time. Skipper on the boat and his crew were more than friendly and kept everyone informed as we went out into the ocean looking for whales and dolphins. Unfortunately we did not see any whales but the crew spotted some dolphins on our way back and turned the boat around. We did see quite a lot of dolphins which made the trip a rounded off the day. There was all you wanted to drink on board as well a a local rum punch which was very nice. All in all a good day out worth doing again.
April 2013
Could only see whales about 70% of the time on this tour.We were the ones that didnt get to see the whales.We did get to see a school of dolphins toward the end.A few dolphins jumped up out of the water.
June 2014
The staff were friendly and willing to answer any questions about the Island. However we did not see a single Dolphin or Whale on the 3hour boat ride. So it did become a bit of a mundane experience, which can be combatted with the complimentary rum punch!!!
Gena M. USA
August 2013
The staff and crew were helpful and made sure we were okay by offering us drinks every now and then. the tour was ok, saw some dolphins but no whales. We were cruising for more than two hours and no one told us what was going on until someone from the deck told us to come out to see the dolphins. It could have been better if there was some entertainment or some music at least, and the staff let us know what was going on since we were cruising for so long. Providing some snacks could've been great too since we were out there for more than 4 hours.
April 2013
Poor boat. Captain good but staff not good
Special Offer
$99.99 Save $10.00
Advertisement
Advertisement