Step back in time to Soviet-era St Petersburg on this eye-opening 2-hour city walking tour. With a local guide, learn about the city's turbulent 20th-century past, including its moments of revolution. View the balcony from where Vladimir Lenin gave a revolutionary speech in 1917; see the battleship Aurora from where a shot triggered 1917's October Revolution; and witness the former KGB building and more. Visit a vintage Soviet café and, as you stroll, hear about Lenin and Stalin, and learn about life here under communist rule between 1917 and 1991.
Highlights
2-hour walking tour of St Petersburg's communist sites
Learn about significant events in the city's communist history like the October Revolution
Pass the Museum of Political History of Russia to see where Lenin delivered many of his speeches
Visit key communist sites like a Soviet-era café, the former KGB headquarters, and a restored battleship named the Aurora
See Peter and Paul Fortress, one of the few sites left unchanged by the communists
Why Our Insiders Chose This Tour
If you are a history enthusiast, this tour is an absolute must! One of the benefits of having a guide is that you'll get a greater insight into the fascinating communist era, learning things that the history books might not tell you.
What You Can Expect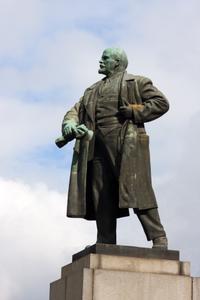 Meet your guide in central St Petersburg, and get an introduction to the city's 20th-century history — a period of seismic and often violent change that seems to belie its architectural beauty.
Appetite whetted, begin your 2-hour walking tour. Enjoy frequent photo stops on route and as you stroll, uncover the city's communist past in fascinating detail.
Learn how Russia fell to the Marxist Bolsheviks in the October Revolution of 1917, and how, led by Vladimir Lenin, they seized control of Petrograd, as St Petersburg was then known.
The Bolsheviks then went on to rule Russia for more than 70 years, and changed its name to the Soviet Union. Hear tales of Lenin who christened the city Leningrad, and how his successor, Joseph Stalin, subjected Russia to decades of repression between the 1920s and the 1950s.
Follow your guide around some of the key sites linked to both Lenin and Stalin's rule.
View what locals called 'The Big House'— a monumental building that was the former headquarters of the KGB, the Soviet Union's feared security agency.
Hear chilling tales of the punishments meted out here, and how thousands of citizens were shot or transported to concentration camps.
Snap photos of the Russian cruiser Aurora, a pre-World War I battleship moored in the city center. Gaze at the ship as your guide recounts how a shot fired from its bows triggered the infamous October Revolution.

Walk across the Field of Mars, a landscaped park that was used as a vegetable garden during the communist-era food shortages, and hear stories of daily life in the city under Soviet rule.
Call at a retro-Soviet café, and see other intriguing sites, including the Solovetsky Stone, a monument to the victims of Stalin's purges, and Kresty Prison.
Admire the Peter and Paul Fortress, and stop to view the balcony of the Museum of Political History of Russia, from where Lenin whipped up revolutionary crowds in 1917.
After around two hours, your tour concludes back at the start point.
April 2016
Really interesting tour and well worth while. Anastasia was knowledgable and it is interesting to talk to someone living in St Petersburg about current times and politics. Do take this tour.
April 2016
We met our guide Anastasia in Palace Square at 6pm. Brilliant start - our guide is called Anastasia! It was just the 3 of us so we had a very informative walking tour. This tour was brilliant and for a young guide to be that knowledgeable about the Revolution and Soviet times was a real achievement. Anastasia was brilliant. For this tour to be of value you would really need to have some interest and knowledge of the topic up front because it almost becomes a two way discussion on a massive topic. I did learn some things I was previously unaware of - I highly recommend this tour.
One point - on the descriptions I read before booking the tour - I read that we met in Lenin Square at Finland Station where Lenin arrived etc and that on the tour we saw The Big House KGB and also visited a Soviet Cafe so I was surprised that my on line booking gave instructions to meet at Palace Square. On our tour we did not go to The Big House or a Soviet cafe. But of course we saw other things like Pravda offices and we did visit the flame shown in the picture. I think maybe there are two tours? You could not possibly visit Lenin Square, The Big House, and Palace Square storming of Winter Palace in one walking tour. Anyway it does not matter. You can visit later whatever interests you after. THIS TOUR WAS EXCELLENT AND OUR GUIDE ANASTASIA WAS BRILLIANT.
March 2016
Tour guide was prompt, friendly and knowledgeable.
I asked lots of random (not always communist related) questions which he was happy to answer.
Great tour!
January 2016
It was great with a very animated, enthusiastic guide.
August 2014
The tour was excellent and our guide Svetlana was incredibly well-versed in the history of Leningrad under Communist rule.

June 2016
The guide knew his facts very well. The History of the Russian Revolutions are not well known in the west and it was an eye opener for me.
Advertisement
Advertisement