Enjoy an evening of Russian folk music, Champagne, vodka, caviar and canapés, set in St Petersburg's magnificent Nikolaevsky Palace. The 'Feel Yourself Russian' show is a medley of folk songs, dancing and accordion music performed by four different folk troupes, costumed in traditional Russian dress.
Highlights
Enjoy a traditional Russian dance and musical performance

Experience the history, spirit and traditions of Russia in one unforgettable evening

Sit back and enjoy elaborate folkloric dances and listen to traditional music from Russia

Includes delicious buffet with traditional Russian food and drinks

Recent Photos of This Tour
What You Can Expect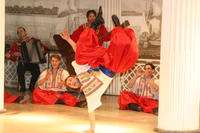 Make your own way to Nikolaevsky Palace in St Petersburg, and take your seat in the theater for the 1.5-hour 'Feel Yourself Russian' concert.
Watch as the Reverence dance troupe kick off the show, dancing in time to harmonies from the Peters Quartet. Classic folk songs are mixed with Russian Orthodox hymns and lyrically romantic melodies.
Enjoy a Cossack song, performed by Maidan dancers in traditional dress. The talented dancers are known for their performances of Cossack music, which is reproduced in historical form. Another highlight is the Petersburg Stars, a troupe with a repertoire that includes northern Russian lyrical dances, Cossack dances from the Voronezh and Don areas, and folk dances from the Urals and Siberia regions.
After 45 minutes of Russian harmonies and dance, enjoy an intermission with Champagne, Russian vodka, canapés — including red caviar, ham and cheese — and soft drinks. Members of the quartet often mingle with the audience during the break, so it's a great opportunity to learn more about the folk music of Russia.
Return to your seat for the remaining 45 minutes, and then leave the theater when the show ends.
June 2015
Really good show. Just a small buffet in the interval but enjoyable. Champagne and vodka too!

May 2015
Beautiful show, wonderful experience!
August 2014
Not to be missed. read about previous comments about the poor buffe. At least on the day we went there was enough food for everyone.
June 2014
This was definitely one of the highlights of our visit. Just loved the whole experience. The dancers were just amazing and I would recommend it anytime. The buffet dinner is not really a dinner, but rather just some finger snacks, but we were there for the show, not really to eat, so did not mind at all.
July 2013

graeme.pattinson South Africa
May 2012
Victoria S United Kingdom
January 2010
A very exciting performance by the dancers and musicians and an enjoyable buffet consisiting of canapes with champagne, vodka, and soft drinks. However, the grand staircase may prove difficult for some people and there was no lift available. The pre-booked private car transfers were a very good idea as there were no taxis nearby.

June 2016
Nice performance, however the term Buffet Dinner is misleading, it was more close to a Sample Refreshment.
Also be aware that the seats are not pre-assigned so it is recommended to come early.
June 2015
Full of excitement,emotions and amazing tour. Explored hermitage, Kazan cathedral ,peter and paul fortress,St Isaac cathedral , cathedral of Christ on spilled blood,Nevsky prospekt street and much more. Beautiful Venice of Russia, city of canals,magic city of St Petersburg.

January 2015
I had to wait for approx 15 minutes on the stairs in front of the ticket office's closed door. When my turn eventually came, I handed my voucher to the lady there and she said my booking is not listed. Not until I insisted did she make a phone call to someone and then said nothing to me, but handed me a ticket. I asked her to which way will the performance will be held, because for me the venue seemed so grand. With an indifferent look she replied, "I don't understand." That's funny, because she had been speaking English with me. What didn't she understand?
It says here "with Russian Buffet Dinner". I'm still wondering now where was that "dinner"? Yes, there were refreshments during recess time. Yes, I know, inclusions and exclusions are specified in the details. But even if it were a paid dinner, I didn't see anything like that. Why put something on the title which is actually not the real fact?? Moreover, putting "dinner" along in the title gives the impression that the offered price includes dinner. Exclusions are normally not stated on the title, aren't they??
The show itself was great, worth to see. Nothing is to be regretted about this.
I bought the DVD of the show which was sold during recess hour. I have to say that the recording was poorly made. The sound and editing ruined the actual art. Back home, to those who I showed the DVD, I had ensure them that the real show I watched was way way more beautiful and not boring at all.
Advertisement
Advertisement