Experience the best of St Petersburg and learn about the city's incredible history on this 3-hour sightseeing tour. With an expert guide, admire the historical highlights of Russia's most beautiful city, from the glorious Winter Palace and stately Nevsky Prospect to its graceful canals and bridges, all from the comfort of a minivan or car. Upgrade to add a visit to the Peter and Paul Fortress, St Isaac's Cathedral, the Hermitage or all three, along with lunch, after your tour.

Numbers are limited to six for a more personalized experience.
Highlights
Explore the most famous sites of St Petersburg on this guided small-group tour

Enjoy the second largest and most beautiful city in Russia

Combine the grand tour with a tour of the historical Peter and Paul's Fortress, the magnificent St Isaac's Cathedral, the famous Hermitage Museum or all three!

Transportation by comfortable, air conditioned car or mini-van
Small-group tour to ensure a more personalized experience
Recent Photos of This Tour
What You Can Expect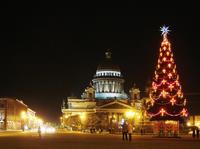 Select your tour option when you book. Then, begin your experience with a pickup from your St Petersburg hotel. Hop inside your air-conditioned vehicle, and set off on your tour of Russia's most magnificent city.

Grand Tour (3 hours):
Enjoy a 3-hour tour of St Petersburg's best-known landmarks. See the Winter Palace, the Church of the Savior on Spilled Blood, the Peter and Paul Fortress and more; drive along the Nevsky Prospect, and trace some of the city's elegant waterways. On route, hear tales from your guide about St Petersburg's founding and the figures and events that have shaped the city's fortunes through the centuries.

Grand Tour + Peter and Paul Fortress Upgrade:
After your Grand Tour, visit the imperious Peter and Paul Fortress, St Petersburg's original island citadel, established by Peter the Great in 1703. Enjoy a guided tour of the main buildings, such as the Peter and Paul Cathedral, the burial place of several Russian Tsars, including the ill-fated Nicholas II and his family, murdered in 1917.

Grand Tour + St Isaac's Cathedral Upgrade:
Follow your Grand Tour with a visit to magnificent St Isaac's Cathedral, the biggest Russian Orthodox church in St Petersburg. Admire the stunning exterior, and step inside with a knowledgeable guide to ogle its fresco-coated dome, mosaics, artworks and more.

Grand Tour + Hermitage Museum Upgrade:
With your Grand Tour over, explore the world-famous Hermitage, St Petersburg's star attraction. Walk through the echoing art galleries to admire many of the masterpieces as your expert guide shares their secrets and stories.

Grand Tour + Peter and Paul Fortress, St Isaac's Cathedral, Church of the Savior on Spilled Blood, Lunch and Hermitage Museum Upgrade:
Start with the Grand Tour and then devote the rest of the day to four of St Petersburg's iconic sites. Visit the Peter and Paul Fortress, St Isaac's Cathedral and the Church of the Saviour on Spilled Blood, and after an included lunch, enjoy a 2-hour guided visit to the legendary Hermitage Museum.
Itinerary
GRAND TOUR, HIGHLIGHTS OF ST.PETERSBURG (3 hours duration)
During the comprehensive tour you will see all the main highlights of St Petersburg: Winter Palace, Nevsky Prospect, Kazan Cathedral, Stroganov Palace, Admiralty, Palace Square, Peter and Paul Fortress, Naval Museum, St. Petersburg University, Menshikov Palace, Academy of Fine Arts, Senate Square, monument to Peter the Great (the Bronze Horseman), Isaac's Square, Mariinsky Palace, monument to Nicolas II, St. Isaac's Cathedral, Palace Embankment, Marsovo Fields, Summer Gardens, Alexandrinsky Theatre, Rastrelly Square, Smolny Cathedral, Anichkov Palace, monument to Catherine the Great, Square of Arts, State Russian Museum, Koniushennaya Square, Cathedral of Saviour-on-the-Spilled Blood as well as the numerous canals and rivers, beautiful bridges crossing them. Your guide will tell you the story of the city, the events that have left their scars, its optimistic and dramatic plans for the future, together with anecdotes about its strange, friendly and colorful inhabitants, and answer any questions you may have about this most fascinating of cities.
GRAND TOUR, FORTRESS OF PETER AND PAUL (3 hours duration)
During this tour you also visit The Peter & Paul Fortress - the oldest and most historical construction in Saint-Petersburg. The Peter and Paul Fortress put up for fortification purposes but never been attacked.The Peter and Paul Cathedral is a unique sample of Russian 18th-century architecture that has reached us. It had for almost two centuries served as a burial-place for Russian emperors. The last Russian tsar- Nicholas II and his family were buried in the cathedral's small St. Catherine chapel in 1998.
GRAND TOUR, ST.ISAAC'S CATHEDRAL (3 hours duration)
St. Isaac's Cathedral, built in St. Petersburg in 1858 by the architect Montferrand, is the fourth highest among the world's cathedrals under the single cupolas. It follows St Peter's in Rome, St. Paul's in London and Santa Maria del Fiorre in Florence. The richly-adorned interior, lined with marble, and with malachite and lazurite columns, was intended for up to 10 000 worshippers. Standing on the broad Isaac's Square, its golden dome can be seen all over the city. On a clear day, the observation platform at the foot of the dome commands a fine view over St. Petersburg and its surroundings.
GRAND TOUR, HERMITAGE MUSEUM (4 hours duration)
The Hermitage Museum is Russia's best gallery of world art, one of the most prominent art museums in the world and definitely the main tourist attraction of St Petersburg. Nowadays, the Hermitage has about 2.7 million exhibits and displays a full range of world art from Ancient Egypt to early 20th century Europe. It includes works by Leonardo da Vinci, Michelangelo, Raphael, Titian, unique collections of Rembrandt, Rubens, French Impressionists (Renoir, Cezanne, Manet, Monet, Pissarro), plus Van Gogh, Matisse, Gaugin and sculptures by Rodin. The collection is huge and very exciting. It had been calculated that if you decide to spend only one minute in front of each exhibit, you will have to stay in the Hermitage for 11 years, but on the tour you will have an opportunity to see all the great masterpieces of the world's art at a glance in several hours with a comment of a knowledgeable expert-guide.
GRAND TOUR, FORTRESS OF PETER AND PAUL, ST.ISAAC'S CATHEDRAL, SAVIOR-ON-BLOOD CHURCH, LUNCH, HERMITAGE MUSEUM (8 hours duration)
The "Grand Tour" offers visitors the opportunity to take in as much as possible of the city in a day's sightseeing, from the comfort of a car or mini van and with a knowledgeable and experienced guide. You will take a complete tour of Saint-Petersburg most famous sites beginning with the neo-classical splendor of St Isaac's Cathedral, geometry of the Palace Square, visiting the oldest construction of Saint-Petersburg- Peter & Paul's Fortress and the Cathedral- the burial vault of Romanovs' family. Thereafter a visit to the Savior-on-Blood Church. The tour includes an elegant lunch in the restaurant serving traditional Russian cuisine. In the afternoon a 2-hour guided excursion in the largest museum of Russia and one of the richest museums of the world -The State Museum of the Hermitage- to finalize your excellent introduction to St Petersburg. (When the tour is finished, it is possible to stay longer on your own, however you must make your own arrangements back to your hotel).
June 2016
June 2016
Really good tour with Lydia, knowledgeable and considerate.
June 2016
St Petersburg is amazing. Lots of things to see and do.
May 2016
The organization was excellent. A guide Elena and a driver were very pleasant. Elena was very knowledgeable and ready to answer all my questions.
May 2016
Thoroughly enjoyed the tour. Best way to see the city in a short time. Our guide was very knowledgable and shared many interesting insights into the city and the culture. We would recommend the tour to anyone wanting to understand the history of St Petersburg.
April 2016
Great tour with a fabulous guide - highly recommend
April 2016
This is an excellent tour if one wishes to see four historic churches plus the Hermitage Museum with ease, but it is a grueling 8-hour tour with an overload of information. Tour guide Lidea was excellent and had a wealth of information as she took my daughter and I around Saint Petersburg. I'd prefer to see these sites over two days, but am very happy we were able to experience as much of Saint Petersburg as we did in one day.
January 2016
This was the best tour I have taken through Viator because Elena the tour guide was amazing! I have taken probably 20 tours through Viator in various countries, yet this topped the list. I signed up for the full 8 hour tour. I was the only person on the tour. We had our own driver who drove us from site to site. This helped immensely since it was so cold out. Elena was the most knowledgeable guide I have found to date. She knew a ton of information about each site and could answer all of my questions. The churches are amazing. The lunch was tasty. And the Hermitage was incredible. I am not a huge museum/art girl, but Elena's knowledge brought the art to life. I felt like the day flew by and was sad to see it come to an end. St. Petersburg is a beautiful city and this tour will give you a great overview of the main sites.
November 2015
We had a great tour of St Petersburg, a beautiful city. Our guide was very informative and the sun was even shining. Would highly recommend the tour
October 2015
The Peter and Paul Fortress was amazing!
The Hermitage Museum was nothing short of spectacular!! One could spend days in there! The Viator guide did a wonderful job searching out highlights to see in two hours!
Advertisement
Advertisement