Discover the hidden secrets of St Petersburg at night and marvel at its tucked-away oddities on this small-group walking tour with an informative guide. Head off the beaten path and see unique sights, such as a yard of storybook characters from 'The Wizard of Oz.' Hear stories of Rasputin, view where Lenin once lived and search for a doorway to a nuclear shelter. Taste a glass of locally brewed honey beer along the way. Enjoy personal attention from your guide on this small-group tour, limited to 12 people.
Highlights
2-hour evening walking tour of St Petersburg's hidden side
Uncover lesser-known mysteries of the city with a knowledgeable guide
Discover a secret passageway to a nuclear shelter at Vosstania Square metro station and see a Soviet-era building where nuclear subs were built
View the homes of Rasputin and Lenin, and a rare portrait of Stalin
Savor a glass of honey beer amid Soviet Air Force décor
Visit a yard decorated like the Emerald City in The Wizard of Oz
Small-group tour limited to 12 people ensures personal attention from your guide
What You Can Expect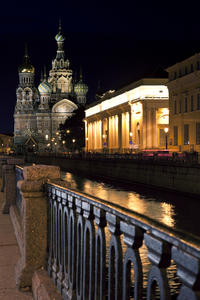 Begin your small-group walking tour of St Petersburg's hidden side at Vosstania Square metro station. Here, amid the ornate décor, your guide will show you the metro's last surviving image of Stalin and help you discover huge station doors that lead to a secret nuclear shelter.
Next, try a glass of local honey beer at a pub bedecked with Soviet Air Force paraphernalia, including ejection seats and an SU-27 tail fin. Afterward, continue with your small group to see a Soviet-style building where Red Octobers – nuclear submarines – were designed, and view a monument to Russian submarines.
From here, head on a short walk to the house of Rasputin, one of Russia's most mysterious men, and glimpse Lenin's apartment nearby. Follow your guide through the dim archways of the buildings to experience the spooky darkness of the "well yards."
Escape to Baltiysky train station and admire its gorgeous art nouveau façade before a short stroll to see an entire yard built like The Wizard of Oz. Your guide will point out the Emerald City playground as well as paintings and sculptures of the storybook characters.
End your small-group walking tour next to Vladimirskaya metro station, where you'll see a monument dedicated to Dostoyevsky, one of Russian most famous authors.
May 2015
Excellent tour!! the guide was very friendly and knowledgeable and took us to many places that we had already seen during the day, and that were different during night time. The lights were amazing and the view places were just incredible!! definitely the city is different at night and totally worth to see!
September 2013
This was a very disappointing tour. The guide was very friendly and knowledgable, however the places we visited were remarkably uninteresting and mundane. For example, a playground with characters from the wizard of oz, a brick wall of no significance. The worst most boring tour I have been on
Advertisement
Advertisement