Discover some of the secrets and surprises of St Petersburg on this 2-hour evening walking tour. Meet your knowledgeable guide, and as the shadows lengthen, leave the tourist trail to explore the city's hidden neighborhoods and haunts. Hear about historical figures such as Grigori Rasputin and Lenin as you seek out their former homes, find the doorway to a nuclear bunker, and explore tucked-away places often overlooked by visitors. Sample some traditional honey beer on route, and enjoy personalized attention from your guide on a tour limited to 12 people.
Highlights
2-hour evening walking tour of St Petersburg's hidden side
Uncover lesser-known mysteries of the city with a knowledgeable guide
Discover a secret passageway to a nuclear shelter at Vosstania Square metro station and see a Soviet-era building where nuclear subs were built
View the homes of Rasputin and Lenin, and a rare portrait of Stalin
Savor a glass of honey beer amid Soviet Air Force décor
Visit a yard decorated like the Emerald City in The Wizard of Oz
Small-group tour limited to 12 people ensures personal attention from your guide
What You Can Expect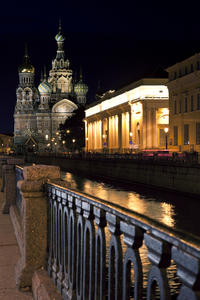 Meet your guide at Vosstania Square metro station and start your small-group tour of hidden St Petersburg. Your guide will take you beyond the tourist haunts to uncover some of city's secrets and surprises.
Start by taking a look at the ornate subway station. Discover the metro's last surviving image of Soviet ruler Joseph Stalin along with the huge station doors that hide a secret nuclear shelter.
Continue to a pub festooned with Soviet air force memorabilia, including ejection seats and the fin of a Sukhoi SU-27 fighter jet. Sip some delicious local honey beer, and then move on to a building where Soviet nuclear submarines, sometimes nicknamed 'Red Octobers' were designed.
See a monument to the submarines, and walk to a former home of Grigori Rasputin, the mysterious peasant-monk whose influence on Tsar Nicholas II's family a trigger for the 1917 Russian Revolution.
View an apartment once occupied by Vladimir Lenin, and venture through dimly lit archways into the city's 'well yards': narrow alleyways hidden behind the street-front houses.
Follow the passageways toward the Baltiysky railway station, and after admiring its art nouveau exterior, visit park that takes it theme from The Wizard of Oz. See its bizarre Emerald City playground, as well its artworks depicting the story's characters.
Your tour finishes at the Vladimirskaya metro station. View the station's memorial to Russian novelist Fyodor Dostoyevsky before leaving your guide.
May 2015
Excellent tour!! the guide was very friendly and knowledgeable and took us to many places that we had already seen during the day, and that were different during night time. The lights were amazing and the view places were just incredible!! definitely the city is different at night and totally worth to see!
September 2013
This was a very disappointing tour. The guide was very friendly and knowledgable, however the places we visited were remarkably uninteresting and mundane. For example, a playground with characters from the wizard of oz, a brick wall of no significance. The worst most boring tour I have been on
Advertisement
Advertisement