10 Reviews
Location:

St. Petersburg, Russian Federation

Duration:

90 minutes

(approx.)
Enjoy a midnight cruise around St Petersburg and see the city's drawbridges rise – an event that happens each night. As you glide around the elegant canals, admire St Petersburg's illuminated attractions reflecting on the romantic Neva River. Look out for top city sights like Mikhailovsky Castle, Peter and Paul Fortress and Vasilyevsky Island; pass underneath Trinity Bridge; and learn all about the city from the onboard guide.
Highlights
Midnight boat cruise around St Petersburg with an onboard guide
See St Petersburg's drawbridges rise while cruising around the canals
Admire the city's illuminated monuments reflecting on the Neva River
Cruise underneath Trinity Bridge and look out toward Vasilyevsky Island
Learn about sights like Mikhailovsky Castle and Peter and Paul Fortress
Why Our Insiders Chose This Tour
If you're booking this cruise to travel in June or early July, you'll see the all sights during the famous White Nights – when the sky stays light all night! It's an incredible phenomenon that enhances the romantic atmosphere of St Petersburg's canals.
Recent Photos of This Tour
What You Can Expect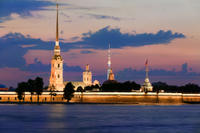 Meet your guide at midnight near Kazan Cathedral, and then hop aboard your sightseeing boat for your midnight cruise through St Petersburg. Take a seat out on deck or inside the lower saloon, and then sit back and relax as you cruise around the city, learning about its sights from your onboard guide.

The city is latticed with canals that feed off from the romantic Neva River, and each night the drawbridges are raised to allow larger ships to pass. See the raising of the bridges as you glide around the canals, admiring the illuminated sights of St Petersburg reflected on the water. Pass underneath Trinity Bridge, admiring its Art Nouveau design, and gaze out toward the northern St Petersburg to see Vasilyevsky Island across from the Winter Palace.

Head into the widest part of the Neva River and pass Peter and Paul Fortress, the vast estate that looks magical lit up at night. Cruise alongside Mikhailovsky Castle and hear how the hulking structure was built for Tsar Paul I in the late 18th century.

After cruising around the canals of the city, admiring the sights, return to Kazan Cathedral and disembark your boat. Your nighttime tour finishes at the waterside.
July 2015
Very engaged and helpful guide; fantastic event thanks to beautiful blue sky
July 2014
This was a great experience. Our tour guide, Lydia, was very knowledgeable and easy to talk to and gave us lots of information on buildings along the canal as well as stories about past residents. We were even able to postpone our tour to a different evening because the weather was not so great on the night we had booked the tour. The meeting point was a little tough to find, so I would suggest telling guests to meet at the boat company's dock or something like that in the future.
June 2014
This was the WOW! factor of our recent visit to St Petersburg - I never realised how huge this attraction was until we saw hundreds of people lining the banks of the canal to watch the bridges go up. And not to mention the number of boats on the water as well. Definitely worth while and we had a lovely guide - her English was amazing and she shared some fascinating stories with us. Will want to do this again some day!
June 2015
Our guide Irene was lovely. She had amazing knowledge about history and culture of St. Petersburg. Besides that, you should definitely see the city through Neva on a boat!
August 2014
Very annoyed that we were left alone on the river bank a mile or so from where we embarked at 2-00am in the morning without any warning.
This was miles from our Hotel which was the other side of where we embarked..
The trip details state start and finish points are the same.
I would not recommend this trip unless you are fit and staying near where the trip ends.
But you wont know where that is until the trip finishes.
Take your Tom Tom with you so you can find the way to your hotel..........................................
June 2014
The tour itself was great however it was a bit confusing finding where to get onto the boat and the time it started was much later than indicated. However, with that said it was an awesome experience and am glad I got to see white nights and the bridges!
July 2014
I have to separate the review into 2 parts.
Part one is about Lili, our guide. She was absolutely wonderful. It seems to be that she knows EVERYTHING about the city. No question unanswered, she is doing her job with passion and she even took us back to basil island in the middle of the night in her private car. For Lili I would give 5 stars.
Part two is about the captain of the ship we had for the tour. This guy is the most unfriendly biggest idiot we met so far in St Petersburg. He didn't like to have a english group on board and sabotaged Lili's explanation with extremely loud Russian disco music. What a freak. He turned the music on when we just started and no one could escape the full blast of his loud speakers. I wish him the worst and a big hole in his dammed ship so he can't torture foreign tourists anymore. No need to say that he was drunk as well.
June 2014
Aside from a rocky start,Tour Operator "Moscow Free Tours" never showed up at designated meeting location, even though the tour was in St. Petersburg. After tracking the guide for one entire day thanks to the Hotel assistance due to language barrier we finally got to go on the midnight cruise. Beautiful, that's all I can tell you, beautiful.
June 2015
This is a scam!! We paid the tour and when we went to the location the guy on the dock told us that he doesn't know about the tour and our ticket were not valid
Then we sent a couple of emails to viator traying to get back our money and they never answer
Becareful don't buy on this site
July 2014
Not good!!! The Guide was terrible...no one could hear her, way too meek to be a Guide...very soft spoken, not in tune to her audience. The boat owner insisted upon having music that was very loud. This was a party boat. The Guide did ask him to turn it down, but he refused.
Horrible experience!!!!
Advertisement
Advertisement