Experience the thrill of driving a speedboat across the crystal blue waters of Tampa Bay on this guided 2-hour sightseeing tour. Hop on board an F-13 mini speedboat and get ready for adventure. Follow a trained guide in a separate boat with a two-way communication system installed to talk back and forth. Check out the beautiful Florida coast and look for pods of dolphins and other wildlife swimming below or gliding down and around from above.
Highlights
St Petersburg speedboat adventure

Captain your own speedboat on a guided and narrated tour

Zoom through Tampa Bay
Pass by national wildlife refuges and the historic Fort De Soto Park
What You Can Expect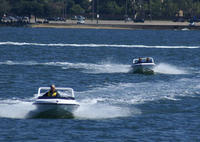 This Tampa Bay speedboat adventure begins with a routine safety orientation on the basics of boating and the rules of the water. There's no previous experience necessary, so just listen and learn. It will be easy, though, like driving a go-kart on the water.

With that out of the way, it's time to have some fun in what's known as the Tampa Triangle, which runs from Fort DeSoto to Egmont Key and the Sunshine Skyway Bridge.

Hop in an F-13 mini speedboat and put that throttle down — carefully, of course. The guide will provide an introduction to the beautiful Florida coastline while traveling past islands, national wildlife refuges and the historic Fort De Soto Park, which covers over 1,000 acres (405 hectares) on five interconnected islands, or keys. Make several stops along the way at various points of interest.

Check out the stunning Florida coastline and look for pods of dolphins, manatees, gopher tortoises, sea birds and other wildlife swimming below or gliding down and around from above. Watch out for a 15-foot (4.5 meters) hammerhead shark the locals call Old Hitler. He has a mouth full of hooks because nobody can catch him.

Switch up the drivers during the stops, and continue your thrilling adventure!
April 2016
This was a blast! Perfect weather! Captain Scott was great and we also saw some dolphins. We would definitely do this again!
October 2015
FUN FUN FUN!!!! A great experience with my 13-year old son.
July 2015
We were in Tampa for the weekend. A quick get away from Soth Carolina.
IT WAS AN AWESOME TRIP!!
I am so glad we went on the Speedboat Adventure. It was fun, exciting, and we had a blast.
The tour guide was very friendly. He made the trip fun!!!!! It was a big highlight of our trip.
I would recomend this to anyone who wants to have a GOOD TIME!
June 2015
This was one of the funnest things I have ever done!! Anyone can do it!

April 2015
An excellent tour and an adventure not to be missed while in Tampa Bay!
March 2015
It was a great day. Capt. Scott was so personable and informative. Highly recommend speed boat adventures.
June 2014
LOVED IT!!! Captain Tony is the best!! We saw lots of dolphins, the million dollar yacht that sank recently, gorgeous homes, the fastest speedboat in the county, and just enjoyed the speed and fun. This trip was for my 15 year-old granddaughter's birthday - she had a wonderful time!!! Will definitely go back!!!
April 2014
The speedboat tour was awesome and relaxing. My nephew and I had a great time enjoying the waters of St. Petersburg and the boat guide taught us newbies about the fun of boating. Their staff were professional and knowledgeable about the area and boat safety. Will do it again in the future visit!!!
February 2014
AWESOME!!! I purchased this tour for my husband and 8 year old son. They came back beaming with excitement, said they caught some really good speed out on the ocean, got so close to the dolphins they could almost touch them, tour guide was super knowledgeable, and showed them lots of cool stuff about the area. We stayed in Orlando and visited theme parks, and this was still my sons favorite part of our trip.
December 2013
Brilliant fun. Captain Tony was very enthusiastic and informative. From start to finish you received informative information and felt very safe. They were thorough but kept it fun in the safety briefing and Tony was extremely professional out on the water. The boats were easy to operate and fun to drive. Would highly recommend for a fun and different trip.
Advertisement
Advertisement