Dip into one of the world's greatest art collections on this 3-hour walking tour of St Petersburg's State Hermitage Museum. With an art-expert guide, stroll past some of the city's landmarks on route to the museum, housed in the lavish Winter Palace and home to almost three million treasures. View Renaissance masterpieces by da Vinci and Michelangelo; wonder at works by Rubens and Goya; and admire paintings by Matisse, Picasso and more as your guide explains their meaning and history.
Highlights
Guided 3-hour walking tour to and inside the State Hermitage Museum
See St Petersburg landmarks like the Admiralty, Anichkov Palace and Kazan Cathedral
Admire collections by Matisse, Picasso, Leonardo Da Vinci, Velázquez and Van Dyck
Small-group tour with a maximum of 6 people ensures a more personalized experience
What You Can Expect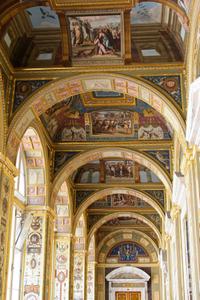 Meet your guide at your central St Petersburg hotel and start your walking tour with a 30-minute stroll to the State Hermitage Museum.
On route, pass some of Moscow's historical landmarks, including Kazan Cathedral, the baroque façade of the Anichkov Palace, and the imposing, 19th-century Admiralty building, one of the city's most conspicuous sights.
On arrival at the Hermitage, admire the magnificent exterior and, as a curtain-raiser, hear how the museum — housed in the Winter Palace — boasts one of the world's largest collection of art. Learn how Catherine the Great established the museum in 1764, and how the Winter Palace building was once the residence of many of Russia's Tsars.
Head inside for a 2-hour guided tour of the galleries' highlights. Follow your guide around the opulent halls to see Impressionist works by Matisse, masterpieces by Flemish artists such as Rubens, Rembrandt and Van Dyck; and Renaissance treasures by Leonardo da Vinci and Michelangelo. Take a stroll, too, around the Spanish section to view pieces by Goya, Velázquez and El Greco.
After admiring the art, your tour ends inside the museum. Bid farewell to your guide and leave at the same time, or continue to explore more of the Hermitage Museum on your own.
June 2016
Our tour guide was very informative and set the pace of the tour to suit myself
and my grandson. As my grandson is studying history at university, she was able to answer all his questions in depth.
The Hermitage is a wonderful museum which I would recommend to everyone to visit with our tour guide. Thank you.
June 2016
May 2016
Amazing-we had the same guide for this tour and the Catherine Palace-Lida-she was brilliant-really interesting, informative and kept the four of us totally engrossed for well over three hours!
May 2016
We were collected at our hotel at 10am. Our tour guide was Leider, only my husband and myself on the tour. We can't praise Leider enough, her knowledge and professional approach was superb, we spent 3hrs with her, she is a very pleasant and very nice young women, and we felt over lucky to have her for a guide. I would highly recommend both the tour and Leider.
April 2016
If you get the tour guide Roman, you will get the best tour you've probably ever had. We spent 5 hours in the Hermitage, and an hour walking about the city from our hotel where he met us to the Hermitage. Full of enthusiasm, knowledge and facts. He knows everything about everything in there. Really quite amazing. Can tell he loves the museum, loves the city and loves Russia. Great guide, and the museum is good too!
March 2016
We were picked up at our hotel at 10AM and had a guided walk thru centrum towards the Hermitage Hotel. I highly qualified guide told us about the buildings we passed.
At Hermitage we were met be another guide that had our entrance-tickets no waiting at all, and had a very nice guided 2h-tour in the Hermitage.
I can highly recommend this - great value for money.
November 2015
Leider was a very knowledgeable and personable guide. The Hermitage is huge and she was helpful in making it not feel too overwhelming. A very good tour.
November 2015
Our trip was fantastic the courier named Leader was spot on time and very very good. She was so good we booked a further trip to the Summer Palace for the following day. Again spot on time and very informative. She also arranged our transfer from our hotel to the airport. The taxi arrived 30 mims early which was fantastic. Overall we will certainly recommend you to other people.
Max Kislingbury
September 2015
Overwhelming experiance, Even a full week would not have been enough.
September 2015
Our guide was prompt, very friendly and knowledgable. We were the only two on the tour and were treated with some extra attention. Thank you Lida. To see what we saw at the Hermitage in the time would not have been possible without a guide. The only way to go.
Advertisement
Advertisement