Even though it's just offshore of downtown Charlotte Amalie, Hassel Island is a different world from the bustling St Thomas shore. Here's a place where history and culture are matched by the stunning scenery, and this adventure to Virgin Islands National Park is only a short paddle away. On this St Thomas snorkeling and kayaking adventure, paddle from Frenchtown out to Hassel Island and cruise past colonial ruins, before hiking up to Fort Willoughby and snorkeling at an isolated beach. This is tropical fun for the entire family, mixed with Caribbean beauty.
Highlights
Kayak from Frenchtown to Historic Hassel Island

Learn about the colonial history of Hassel Island

Hike the trail to Fort Willoughby
Relax and snorkel on a secluded beach

Professional guide

One-year Friends of the Virgin Islands National Park membership

All equipment provided

Recent Photos of This Tour
Hassel Island Kayak, Hike and Snorkel Tour
What You Can Expect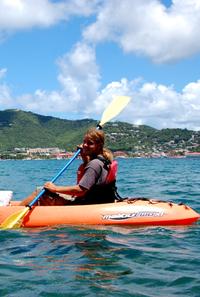 This kayaking, snorkeling, and hiking tour departs from Frenchtown marina, where you'll get situated inside your 2-man kayak for the 20-minute paddle to Hassel Island. Along the way you'll get sweeping views of Charlotte Amalie Harbor, and your guide will explain the area's history and enchanting colonial past
When you reach the island, beach your kayak by the Garrison House where you'll prepare for the hike to Fort Willoughby, a fort that dates to the Napoleonic Wars and is one of the best preserved British Naval Forts in the Caribbean.
After the 10-minute
uphill
hike to the fort, recharge with a snack overlooking the water and snap a couple of photos, before returning to your kayak for the short paddle into Careening Cove. In this protected spot along the coast, ships sailing all the way from Europe were occasionally hauled out and repaired, and after a brief respite you'll continue the paddle to the historic Creque Marine Railway. From here, it's another short paddle to a beach where you can snorkel and splash in the water, or simply take a break on shore as you rest and relax in the shade. It's only five minutes from here to Frenchtown and the action-packed St Thomas mainland, so drink in the scene and island serenity before setting out from the beach.
In addition to a memorable day on the water, all paddlers will receive a membership to Friends of the Virgin Islands National Park, a local non-profit group that gives you access to discounts at affiliate businesses.
April 2016
Our trip was amazing. CJ was incredible and the tour was so much more than we anticipated. Do not miss this excursion if you are in St Thomas. Simply the best! ask for CJ
March 2016
I can't recommend this tour highly enough! My boyfriend and I were the only two on the tour which was so nice. We got along really well with our tour guide whose name I don't know how to spell but I'm going to go with Shayna... and it was so much fun hearing about the island! The kayaking was great, the hiking and learning the history of the island was awesome, and the snorkeling was amazing! I'm really nervous about deep/open water, but Shayna was so great about going slowly and checking on us every so often. I loved being able to snorkel, and she was a huge part of it being not a nerve-wracking experience! Seriously, take this tour.
December 2015
Tour was a great getaway from our hotel. The tour guide was very knowledgeable and easy to chat with about the island!
August 2015
The Hassel Island Kayak, Hike, and Snorkel Tour was among the best things we did in St. Thomas. Our guide was excellent, the tour was informative, and the snorkeling was incredible. This will be one of the things you tell people about St. Thomas.
We started our tour by kayak and took a short trip to Hassel Island. After securing the kayaks, we hiked along some trails and our guide, Heather, pointed out native plants, artifacts, and historical sites. She provided us great details of the sites we visited and described what a day on Hassel Island would have been like. We also took in some nice vantage points at various locations on the island.
Next, we got back in the kayaks and traveled to a secluded beach for snorkeling. Again, Heather did a nice job leading us to interesting underwater places and pointed out coral, an octopus, many colorful fish, and anemones. The water was warm and we never felt rushed to get back. The snorkeling was the best we experienced on St. Thomas.
After a quick snack, we kayaked back to the pier as the sun started to set. I would do this tour again, but I would prepare a little differently. Wear shoes with a sole not flip-flips for the hike because there are spiny needles that fall from the trees and get buried in the sand. The needles will puncture your skin. Also, parts of the hike are rock and steep, so shoes would be beneficial. I was afraid of tipping the kayak and losing my camera, so I left it at the pier. Next time, I would put my camera in a plastic bag and take it to the island. The kayaks are two-seaters and we had no problems navigating. We never came close to tipping, so I wished I would have taken my camera.
All in all, it was a very memorable experience and I highly recommend it!
June 2015
This tour was incredible. Request Jai as a guide if you can. We had such a personal experience on this trip, from the kayak to everything we learned on historical Hassel (hazel) island and while snorkeling. On our seven day cruise this last week, this was probably our best experience. Thank you!
February 2013
What a great combination of tasks to enjoy. Kayaking, hiking and snorkel. Our guide Sean was great. He had an impressive knowledge of the history of Hassel Island and St. Thomas in general. Even more impressive was his knowledge of The local plants, animals and sea-life. Beginging to end...WELL DONE.
June 2012
I wish I could remember our tour guide's name, but he was amazing. First of all we showed up late because of our taxi issues and I had called to notify of the situation, they were very patient and very nice about it. We (my husband and I) ended up being the only ones on the tour, which allowed the guide to be more flexible about the length of time we were in each spot. I did appreciate him asking us because of it just being the two of us, what we would really like to spend more time on. He was very knowledgeable about the island and sea life, whatever questions we had about history of the island he answered. My husband loves history so he enjoyed it very much. The tour guide really took the time while snorkeling to show us different sea life species we hadn't spotted. We were very impressed with the tour company, because most tour companies probably would have cancelled a two person, but they didn't. With that being said, they didnt hold back on the tour either, actually the tour ended up extending over the time scheduled. My husband and I would definitelly recommend this tour, again we were very impressed with the professionalism and expertise of the guide.
February 2013
Shawn, our guide, was very helpful and knowledgable. We were able to go at our own pace and learned alot about the kayaking and the island. Unfortunately the water was too rough for us to kayak to other parts of the island we would have liked to see.
Advertisement
Advertisement