Get ready to kayak, hike and snorkel your way around historic Hassel Island in the Virgin Islands National Park. Discover the island's beauty and history firsthand as you kayak from Frenchtown to Hassel Island, paddle past colonial ruins, take a leisurely hike to Fort Willoughby and go snorkeling at a secluded beach. This family-friendly active tour combines history and an eco-adventure of a lifetime!
Highlights
Kayak from Frenchtown to Historic Hassel Island

Learn about the colonial history of Hassel Island

Hike the trail to Fort Willoughby
Relax and snorkel on a secluded beach

Professional guide

One-year Friends of the Virgin Islands National Park membership

All equipment provided

What You Can Expect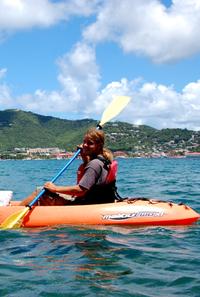 Departing from Frenchtown marina, board your two-person, easy-to-paddle kayak for a 20-minute paddle along the coast of Hassel Island. As you paddle, you'll enjoy breathtaking views of the bustling Charlotte Amalie shopping and historic districts surrounding the harbor.

Coming ashore at the Garrison House, you'll hike along a 10-minute rocky trail to Fort Willoughby, a former Danish and British Fort built during the Napoleonic wars - one of the most intact British Naval Forts in the Caribbean.

After a snack and photo opportunities, kayak into Careening Cove where ships traveling from Europe were hauled and repaired. From here, it's only a brief paddle to the 19th-century Creque Marine Railway.

Your next stop is a secluded and picturesque beach which offers a choice of snorkeling with colorful marine life, enjoying a cool dip or relaxing in the shade. A 5-minute paddle will bring you back to Frenchtown.

All participants receive a one-year membership to the non-profit Friends of the Virgin Islands National Park. You'll receive emailed newsletters, a discount in the Friends store, discounts with the businesses in the Friends Affinity Program, an invitation to the annual meeting and discounts on Friends seminars with priority reservations.
June 2015
This tour was incredible. Request Jai as a guide if you can. We had such a personal experience on this trip, from the kayak to everything we learned on historical Hassel (hazel) island and while snorkeling. On our seven day cruise this last week, this was probably our best experience. Thank you!
February 2013
What a great combination of tasks to enjoy. Kayaking, hiking and snorkel. Our guide Sean was great. He had an impressive knowledge of the history of Hassel Island and St. Thomas in general. Even more impressive was his knowledge of The local plants, animals and sea-life. Beginging to end...WELL DONE.
June 2012
I wish I could remember our tour guide's name, but he was amazing. First of all we showed up late because of our taxi issues and I had called to notify of the situation, they were very patient and very nice about it. We (my husband and I) ended up being the only ones on the tour, which allowed the guide to be more flexible about the length of time we were in each spot. I did appreciate him asking us because of it just being the two of us, what we would really like to spend more time on. He was very knowledgeable about the island and sea life, whatever questions we had about history of the island he answered. My husband loves history so he enjoyed it very much. The tour guide really took the time while snorkeling to show us different sea life species we hadn't spotted. We were very impressed with the tour company, because most tour companies probably would have cancelled a two person, but they didn't. With that being said, they didnt hold back on the tour either, actually the tour ended up extending over the time scheduled. My husband and I would definitelly recommend this tour, again we were very impressed with the professionalism and expertise of the guide.
February 2013
Shawn, our guide, was very helpful and knowledgable. We were able to go at our own pace and learned alot about the kayaking and the island. Unfortunately the water was too rough for us to kayak to other parts of the island we would have liked to see.
Advertisement
Advertisement