Get an up-close sea lion encounter during this excursion at Coral World Ocean Park in St Thomas. During this out-of-the-water experience, see their humorous behavior and learn about these marine animals from your nature guide. This tour includes full-day admission to Coral Reef Ocean Park, a great family-friendly activity.
Highlights
Sea lion encounter at Coral World

Play, pet and feed a friendly sea lion

Admission to Coral World Ocean Park is included

Recent Photos of This Tour
Sea Lion Encounter at Coral World Ocean Park
What You Can Expect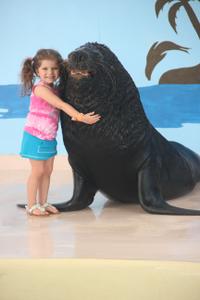 Make your way to Coral World Ocean Park on St Thomas to for your sea lion encounter.
Meet the expert sea lion trainer for an introduction to this fascinating species: Otariidae Otarniinae. Pet, play with and feed with them during a 20-minute encounter; even get a get a kiss or play soccer with the playful animals.
Take home a photo flash drive of images of you hanging with your new marine friends.
Along with your sea lion encounter, enjoy full-day admission to Coral World Ocean Park. See the Itinerary field below for more details on the exhibits and attractions in the park.
Itinerary
Exhibits:

Marine Gardens:
This gallery of 21 jewel tanks provides intimate and stunning views of hundreds of marine species in their unique habitats. Watch entranced as these marine creatures exhibit behaviors you would have a hard time seeing in the wild. Try to spot the superbly camouflaged scorpion fish and peacock flounder.

Touch Pool:
Get your hands wet while you gently handle starfish, pet a sea cucumbers, meet a hermit crab and other touchable sea creatures. An aquarist is on-hand to answer your questions.

Undersea Observatory Tower:
The only one of its kind in the Caribbean, the air-conditioned Undersea Observatory Tower stands 100 feet (30 meters) offshore. Descend 15 feet (4.5 meters) beneath the sea to the Undersea Observatory and view the ever changing life on a natural coral reef. At mid-level, visit the Deep Reef Tank and from the top level enjoy spectacular views of the St. Thomas shoreline and neighboring islands. From the Undersea Observatory, you have a unique opportunity to stay dry and watch totally non-captive fish and other marine creatures as they go about their daily activities on the reef completely unaware of your presence.

Caribbean Reef Encounter:
This 80,000 gallon coral reef aquarium encircles you as you enter the air-conditioned Caribbean Reef Encounter. The aquarium is open to the elements, which means the thousands of reef animals that are housed here receive natural day and moonlight and experience rain just like a natural reef would.

Shark Shallows:
One of the most popular exhibits, this large pool is home to juvenile sharks. View a variety of sharks from above and below through a large underwater viewing window as they gracefully circle the pool or rest among the rocks. The inhabitants of the Shark Shallows may include nurse, lemon, blacktip and reef sharks. Friendly and knowledgeable marine operations staff will tell you about the current inhabitants and the twice a day feeding schedule. This is a unique opportunity to learn about these amazing and very misunderstood animals and even pet a baby nurse shark with the assistance of one of the staff.

Stingray Lagoon:
See if you can find all the stingrays that live in the Stingray Lagoon. Masters of disguise, the Southern Stingrays bury themselves in the sand for camouflage. Look for the hint of an eye or tip of a tail showing in the sand to discover them. Watch as these gentle, graceful creatures glide around the pool seeming to fly through the water. They often slap their "wings" against the wall of the pool hoping for a handout of fish!

Turtle Pool:
Rescued as hatchlings in October 1997, the green sea turtles were first introduced to water at Coral World. Smaller than the palm of an adult hand at that time, today each weighs well over one hundred pounds. Watch in awe at these magnificent creatures and learn about their eating and nesting habits during the daily feeding presentations.

Critter Corners:
Spend some time with the native iguanas in Iguana Alley, the native ducks, tortoises and brown-throated conures on the Nature Trail, and the not so native but very lovable Rainbow Lorikeets in the Lorikeet Garden.
June 2016
Honestly, the best money I've ever spent. I was promised the best day of my life and got it. We spent good, solid time with Omar and I left my heart there with him. We had a very small group, being that it was the middle of the week when we went, and I couldn't have asked for anything better. The staff was amazing -- informative, friendly, engaging and encouraging.

April 2015
Right from the start this encounter was wonderful, with the trainer "Chris" answering questions and being very friendly. The photographer "suki" did a great job. Some photos came out blurry, but with over 40 taken, it's ok. The 11 year old sea lion "Remo" was awesome! Thank you Coral World, you rock
Darlene T USA
March 2013
This was well worth the money. We have two boys ages 5 and 7 and they loved Omar the sea lion. He played soccer with them, gave high 5's and hugs. They are still talking about this visit. It is just your group with the trainer and the sea lion. We would do this again!
December 2014
It was an awesome time with the sea lion (Remo) and lucky for us we had a small group of 6 people. However, the photographer they had was not a professional so had very little idea what she was doing. The pictures that we paid 60$ for came out horrible.
July 2012
Very fun...my only complaint was that for the price...it is not long enough!
April 2015
Good experience although all photos were over exposed so we couldn't keep any of the, and couldn't take any of our own during the experience to protect the safety of the sea lion. Disappointing, as we have no photos to show of a really cool experience.
Advertisement
Advertisement