Do you want a diver's view of a coral reef, but you're not a certified diver? Then this Snuba adventure is what you're searching for! You'll get to explore the beauty of the underwater world of St. Thomas on this diving experience of a cross between snorkeling and scuba diving. Also included is entrance to Coral World Ocean Park so you'll get to explore the park at your leisure both before and after your Snuba experience!
Highlights
30-minute snuba tour at Coral World Ocean Park

Views of the Caribbean reefs

U.S. Virgin Island underwater experience

Includes admission ticket to Coral World Ocean Park

No previous diving experience required

What You Can Expect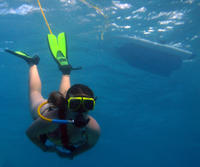 The fun of exploring the coral reef is no longer only for certified divers! This Snuba diving experience will give you the opportunity to see the beautiful and colorful coral reef of the U.S. Virgin Islands.

A certified Snuba guide will lead you on your underwater tour. Upon arrival at Coral World Ocean Park in St. Thomas, you'll be escorted to the Snuba orientation area where your instructor will brief you on how to use the equipment and what you can expect on your dive. After your introductory briefing, you'll be guided on board to begin your exciting 30-minute Snuba tour.

This tour is a great U.S. Virgin Island experience so book now and start your count down to your underwater adventure.

Your Snuba adventure also includes full day admission to Coral World Ocean Park. See the "itinerary" field below for more info on the exhibits included in the general admission ticket.
Itinerary
Exhibits:

Marine Gardens:
This gallery of 21 jewel tanks provides intimate and stunning views of hundreds of marine species in their unique habitats. Watch entranced as these marine creatures exhibit behaviors you would have a hard time seeing in the wild. Try to spot the superbly camouflaged scorpion fish and peacock flounder.

Touch Pool:
Get your hands wet while you gently handle starfish, pet a sea cucumbers, meet a hermit crab and other touchable sea creatures. An aquarist is on-hand to answer your questions.

Undersea Observatory Tower:
The only one of its kind in the Caribbean, the air-conditioned Undersea Observatory Tower stands 100 feet (30 meters) offshore. Descend 15 feet (4.5 meters) beneath the sea to the Undersea Observatory and view the ever changing life on a natural coral reef. At mid-level, visit the Deep Reef Tank and from the top level enjoy spectacular views of the St. Thomas shoreline and neighboring islands. From the Undersea Observatory, you have a unique opportunity to stay dry and watch totally non-captive fish and other marine creatures as they go about their daily activities on the reef completely unaware of your presence.

Caribbean Reef Encounter:
This 80,000 gallon coral reef aquarium encircles you as you enter the air-conditioned Caribbean Reef Encounter. The aquarium is open to the elements, which means the thousands of reef animals that are housed here receive natural day and moonlight and experience rain just like a natural reef would.

Shark Shallows:
One of the most popular exhibits, this large pool is home to juvenile sharks. View a variety of sharks from above and below through a large underwater viewing window as they gracefully circle the pool or rest among the rocks. The inhabitants of the Shark Shallows may include nurse, lemon, blacktip and reef sharks. Friendly and knowledgeable marine operations staff will tell you about the current inhabitants and the twice a day feeding schedule. This is a unique opportunity to learn about these amazing and very misunderstood animals and even pet a baby nurse shark with the assistance of one of the staff.

Stingray Lagoon:
See if you can find all the stingrays that live in the Stingray Lagoon. Masters of disguise, the Southern Stingrays bury themselves in the sand for camouflage. Look for the hint of an eye or tip of a tail showing in the sand to discover them. Watch as these gentle, graceful creatures glide around the pool seeming to fly through the water. They often slap their "wings" against the wall of the pool hoping for a handout of fish!

Turtle Pool:
Rescued as hatchlings in October 1997, the green sea turtles were first introduced to water at Coral World. Smaller than the palm of an adult hand at that time, today each weighs well over one hundred pounds. Watch in awe at these magnificent creatures and learn about their eating and nesting habits during the daily feeding presentations.

Critter Corners:
Spend some time with the native iguanas in Iguana Alley, the native ducks, tortoises and brown-throated conures on the Nature Trail, and the not so native but very lovable Rainbow Lorikeets in the Lorikeet Garden.
October 2014
This was the first time for snuba and it was a terrific experience. Our guide (Glenn) was excellent. He took time to explain how and why snuba is different than using a snorkel. Glenn went over all the safety measures and hand signals that are needed when diving to a maximum of 20 feet. There were many colorful fish to be seen and vegetation everywhere. This is something I recommend I would do again.
June 2011
this was an awesome experience like nothing else. My husband enjoyed so much! the instructors make you feel comfortable i will recommended a billions times. we interact with life at sea and it was easy.
April 2015
Advertisement
Advertisement